Sales Have Ended
Registrations are closed
Thank you for Registering for the ANIMOSAIC 2: Humans of St. La Salle (DLSU-D Edition)! SAFETY REMINDERS: To ensure a memorable and safe experience in attending the ANIMOSAIC, here are a few reminders: 1. Wear comfortable clothes (footwear: rubber shoes; shirt color and head gear according to your umbrella color) 2. Stay hydrated, bring a re-usable water container. Water stations will be available at the event venue. 3. Wear sun screen/sun block. 4. Be at the Ugnayang La Salle starting at 9:00 am for the Tercentenary (Triduum) Mass to be officiated by Most Rev. Reynaldo Evangelista, DD. ANIMOSAIC check-in and registration begins after the mass. Assembly time for the formation is at 4:00 pm at the vicinity of the DLSU-D Track Oval. 5. Bring your school ID (for students and employees); alumni card (for Lasallians) and any government issued ID for guests, parents and friends of La Salle. REGISTRATION PROCESS 1. Download the event ticket (with QR code) sent to your email via your smartphone or, if not possible, print a copy on a clean sheet of bond paper. 2. Give your P 300 registration fee (Jubilee Gift) via: a. The Unionbank App: Select DLSU-D (Donation) in the list of billers and indicate the purpose of your donation (i.e. ANIMOSAIC). Please nBte that for every donation made via the UnionBank app, UnionBank will donate the same amount to DLSU-D; or b. Accounting Office Windows 14 to 16 from Feb. 28 to April 6, 2019; or c. On the date of the ANIMOSAIC (April 7, 2019), proceed to the Ugnayang La Salle (ULS) for the Tercentenary (Triduum) Mass at 9:00 am to be officiated by Most Rev. Reynaldo Evangelista, DD. After the mass there will be onsite payment (10:00 am to 3:00 pm). 3. Present the official receipt (OR) and event ticket (with QR code) on April 7, 2019 at the ANIMOSAIC Registration Stations inside the ULS or at the Junior High School Covered Court or the MTH Covered Court from 10:00 am to 3:00 pm. 4. After your QR code is scanned and the OR verified, you will be checked-in for the event and receive a color coded baller. Proceed to the designated event assembly area (starting at 3:00 pm) where you will receive your umbrella. Please make sure that you wear the right colored clothes (shirt) that corresponds to the umbrella color you have been assigned to. 5. When the signal to assemble is given, proceed to the DLSU-D Track Oval Area. Ushers and marshals will guide you. 6. Take part in the historic ANIMOSAIC 2 and be the face of St. La Salle today! Updated as of March 21, 2019
Sales Have Ended
Registrations are closed
Thank you for Registering for the ANIMOSAIC 2: Humans of St. La Salle (DLSU-D Edition)! SAFETY REMINDERS: To ensure a memorable and safe experience in attending the ANIMOSAIC, here are a few reminders: 1. Wear comfortable clothes (footwear: rubber shoes; shirt color and head gear according to your umbrella color) 2. Stay hydrated, bring a re-usable water container. Water stations will be available at the event venue. 3. Wear sun screen/sun block. 4. Be at the Ugnayang La Salle starting at 9:00 am for the Tercentenary (Triduum) Mass to be officiated by Most Rev. Reynaldo Evangelista, DD. ANIMOSAIC check-in and registration begins after the mass. Assembly time for the formation is at 4:00 pm at the vicinity of the DLSU-D Track Oval. 5. Bring your school ID (for students and employees); alumni card (for Lasallians) and any government issued ID for guests, parents and friends of La Salle. REGISTRATION PROCESS 1. Download the event ticket (with QR code) sent to your email via your smartphone or, if not possible, print a copy on a clean sheet of bond paper. 2. Give your P 300 registration fee (Jubilee Gift) via: a. The Unionbank App: Select DLSU-D (Donation) in the list of billers and indicate the purpose of your donation (i.e. ANIMOSAIC). Please nBte that for every donation made via the UnionBank app, UnionBank will donate the same amount to DLSU-D; or b. Accounting Office Windows 14 to 16 from Feb. 28 to April 6, 2019; or c. On the date of the ANIMOSAIC (April 7, 2019), proceed to the Ugnayang La Salle (ULS) for the Tercentenary (Triduum) Mass at 9:00 am to be officiated by Most Rev. Reynaldo Evangelista, DD. After the mass there will be onsite payment (10:00 am to 3:00 pm). 3. Present the official receipt (OR) and event ticket (with QR code) on April 7, 2019 at the ANIMOSAIC Registration Stations inside the ULS or at the Junior High School Covered Court or the MTH Covered Court from 10:00 am to 3:00 pm. 4. After your QR code is scanned and the OR verified, you will be checked-in for the event and receive a color coded baller. Proceed to the designated event assembly area (starting at 3:00 pm) where you will receive your umbrella. Please make sure that you wear the right colored clothes (shirt) that corresponds to the umbrella color you have been assigned to. 5. When the signal to assemble is given, proceed to the DLSU-D Track Oval Area. Ushers and marshals will guide you. 6. Take part in the historic ANIMOSAIC 2 and be the face of St. La Salle today! Updated as of March 21, 2019
About this Event
ANIMOSAIC 2: Humans of St. La Salle (DLSU-D Edition) is a world record attempt for a cause that aims to create the biggest human formation using umbrellas. Proceeds of the event will go to the One La Salle Scholarship Endowment Fund. Your Jubilee Gift of P 300 will entitle you to participate in the world record attempt and take part in the Tercentenary Show. A limited edition souvenir umbrella and token shall be given to all registered participants. Join us as we create possibilities!
Schedule of Activities
9:00 am - Feast Day Mass in honor of St. John Baptist De La Salle at the Ugnayang La Salle (Presider: Most Rev. Reynaldo Evangelista, DD)
10:00 am - Start of Registration and Check-in for ANIMOSAIC; Trade Bazaar
3:00 pm - End of ANIMOSAIC registration and check-in
4:00 pm - Assembly at designated formation areas
5:00 pm - Program and Actual ANIMOSAIC Formation at DLSU-D Track Oval
6:00 pm - Tercentenary Show at DLSU-D Track Oval featuring the Kundirana 2019 and DLSU-D Performers.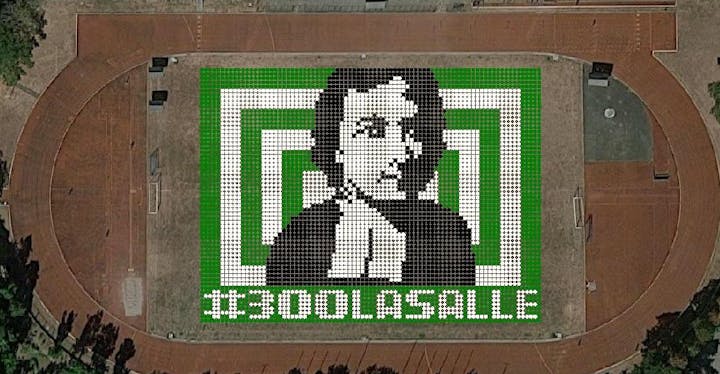 Conceptual rendition of the human formation of the face of St. La Salle using umbrellas. (Image subject to change at organizers discretion)