ANIMATED FILMS OF KAREN AQUA w/KEN FIELD Alto Sax Quartet + Drums
Description
ANIMATED FILMS OF KAREN AQUA w/KEN FIELD Alto Sax Quartet + Drums

Performance begins at 7:30, doors open 30 minutes prior

Saxophonist-composer Ken Field (Birdsongs of the Mesozoic, Revolutionary Snake Ensemble) teamed with his wife, award-winning independent animator Karen Aqua, to create soundtracks for her animated films for several decades until her untimely passing in 2011.

In 2017 Field was invited by the ANIMATOR Festival (Poland) to perform live for a program of Aqua's films and assembled an unusual instrumentation of four alto saxophones and a drummer. The resultant performance was celebrated as the highlight of the festival.

This program at CRMII serves both as a tribute to Aqua and as an opportunity for Field to share with the public his ongoing engagement with her creative spirit. Since 1988 Field has been a member of the internationally acclaimed electronic modern music ensemble Birdsongs of the Mesozoic, with whom he has recorded eight CDs. He leads the Revolutionary Snake Ensemble, an experimental and improvisational brass band, and performs with the community-based Second Line Social Aid & Please Society Brass Band. Since 2015, Field has annually led a pick-up band of unaffiliated musicians at the HONK!Oz Festival in Wollongong, NSW, Australia. His solo releases document his work for layered saxophones and his soundtracks for dance and film. Field was named a 2017 Finalist in Music Composition by the Massachusetts Cultural Council. His music is also heard regularly on the children's television program Sesame Street.

Karen Aqua (1954-2011) completed 12 independently-produced animated films and one collaborative animation/live action video since graduating from Rhode Island School of Design in 1976, and before her untimely death at age 57 in 2011. Her award-winning films have screened worldwide. In 2005, a special program of Aqua's animated films was presented at the Tehran International Animation Festival, Iran. During the 1990's she directed/animated 22 segments for the acclaimed children's television program Sesame Street. Aqua's film Twist of Fate was screened at Telluride Film Festival, Starz Denver Film Festival, Kos Ippokratis International Health Film Festival (Greece), and international animation festivals in Ottawa, Hiroshima, and Annecy (France). It received awards at Ann Arbor Film Festival, James River Film Festival, and Black Maria Film & Video Festival. Her final film, Taxonomy, debuted at the ICA/Boston in May 2011. Aqua's work is included in the permanent collections of the Harvard Film Archive (Cambridge, MA), the Anderson Museum of Contemporary Art (Roswell, NM), and the International Quilt Study Center & Museum (Lincoln, NE).

PERFORMERS:
Ken Field - alto saxophone
Lihi Haruvi - alto saxophone
Neil Leonard - alto saxophone
Stan Strickland - alto saxophone
Savannah Marshall - drums
PROGRAM:
Vis-á-Vis (1982 - 12 minutes) - With original soundtrack - Music by Jacques Dorier
Penetralia (1976 - 4 minutes)
Kakania (1989 - 4 minutes)
Perpetual Motion (1992 - 5 minutes)
Ground Zero / Sacred Ground (1997 - 9 minutes)
Sensorium (2007 - 5 minutes)
Taxonomy (2011 - 4 minutes)
Parade of Numbers (1994 - 1 1/2 minutes)
All films directed and animated by Karen Aqua except Sensorium co-directed by Karen Aqua & Ken Field
All music composed by Ken Field except Vis-á-Vis by Jacques Dorier, Kakania by Karlo Takki
For additional information please visit:
kenfield.org
karenaqua.com

Karen Aqua's complete body of animation is available at https://vimeo.com/ondemand/animationbykarenaqua or via a link on her website.

---
IMPORTANT DIRECTION AND PARKING INFORMATION FOR THE CHARLES RIVER MUSEUM
There is NO Museum Visitor Parking at the Francis Cabot Lowell Mill complex. You will be subject to tow by the Mill.
If you are coming to the Charles River Museum for the first time, it is helpful to follow the directions, map and advice below:
While the Museum's address is 154 Moody St. in Waltham, we are not right on the street but rather at the far end of the Francis Cabot Lowell Mill complex.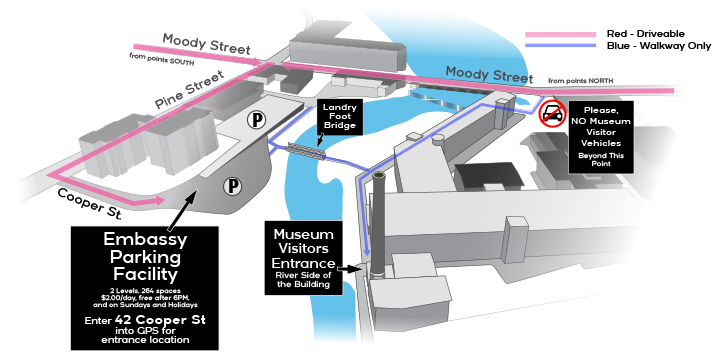 Because there is no Museum Visitor parking at the Mill, we recommend using the many public lots in Waltham. The one closest and most accessible to the Museum is the Embassy Parking Facility off Pine St. Enter 42 Cooper St into your GPS to locate the entrance to the lot. To then reach the Museum, cross the footbridge which crosses the Charles River and then keep to your right along the Mill. A brief 2-5 minute walk will bring you to our Visitor Entrance. The Charles River Museum is directly under the factory smokestack.
Please DO NOT BRING VEHICLES DOWN THE LANDRY WAY PATH. It is restricted to Emergency Vehicles ONLY and is a DEAD END with no turnaround.

If walking coming from Moody St itself, enter at the pathway immediately North of the Moody St Bridge next to Enterprise-Rent-A-Car. Follow to the right alongside the Charles River and down Landry Way along the river side of the Mill.
If you need further assistance or information, the Museum phone number is 781-893-5410
We look forward to seeing you at the Museum!