Description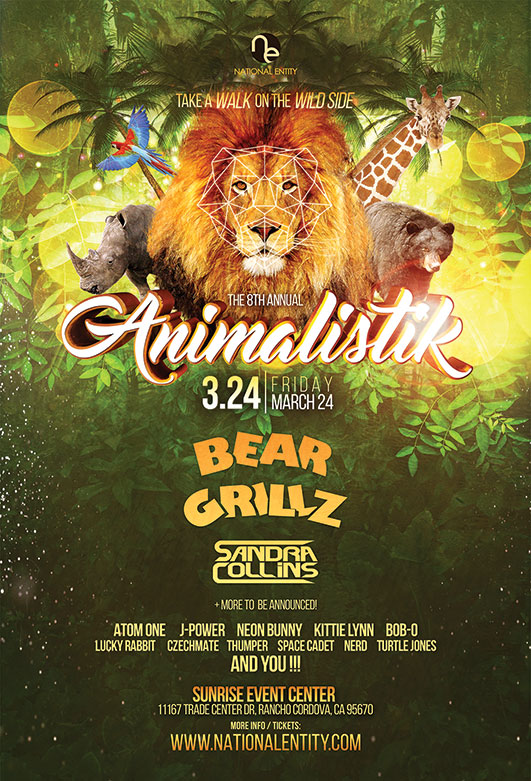 Uh oh... Do you feel that...?
Its that time of year again.....
Thats right you cats and dawgs. The 8th animalistik is coming.
The event where:
YOU are the adventurer
YOU are the wild beasts that roam
YOU are the explorers and
YOU are the animals of this kingdom !!

So sharpen your claws, and get yourself groomed for an Animal Themed event like no other !
Prepare your costumes now for your walk on the wild side with Amazing DJs, Headliners, Elephant Stomping Sound, Intense Lighting, and fun activities for the night.
Be prepared to be thrown into a jungle and embrace the amazonian beast that you really are !


....:::: the Line Up Released into the wild ::::....
✳✳ ✳✳ BEAR GRILLZ ✳✳✳✳
www.facebook.com/itsbeargrillz

✳✳ ✳✳ DIRTY AUDIO ✳✳ ✳✳
www.facebook.com/djdirtyaudio

✳✳ ✳✳ KRIMER ✳✳ ✳✳
www.facebook.com/OfficialKrimer

✳✳ ✳✳ Sandra Collins ✳✳ ✳✳
www.facebook.com/sandracollinsofficial/

.....With......
Atom ONE
J-Power

Neon Bunny

Kittie Lynne

Bob-O
Lucky Rabbit
Czechmate
Thumper
Space Cadet
Nerd
Turtle Jones

ANIMALISTIK WILL FEATURE :
-World Renown Artist and DJs
- themed areas of music
-Amazing Lights, Sound, LED Video Wall, and Props
-Outside smoking area
-7 hours of a themed adventure
-Come dressed as an animal and enjoy the theme !!
-Start preparing your costumes and outfits to be a part of the wildlife.
-Everyone is welcome, all responsible ages welcome
-Safe and friendly staff and security


BUY ADVANCED TICKETS FOR THE BEST POSSIBLE PRICE !!!!


==== VIP Ticket Ammenities ====
+ Express Line Entry
+ CUSTOM 2017 DOG TAG
+ Backstage Access
+ Food and Refreshments
+VIP Smoking Section

Just putting on a set of ears isnt creative. we want people to get into it ! Have fun with it. Go all out with your make up and costumes.