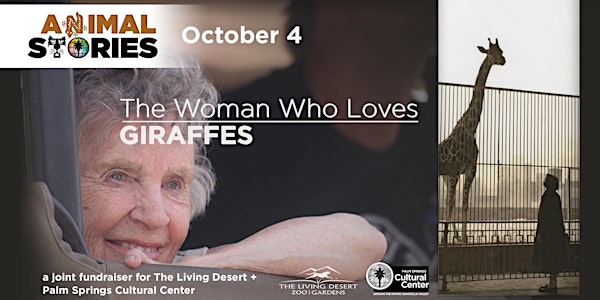 Animal Stories: The Woman Who Loves Giraffes
When and where
Location
Camelot Theatres (Palm Springs Cultural Center) 2300 East Baristo Road Palm Springs, CA 92262
Description
Animal Stories presents THE WOMAN WHO LOVES GIRAFFES- a joint fundraiser for The Living Desert and Palm Springs Culutral Center.
In 1956 at the age of 23, Anne Innis Dagg travelled to South Africa to become the world's first scientist to study the behaviour of an animal in the wild on that continent. Her pioneering efforts were ground-breaking, but her career was destroyed upon her return home.
Join us for a special Animal Stories presententation in partnership with The Living Desert as we screen the documentary THE WOMAN WHO LOVES GIRAFFES. Follow an older (now 85), wiser Anne Dagg as she takes us on her first expedition back to Africa to retrace where her trail-blazing journey began more than half a century ago. By retracing her original steps, and with letters and stunning, original 16mm film footage, Anne offers us an intimate window into her life as a young woman, juxtaposed with a first hand look at the devastating reality that giraffes are facing today.
6:00 pm VIP Reception
7:00 pm Screening THE WOMAN WHO LOVES GIRAFFES
Q + A w/ special guests TBA!
This is a joint fundraiser for The Living Desert and Palm Springs Cultural Center. There are multiple levels to support the organizations. Choose the level which is right for you below.
THE WOMAN WHO LOVES GIRAFFES
Documentary
Directed by: Alison Reid
Produced by: Joanne Jackson and Alison Reid
Executive Producer: Paul Zimic
Dr. Anne Innis Dagg re-traces the steps of her groundbreaking 1956 journey to South Africa to study giraffes in the wild – and discovers a startling contrast between the world of giraffes she once knew and the one it has become. Weaving through the past and present, her harrowing journey gives us an intimate look into the factors that destroyed her career and the forces that brought her back.
Trailer: https://youtu.be/T6_UVfr-HfI
The Living Desert: Zoo and Gardens
The Living Desert Zoo and Gardens is a nonprofit, accredited member of the Association of Zoos and Aquariums, ensuring the highest standards of all aspects of animal care, education, conservation, public service, and operations. The Zoo is active in conservation research, habitat protection, breeding programs and education initiatives around the world, as well as in its own community. The Zoo has been a top attraction in the Palm Springs area for nearly 50 years.