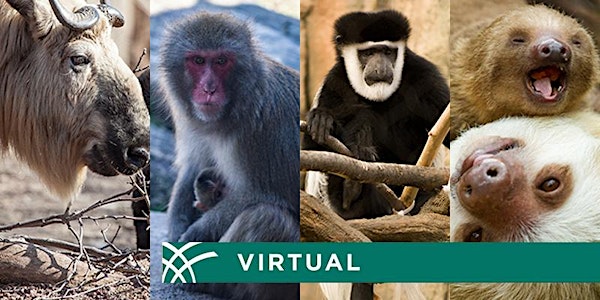 Animal Experiences at Lincoln Park Zoo
Join zoo experts for a look at fascinating animals! Details and programs are subject to change due to animal care needs.
About this event
Friday, July 16, at 10 a.m. – Feeding Session (Snakes)
This is the final virtual event of the season.
Join one of our animal experts for an intimate look at the fascinating animals at Lincoln Park Zoo. During each virtual journey, learn more about a specific animal group through one of four unique formats: Meet-and-Greet, Cognition and Care, Enrichment, or Feeding.
Following each program, you will have the opportunity to ask moderated questions about your favorite animals, live from home!
All events are virtual, unless otherwise specified.
Meet-and-Greets
30–45 minutes
An open-ended session with an animal curator focused on everything from animal personalities, habitat design, and overall care.
Enrichment Sessions
25–35 minutes
Explore how the zoo's experts use natural objects to provide high-quality are and enrich the animals' daily lives.
Feeding Sessions
July 16
25–35 minutes
Dive into how expert care makes mealtime more than a feeding.
Cognition and Care
25–35 minutes
Discover the surprising methods, including touchscreen computers, used to learn about and care for some of the most beloved animals at the zoo.
The virtual event will start with a short introduction followed by a 15- to 30-minute program, depending on the session. The program will conclude with a 10- to 15-minute Q&A session.
Members get 10% off their ticket to this virtual event. Please enter the first three digits of your member ID number in the 'Promo Code' field prior to checking out.
This event is suitable for guests of all ages. After registering online, you will receive a unique link to view the event through the Zoom live video platform within two hours of the event. Please be sure to access the link prior to the event to ensure a proper connection.
As a reminder, 100% of revenue received from tickets purchased support Lincoln Park Zoo's state-of-the-art animal initiatives, worldwide conservation efforts, and local education programs. We thank you for your support.
FREQUENTLY ASKED QUESTIONS
Where is this event taking place and will I see animals?
This event will be hosted virtually through Zoom (zoom.us). Confirmed ticket holders will receive a link to their virtual event via their registered email address within two hours of the event. Each distributed link is password protected and specific to you.
We have nearly 200 species at Lincoln Park Zoo. In general, animals tend to be most active around feeding—diurnal species are most active during the day while nocturnal animals are most active at night. But remember, most habitats at the zoo include behind-the-scenes areas, and the animals can choose where to spend their time. However, our curators will provide animals with enrichment during the virtual event to encourage activity.
Please keep in mind, depending on the format of the virtual presentation, not all virtual events will include animal viewing. Some of the virtual events include presentations in lecture or open discussion. We hope to make this as clear as possible on the individual virtual event pages.
What are the age restrictions for this event?
Guests of all ages may attend; however, please keep in mind that subject matter may be geared toward adults in specific instances. We will make every attempt to note suggested age restrictions on the individual program dates, but we leave it up to you to decide the appropriateness for your viewers.
Does everyone in my household need a ticket to attend the event?
Your ticket purchase at all events, both live and virtual, help support Lincoln Park Zoo's state-of-the-art animal care and worldwide conservation. Care continues here at Lincoln Park Zoo as dedicated staff remain hard at work ensuring the animals continue to flourish and receive world-class care.
100% of all proceeds go to your zoo.
We hope that all guests viewing the virtual event are registered ticket holders.
Can I purchase tickets at day of the virtual event?
If tickets remain available, a limited number will be for sale the day of the virtual event. We highly recommend purchasing tickets in advance, though, as there are a limited number of tickets for these virtual events. We can't guarantee tickets will be available the day of the virtual event.
Please keep in mind, events will take place right on time. Don't be late!
I am a member. How can I apply my membership number?
Lincoln Park Zoo members will receive a discount on Virtual Admission tickets. Make sure to check the virtual event page for details regarding member discounts.
To apply your Lincoln Park Zoo membership code, please enter the first three digits of your membership number. You will need to enter the code before selecting the number of tickets/ticket types (if more than one option is available) in order for the code to be applied. Then select the number of tickets you wish to purchase and proceed to checkout.
Can I ask the host/moderator/presenter a question and how long is the virtual event?
Yes! Questions are strongly encouraged throughout our virtual events. Your question will be sent to the host of the meeting, who will try to get through as many as possible at the conclusion of the event. If you have a follow up question that was not addressed during the virtual event, please email us at events@lpzoo.org and we will do our best to get you an answer.
Virtual events will last between 20 and 90 minutes, depending on the program. We note the expected format and timing on each virtual event page.
Can tickets be traded, transferred, or refunded?
If you are not able to make it to the virtual event, you are able to give your ticket to a friend or family member. There are no refunds for tickets purchased for the zoo's in-personal or virtual events.
How can I watch a virtual event through Zoom?
Registered guests will receive an email invitation for the virtual event within two hours of the event. We recommend that you have a secure internet connection to ensure a smooth virtual event experience. Click the "Join Now" link to download or launch the Zoom virtual event. If you see the message "Waiting for the Host to Start the Meeting," it means that the zoo has not started the virtual event yet, which gives you time to test your audio. Guests can access Zoom via PC/Mac/Android/iPhone—however, we strongly encourage you to check the settings in advance before attempting to join the virtual event.
All guests will be muted upon entry and you will not be allowed to unmute or share your screen with others in the group. The best way to experience the virtual event is through the "Speaker View" option, which is shown in the top-right-hand side of your Zoom screen.
We highly encourage guests to test their connection prior to the event. You can do so by joining a test meeting (zoom.us/test), visiting the Zoom Support Center (support.zoom.us) for useful information, or accessing Zoom's direct download center (zoom.us/download).
For more resources regarding zoom, please visit zoom.us/resources.
How can I further support Lincoln Park Zoo?
These are truly unprecedented times and we appreciate all your support. If you wish to find out more about how you can help, please visit lpzoo.org/support-zoo.
I have more questions, whom can I reach out to?
If you have a question regarding these virtual events, please email events@lpzoo.org.
If you are interested in being a sponsor of these virtual events, please email corporatealliances@lpzoo.org.