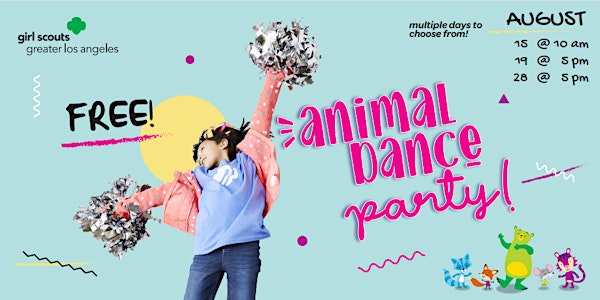 Animal Dance Party
Join GSGLA for a FREE Animal dance party! Bring a friend, make new ones, and get WILD on the virtual dance floor. Open to NON-GS grades K-3.
About this event
You are invited to join Girl Scouts of Greater Los Angeles for a FREE Animal Dance Party!
This event is intended for non-members. This opportunity is intended for girls that haven't, yet, experienced the fun of Girl Scouts! We will be discussing how to join Girl Scouts at the party!
Imagine you're a grasshopper or a ladybug. How do bugs like those see the world? Do little rocks seem big? Do blades of grass seem super tall? Now put on some music. How do you move or dance differently now that you're a bug?
Now pretend you're a bird that can fly high above the earth, a giant elephant with a swinging trunk, or even a household pet. How did your dancing change?
We'll learn about lots of animals and find fun new ways to dance together at the party!
For grown-ups:
Girl Scouts of Greater Los Angeles can't wait to meet you and your girl at the Animal Dance Party! It's going to be held virtually (zoom link provided when you register). This is a free event open to all girls, not-yet in Girl Scouts, in Kindergarten-third grade-the more the merrier!
While your girl enjoys the party, we'll take some time to answer any questions you may have about Girl Scouts and how to keep the party going with Girl Scouts!
Choose the party/date that works best for you!
Saturday August 15th @ 10 a.m.
Wednesday, August 19th @ 5 p.m.
Friday, August 28th @ 5 p.m.
Looking for more activities you can do with your girl from home? Please consider exploring some fun virtual Girl Scout activities with your daughter through our Girl Scouts at home page: http://girlscoutsla.org/gsathome