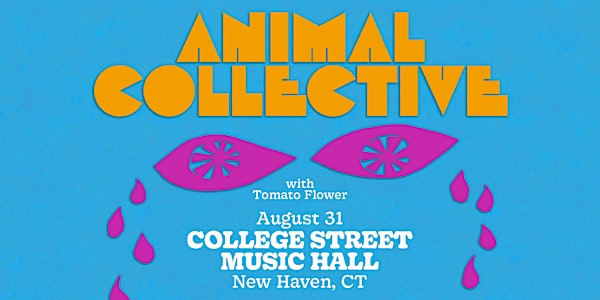 Animal Collective
Premier Concerts and Manic Presents:
Performers
Animal Collective
Tomato Flower
Location
College Street Music Hall
238 College Street
New Haven, CT 06510
About this event
This event is General Admission Standing Room on the Floor and Reserved Seated in the Balcony.
Masks are strongly encouraged.
By purchasing tickets to this event, you agree to abide by the State of CT, City of New Haven, Artist, and College Street Music Hall's Health and Safety measures in effect at the time of the event. Check back for updates to your event on our website as guidelines and entry requirements are subject to change.
Animal Collective has partnered with PLUS1 so that $1 from every ticket goes towards the PLUS1 x NOISE FOR NOW Reproductive Health Access Fund, which supports grassroots organizations working throughout the USA to provide and protect our reproductive rights.
ANIMAL COLLECTIVE
Over two decades have passed since Animal Collective accidentally began to reimagine the sound and image of what's easiest here to call indie rock. From the start, they turned the ultimately rare trick of tucking inscrutable experiments into songs so infectious they became generational standards, empowering a new permissibility within a sometimes-stodgy scene. They helped make the world safe for The Grateful Dead and tie-dye, or indie rock open to the Gamelan and Juju. Influences, they implicitly insisted, matter less than the music and spirit they inspire. Such paradigm-bending lessons are now simply part of the paradigm, philosophical cornerstones of modern music. But Animal Collective have never sat still, even on the cornerstones they helped create.
Time Skiffs, the quartet's first studio album in more than half a decade, feels like listening in on a conversation among four old friends, just as it felt during their inchoate early days or their Strawberry Jam heyday. These nine songs are love letters, distress signals, en plein air observations, and relaxation hymns, the collected transmissions of four people who have grown into relationships and parenthood and adult worry. But they are rendered with Animal Collective's singular sense of exploratory wonder, same as they ever were. There are harmonies so rich you want to skydive through their shared air, textures so fascinating you want to decode their sorcery, rhythms so intricate you want to untangle their sources. Here is Animal Collective past 20, still in search of what's next.
It has been easy in these last two years to be more anxious than ever, to give yourself over to the sense that here we are at the end of days, every day. There are traces of that on Time Skiffs, moments of worry about the future we're creating in the present or consternation with the moments we face now. There is sadness, turmoil, mourning. But there is mostly an undeniable joie de vivre to Time Skiffs, an excitement with love and life and nature and (sometimes) people. There are extended stargazing sessions, discursive country drives, contented creative nights, long-distance phone calls. There is gratitude and acceptance and exhilaration. "It's really new every day," goes one line that sticks out not as some overwrought thesis but as a genuine realization, an epiphany in real time. That is the prevailing sense of Time Skiffs—that, at our absolute best, we can be ever new, always in awe of what is yet to come.
Despite the protracted gestation, Time Skiffs is shorter than most Animal Collective records. But as it ends, you long to linger for a while longer, to coexist with the band in this full state of being and feeling. That is perhaps the real feat of Time Skiffs, made by a band whose songs seemed so audacious and new that their emotional cores could sometimes be overlooked. Here is the heart of Animal Collective.
Avey Tare has said that, for him, hearing music has always been a way to be transported, to be whisked away to another time for three or seven or ten minutes at a time. These nine songs, then, are now your own Time Skiffs, your vehicles for traveling to the wilds of Western North Carolina or a sunset surrounded by seagulls or a New Orleans night making music with your friends or any other moment, however real or imagined, that floats into your mind. For these 47 minutes, you feel like you belong somewhere else, like you've returned to a place that feels both familiar and foreign, where reality is bent just enough to suggest some beautiful new horizon. Enjoy the trip to whenever and wherever these time skiffs may take you.
Links: Official Website | Facebook | Instagram | Twitter | Spotify
TOMATO FLOWER
Tomato Flower return with Construction, a new set of dense, knotted pop songs. The Baltimore-based quartet melds irresistible melodies with rhythmic trickery and unexpected structures, bending genre and palette at will; math rock, dub, and bossa might flash by within two minutes, and you still haven't heard the outro. A song will invite you in with tones of classic pop music, only to freak out a moment later. Formal constraint becomes an opportunity for play and surprise; the pop song form becomes a psychedelic capsule.
Turning the band's utopian impulse toward the worldly, Construction refers both to "constructedness," processes of artifice and social construction, as well as the material activity of building. Yet for all their literary sensibility and taste for double meanings, Tomato Flower rejects ironic detachment. Feeling is always at the center of the songs, even when the feeling morphs and evades you.
Recorded in the same time frame as their debut, Gold Arc, much of the music came together in the peak days of COVID isolation in long days on the top floor of Austyn and Jamison's rowhouse, overlooking old Baltimore architecture. The music itself evokes something sculptural; it alternately reflects the painstaking social processes of material transformation that create physical objects, or coalesces as a monumental abstraction cutting into the skyline.
The songs are intricate constructions of their own. A tight but jarring sense of form is central to the band's boldly futuristic aesthetic. Drawing from contemporaries like Red Sea and Palm as well as older models like Stereolab and This Heat, Tomato Flower expands the rhythmic and harmonic palette of a rock band while maintaining the strictness of pop songwriting and its insistence on melody. Tomato Flower does not adorn their pop songs with experimentalism; they build freakiness into the form.