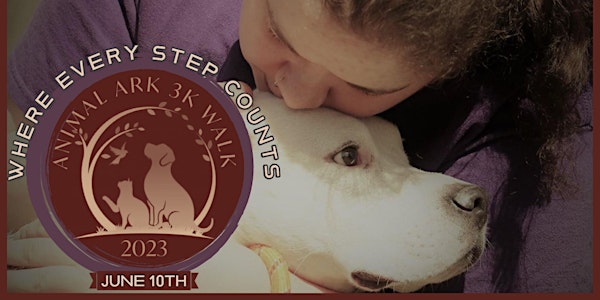 Animal Ark 3K Walk
Join us for our biggest fundraiser of the year!
Date and time
Saturday, June 10 · 9am - 1pm CDT
Location
Animal Ark 2600 Industrial Ct HASTINGS, MN 55033-3600
About this event
Our annual 3K Walk brings two & four-legged friends and families together for Fun, Food, & so much more.
Great vendors to discover, food trucks, cocktails, beer tasting, wine sampling, goodie giveaways, dog demonstrations & an amazing silent auction too!
PLUS, 25% off All animal adoptions initiated June 10th & 11th
*Excludes kittens & puppies
Early Bird Registration March 19th - April 30th:
$26 for adults (16+)
$17 for youth (15 and under)
Regular Registration after April 30th:
$30 for adults (16+)
$20 for youth (15 and under)
Ages 4 and under are FREE!
Team Registration is available for groups of 4 or more:
Use Discount Code: teamanimalark for a15% Discount.
**Registration includes: FREE breakfast (granola bars, coffee, water, fruit), a 2023 Animal Ark 3k Walk t-shirt & an event bag.
__________________________________________________________________________________________________________________________
2023 Animal Ark 3k Walk Waiver & Release
By completing your Animal Ark 3K Walk registration, you agree to the following:
I understand that participating in the 2023 Animal Ark 3k Walk involves risks such as, but not limited to, falls, interaction with other participants and their dogs, effects of weather, traffic, and conditions of the road. In consideration of participating in this event, I hereby assume all aforementioned risks. I agree further to release, indemnify and hold harmless Friends of Animal Adoptions Inc., its affiliates, officers, directors, volunteers, and all sponsoring businesses and organizations and their agents and employees from any and all liability, claims, demands, and causes of action whatsoever, arising out of my participation in this event and related activities. I understand and agree that Friends of Animal Adoptions, Inc. does not insure against and accepts no responsibility for personal injury, property loss, or damage I may sustain. I, and anyone entitled to act on my behalf, expressly release and discharge all such claims and liabilities, even though that liability may arise from my negligence or carelessness. I agree not to participate unless my dog and I are physically able and properly conditioned, and my dog has current vaccinations, including Rabies.
I also understand and agree that my dog(s) and I may be photographed for use by Friends of Animal Adoptions, Inc. or the media without liability or obligation to me.
I certify that I have read and understand all the stated terms and the intent of this waiver and release.
_________________________________________________________________________________________________________________________
Can't participate in our walk but still want to donate to the cause?
Your donation in any amount makes all the difference to our animals!
$50 provides basic intake tests, vaccinations, flea/tick treatment
$150 will spay/neuter an animal
$250 provides shelter with specialty food/insulin for one month
$500 provides testing, medication & therapy for an animal in need
*Walkers welcome on event day; fee payable at registration.
For more details about the event and how you can fundraise, visit our website at animalarkmn.org/walk
If you have questions about the Animal Ark 3k Walk event, please email events@animalarkmn.org.
About the organizer
Animal Ark is a Rescue-Rehabilitate-Rehome animal welfare organization. We also embrace, follow and advocate a "no kill" philosophy to Minnesota's lost and homeless companion animals.
We operate a shelter in Hastings, Minnesota; founded in 1977, we are a 501(c) 3 non-profit Minnesota corporation.
As an independent nonprofit organization, our work is funded solely by private donations, special events, adoption and program fees, and merchandise sales.
The generous donations will not only enable us to provide our animals with food, shelter and medical care, but it will help us to meet their social and behavioral needs as well. Our work to rescue, rehabilitate, and re-home the many local animals in need is dependent on the generosity of our donors and supporters. We cannot do it without you!