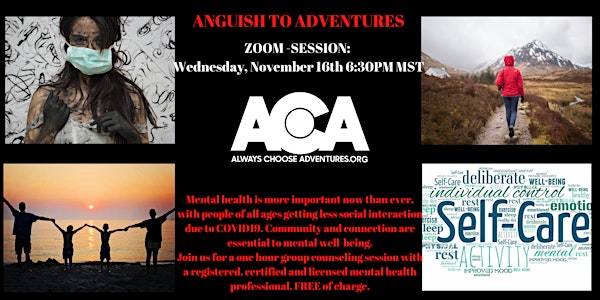 Anguish To Adventures - November Session
Mental health is more important now than ever, with people of all ages getting less social interaction due to COVID19. Join us to connect.
About this event
Join us for our FREE program - Anguish To Adventures event, with Always Choose Adventures.
https://www.alwayschooseadventures.org/anquishtoadventures
These quarterly sessions will be conducted by a licensed mental health professional.
Mental health is more important now than ever, with people of all ages getting less social interaction due to COVID19. Community and connection are essential to mental well-being. Recreational therapy can be anything from having the sun in your face, the wind in your hair or anything that gets a person outdoors with the goal of alleviating symptoms of a mental disorder. Research shows a significant number of health improvements resulting from body movement and connection with nature including improvement in physical and cognitive health, community activities, recreation, hobbies and life decisions.
The Anguish to Adventures program may help anyone who may have had previous or current trauma in their life which may have caused cognitive, emotional or physical disabilities. This program helps people who battle depression, anxiety, post traumatic stress disorder (PTSD), borderline personality disorder, or any other mental illness that may prevent them from connecting to others or the outdoors.
Nature has officially been recognized as a promising and effective approach to integrative health care in the US; ACA's belief is that adventure can reduce symptoms associated with depression, anxiety, and other mental health issues. Research shows outdoor activity can be beneficial and has been associated with various beneficial reliefs which include: improved psychosocial well-being, motivation, health and perception of disability, and mental health symptoms.
Participants who have previously attended ACA events often call their adventures, camaraderie and memories life altering.
The Anguish to Adventures program is designed specifically for anyone over the age of 18 who are dealing with social, emotional or mental challenges. It includes community connection events such as coordinated social events every month. These monthly events will consist of a one hour ZOOM group counseling session with a registered, certified and licensed mental health professional, FREE of charge. During these group counseling sessions we will empower you and instill hope for the future. We appreciate getting a chance to try to change your mindset and mental issues.
E-LEARNING: WEDNESDAY, November 16TH 6:30PM, 1 HOUR SESSION.
LIMITED SPOTS AVAILABLE - Please only register if you are certain you can attend.
ZOOM LINK: Please register via Eventbrite, by clicking tickets. The ZOOM link with passcode will be sent out prior to event start time automatically by you registering.
By registering and attending this event you agreed to Always Choose Adventures terms and conditions. To view visit: https://www.alwayschooseadventures.org/terms-conditions