Description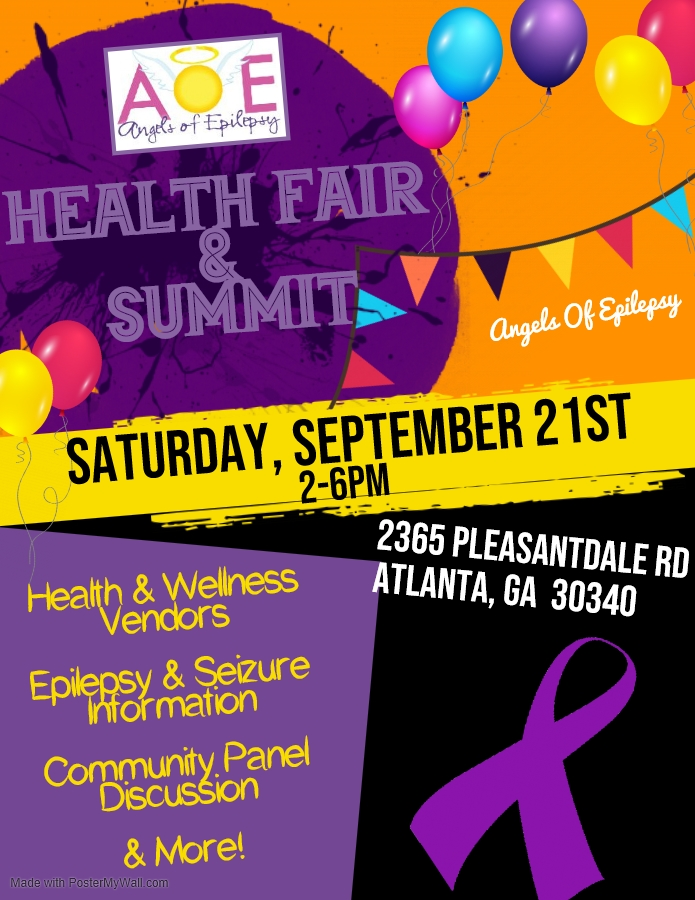 Bring your family, friends, classmates, and neighbors to the Angels Of Epilepsy Health Fair & Summit on Saturday, September 21st from 2-6pm, located at 2365 Pleasantdale Rd. Atlanta, 30340.
There will be educational information and resources about epilepsy and seizures, and more from local vendors related in the health and wellness community and organizations. There will also be a panel discussion to talk about important topics related in the epilepsy community. This panel discussion will include doctors, teen and adult survivors, parents/caregivers, and advocates!
* If you have a health and wellness business or a nonprofit organization, and would like to participate, click the TICKETS button to see details or send email to: angelsofepilepsy@gmail.com *

Our charity will have t-shirts available to raise funds for our Campaign. Click the TICKETS button to see details and to purchase. It will be available for you at this event.
--> VENDORS/T-SHIRTS, USE PROMO CODE: AOEHEALTH (DISCOUNT ENDS 9/15) <--
All purchases for this event is your donation to the Angels Of Epilepsy "I Am ME" Campaign Fund and Charity.
THIS EVENT IS FREE AND OPEN TO THE PUBLIC...CLICK THE TICKETS BUTTON TO REGISTER!
Feel free to contact us if you have any questions...
Angels Of Epilepsy, Inc.
Visit www.angelsofepilepsy.org
_________________________
SPONSORS - PARTNERS - VENDORS: