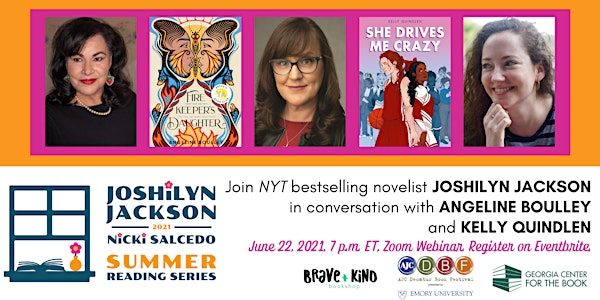 Angeline Boulley and Kelly Quindlen in conversation with Joshilyn Jackson
Young Adult Fiction authors Kelly Quindlen and Angeline Boulley in conversation with Joshilyn Jackson
About this event
Join us for the 2021 Joshilyn Jackson Summer Reading Series presented by the Georgia Center for the Book and the AJC Decatur Book Festival. This year, Joshilyn and her co-captain, Atlanta author and journalist Nicki Salcedo, have curated a selection of some of the year's best reads, including this week's event with Joshilyn Jackson in conversation with Angeline Boulley and Kelly Quindlen on June 22, 2021, at 7 p.m. ET. Tickets are free and open to the public, but you must register on Eventbrite to receive the link to the Zoom webinar. If you'd like to purchase copies of these books, we hope you'll purchase from Brave & Kind Bookshop, our partners for this event.
About Angeline Boulley:
Angeline Boulley, an enrolled member of the Sault Ste. Marie Tribe of Chippewa Indians, is a storyteller who writes about her Ojibwe community in Michigan's Upper Peninsula. She is a former Director of the Office of Indian Education at the U.S. Department of Education. Angeline lives in southwest Michigan, but her home will always be on Sugar Island. Firekeeper's Daughter is her debut novel.
About Firekeeper's Daughter:
For readers of Angie Thomas and Tommy Orange, Angeline Boulley's debut novel, Firekeeper's Daughter, is a groundbreaking YA thriller about a Native teen who must root out the corruption in her community.
Eighteen-year-old Daunis Fontaine has never quite fit in, both in her hometown and on the nearby Ojibwe reservation. She dreams of a fresh start at college, but when family tragedy strikes, Daunis puts her future on hold to look after her fragile mother. The only bright spot is meeting Jamie, the charming new recruit on her brother Levi's hockey team.
Yet even as Daunis falls for Jamie, she senses the dashing hockey star is hiding something. Everything comes to light when Daunis witnesses a shocking murder, thrusting her into an FBI investigation of a lethal new drug.
Reluctantly, Daunis agrees to go undercover, drawing on her knowledge of chemistry and Ojibwe traditional medicine to track down the source. But the search for truth is more complicated than Daunis imagined, exposing secrets and old scars. At the same time, she grows concerned with an investigation that seems more focused on punishing the offenders than protecting the victims.
Now, as the deceptions—and deaths—keep growing, Daunis must learn what it means to be a strong Anishinaabe kwe (Ojibwe woman) and how far she'll go for her community, even if it tears apart the only world she's ever known.
Soon to be adapted at Netflix for TV with President Barack Obama and Michelle Obama's production company, Higher Ground.
Purchase a copy of Firekeeper's Daughter here: PURCHASE
About Kelly Quindlen:
Kelly Quindlen is the author of the young adult novels She Drives Me Crazy, Late to the Party, and Her Name in the Sky. A graduate of Vanderbilt University and a former teacher, Kelly has had the joy of speaking to PFLAG groups and high school GSAs. She currently serves on the leadership board of a non-profit for Catholic parents with LGBT children. She lives in Atlanta. Follow her on Twitter @kellyquindlen.
About She Drives Me Crazy:
After losing spectacularly to her ex-girlfriend in their first basketball game since their break up, Scottie Zajac gets into a fender bender with the worst possible person: her nemesis, the incredibly beautiful and incredibly mean cheerleading captain, Irene Abraham. Things only get worse when their nosey, do-gooder moms get involved and the girls are forced to carpool together until Irene's car gets out of the shop.
Their bumpy start only gets bumpier the more time they spend together. But when an opportunity presents itself for Scottie to get back at her toxic ex (and climb her school's social ladder at the same time), she bribes Irene into playing along. Hijinks, heartbreak, and gay fake-dating scheme for the ages. From author Kelly Quindlen comes a new laugh-out-loud romp through the ups and downs of teen romance.
Purchase a copy of She Drives Me Crazy here: PURCHASE