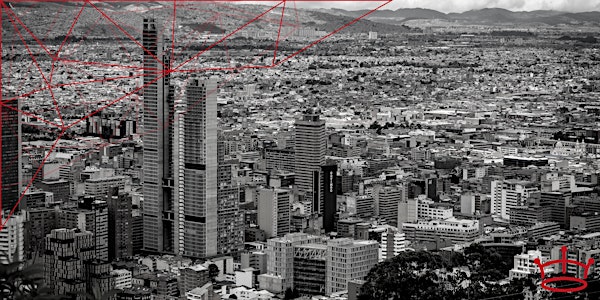 Date and time
July 6, 2019 · 9am - July 7, 2019 · 4pm -05
Location
Av. El Dorado 44A 40 Hemeroteca Nacional Universitaria Bogotá D.C., Bogota Colombia
Refund Policy
Contact the organizer to request a refund.
Description
Global Hackathon Series 2019
The Global Hackathon Series was initially started by a small community of technologists with one goal in mind: to develop opportunity wherever possible.
What started as a way for creators to connect and move their ideas forward turned into a global revolution. Soon, innovators from around the world were joining forces to elevate themselves and their platform - all of which was done through Hackathons.
And while we've seen lots of changes since the early Hackathon days, one thing has remained the same - innovators are continuing to rise. Innovators rise to meet opportunity, they rise from failure, they rise from all corners of the globe, and they lend a hand to help others rise with them. It's why the Global Hackathon Series is still going strong to this day, because Hackathons and the opportunities they create allow people to rise, together.


We offer our own Grand Prize AND team up with awesome sponsors who have their own challenges and prizes you can go after. Aiming for the HACKcelerator invite? Only in it for some cool hardware? Good news, you can go for as many challenges as you want!
AngelHack Challenge: Challenge yourself and your entrepreneurial spirit. Make something innovative without limits, something that brings positive change to the world, even something that solves a small problem. It's that simple.
AngelHack Prize: The winning team from each hackathon will receive $500 and an invite into AngelHack's HACKcelerator program.


Challenge: Use AWS Amplify to build a mobile or web application that connects to at least one AWS service. To get started with AWS Amplify and for a curated list of tools, tutorials, and example projects, check out Awesome AWS Amplify. For a list of resources to get started with AWS, check out our AWS Hackathon Guide.
Prize: The best working mobile or web app that connects to at least one AWS service will win one (1) custom AWS-branded mechanical keyboard (104-key, Cherry MX Browns!) per team member and $1,000 in AWS credits for the team.
All attendees will also receive $100 in AWS credits during the Hackathon
Challenge: Use one or more IBM Cloud services (for example, web, mobile, data, analytics, AI, IoT, or weather) to build an application that improves disaster preparedness, response, or recovery with a focus on the health and well-being of individuals and communities.

Accept the Call for Code Challenge to sign up an IBM Cloud account then start building with the visual recognition drone lab. You can also explore other sample code on the Call for Code site.
Prize: One winning submitted project will receive $1k per team and $500/month IBM Cloud credits per team member for 6 months.

Improve what you build after this hackathon and submit it for the Call for Code 2019 Global Challenge by July 29th for a shot at $200,000 and open source deployment support from the IBM Code and Response initiative.
Challenge: Part of our responsibility is helping our customers to maintain financial well-being.
Would you like to know when is "financially" a good time to buy the bike you are saving for?
What if you could anticipate financial benefits for your consumer behavior?
What about controlling and forecasting your financial and non-financial expenses?
That is the challenge! We want to co-create a solution for customers to have ownership of their financial life. We aim to have a tool using artificial intelligence, among other technologies, to plan, follow and complete financial goals for the future

Prize: 500 USD for the winning team and one google home for each member of the winning team of our challenge.
Who Can Participate
One principle that has guided this community since its first Hackathon is that everyone is welcome. Great ideas stem from discussion, and we believe the best discussions start by talking to someone whose background or experiences might differ from your own. With this in mind, we invite all startups, developers, entrepreneurs, and designers who are passionate about creating to join regardless of experience level, geographic location, or similar factors. And if you're under 18 we ask that you bring along a parent or guardian when you check-in so they can sign a participation waiver.


Day 1
9:00 AM : Doors Open & Breakfast
10:00 AM : Opening Ceremony, Sponsor Welcomes, & Team Building
11:00 AM : Coding Kick Off
1:00 PM : Lunch
2:00 PM : Sponsor Breakout Sessions
7:00 PM : Dinner
8:00 PM : Pitch Workshop
*Venue open overnight

Day 2
8:00 AM : Breakfast
12:00 PM : Lunch
1:00 PM : Code Freeze & Submission Deadline
1:30 PM : A/V Check
2:00 PM : Demos
4:00 PM : Winners are Announced / Prizes!
Each submission will be scored in each round based on the following criteria with a minimum score of 0 and a maximum score of 25 points, with the final score being the average of the judges' scores:
Fundability: How fundable is this idea? Is there potential for a sustainable business model? Is this scalable? (0-5 points)

Execution: How well was the project executed and explained? Did they add a demo video? (0-5 points)

UI/UX: Beyond design, was the end-to-end user experience for the solution considered? (0-5 points)

Originality: How original, creative or unique is the idea? Is there a competitive advantage? (0-5 points)

Team: Is there a diverse team presented? Do they have a range of complementary skill sets for the project? (0-5 points)





We know some rules are meant to be broken, but you should probably (read: definitely) stick by these:

Fresh Code – We all start coding at the same time. It's cool to work on designs beforehand, digital mockups, open source frameworks, and anything else available to everyone, but keep things within fair limits.
Code Review – Winning teams may be subject to a code-review at some point following the event or immediately before winning. This is to ensure that all code used is in fact fresh.
Ownership and IP – You own your IP and whatever you create. Simple as that.
Team Size – No more than five people.
Submissions – Each hackathon has its individual hackathon.iopage where projects need to be submitted by the designated time. You'll receive an email with instructions on how to do just that.
Demos – You'll have 2 minutes to demo the functionality of your project and talk through your idea, and 1 minute for Q&A from judges.
Be courteous and cool to your fellow hackers! Check out our Code of Conduct.



Want your organization to be involved in a global technology and innovation movement seeking to spread opportunity across the world? A limited set of sponsorships are still available. For more information, please reach out to info@angelhack.com.
To see the full rules and eligibility criteria, please check out the Participation Agreement.
About the organizer
For over 10 years, AngelHack has been a leader in the innovation space; introducing hackathons, virtual competitions, accelerator programs, Meetups and developer-focused initiatives to over 100 cities around the globe.