Angelbeat Tampa Seminar: Security, Cloud, Infrastructure, Wireless

Thursday, November 17, 2016 from 7:30 AM to 1:30 PM (EST)
Who's Going

Loading your connections...
3 of your friends are going.
Share it to get more people on board!
Share

Sara Haughty
San Francisco, California

Luke Picard
London, United Kingdom

Rick Vespucio
Florence, Italy
Event Details
Program Description:
This comprehensive 1/2 day seminar covers the increasingly related topics of IT security/compliance (including stopping Ransomware and Advance Persistent Threats, plus understanding/preventing DDoS attacks that caused a nationwide disruption of major websites in mid-October), network, storage and data center infrastructure, wireless/mobility and private/public/hybrid cloud. Scroll down to see the full agenda and click on links to see company information and speakers' biographies, who deliver concise, technical, educational and complementary talks. There is a Microsoft keynote, plus speakers from Check Point, F5, Brocade, Nutanix and other leading firms.

Content is pre-approved by Angelbeat and past attendees to maximize learning; click here to download presentation guidelines that are followed by all speakers, which makes the program so worthwhile for IT Directors, Security Analysts, Enterprise Architects, Network & System Administrators, Data Center/Storage/Infrastructure Managers, CISO/CIO's, etc.

Click here to watch an informative video by Angelbeat CEO Ron Gerber on why you should attend.

Join your peers from Jabail Circuits, Baycare, Badcock, TECO Energy, Chapters Health, Lake Wales Medical, FCCI, FKQ, Citi, Achieva Credit Union, University of Tampa, Florida College, State College, Pinellas Suncoast Transit, Hernando County and many more organizations who are confirmed attendees.

As one Walmart attendee states, "Of all the seminars I attend, your format is by far the best. Brief informative talks from vendors, followed by one-on-one time at their booth to find out more. I am out of the office for less than a day yet I have access to all the different solutions. This year I will follow up with two vendors." As another IT Director commented, "Thanks for hosting a very informative meeting with vendors that tied in well; it was an integrated picture of technologies that work together to create a complete infrastructure solution for the workplace."

Every attendee receives meals including a full hot lunch (click here to see the delicious menu), complimentary Wi-Fi, plus 4 CPE credit hours towards your CISSP or other certification. There are drawings for gift cards and other prizes at the end.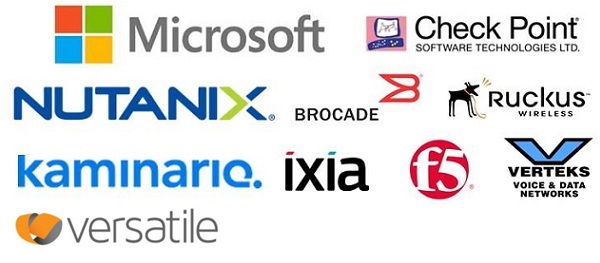 7:30 - 8:50: Registration, Hot Breakfast, Exhibit Area Open, Peer Networking, Product Demonstrations

8:50 - 9:15: Zero-Day, Ransomware and Advanced Persistent Threat Protection with Sandblast from Check Point
Zero-day and advanced persistent threats use the element of surprise to bypass traditional security, making these threats difficult to protect against—and very popular with hackers. Traditional sandboxing was designed to help with these types of threats, but cybercriminals have evolved their techniques, creating evasive malware that can avoid detection by many sandbox solutions. As a result, many organizations find themselves taking reactive steps to counteract infection, rather than preventing it in the first place.

To get ahead, enterprises need a multi-faceted prevention strategy that combines proactive protection that eliminates threats before they reach users, and state-of-the-art CPU-level exploit detection to expose even the most highly camouflaged threats.

During this informative session Bill Dunbar from Check Point will illustrate how its SandBlast solutions provides industry-leading network protection from even the most sophisticated malware and zero-day threats. Using Threat Emulation sandboxing and Threat Extraction technologies, SandBlast Network prevents unknown malware, ransomware and zero-day attacks from reaching users. Unlike traditional solutions that are subject to evasion techniques, introduce unacceptable delays, or let potential threats through while evaluating files, Check Point SandBlast stops more malware from entering your network, while maintaining the rapid pace of modern business.

9:15 - 9:40: Stopping DDoS Attacks - that Crippled Netflix and Twitter in mid-October - with F5
In mid-October, major websites including Twitter and Netflix were crippled by the largest ever Distributed Denial of Service (DDoS) attack, that brought down their websites by leveraging Internet-of-Things (IoT) connected devices such as WiFi enabled cameras and thermostats. DDoS attacks are not just limited to the large companies and can affect organizations of all sizes. Without a website, you cannot book sales and internal communications are significantly disrupted.

During this informative, technical and highly relevant session, Reed Shpley, Security Engineering Specialist at F5, will share insights on this growing security threat, and recommendations to prevent it from affecting you. In general, there are four main types of DDoS attacks, although they're most often combined:

- Volumetric: flood-based attacks that can be at layer 3, 4, or 7
- Asymmetric: invoke timeouts or session-state changes
- Computational: consume CPU and memory
- Vulnerability-Based: exploit application software vulnerabilities.

The most damaging DDoS attacks mix volumetric attacks with targeted, application-specific attacks.

The DDoS solution offered by F5 includes many compelling features, such as integration with cloud services for immediate off-loading to the cloud, plus unique layer 7 application coverage that defeats threats cloaked behind DDoS attacks without impacting legitimate traffic.

9:40 - 10:00: From Traditional to Next-Generation: Demystifying Hyperconvergence and Enterprise Clouds with Nutanix
As enterprises look beyond traditional IT workloads including cloud-native applications and DevOps, they should consider how technologies such as software-defined infrastructure and cloud can drive real-world benefits.

During this informative session featuring Nutanix Senior Systems Engineer Kevin Laine, learn how IT can move away from traditional environments to hyperconverged infrastructure and onward to Enterprise Clouds. These new platforms can handle all your challenging applications and business needs, with clear agility, productivity and availability/security benefits. At the end of this session, you'll:

-  Aquire proven strategies for delivering frictionless IT services while retaining the precise control your business needs
- Understand new capabilities that tear down IT silos and unify the technology stack
- Learn best practices in virtualization, application design and cloud technologies

10:00 - 10:20: All Flash Storage with Kaminario
During this informative and technical session, Clive Whittaker, Data Center Solution Architect with Kaminario, will discuss how significant cost reductions in Solid State Drives has made evaluation of all-flash storage architecture a 2017 priority for Data Center/Infrastructure Managers. Learn about this rapidly changing technology and what questions you should ask before expanding your existing capacity, and how to integrate flash and non-flash storage products.

According to IDC, Kaminario can reduce database license spend by up to 70% while eliminating performance issues. According to Gartner, Kaminario's strengths include:
- Scale-Up/Scale-Out architecture with rich features that has been field validated
- Consistent and predictable performance, plus low latency
- Flexible storage efficiency and resiliency technologies

Kaminario is right sized, right priced to be your everything storage, especially if you have data protection and security concerns.

10:20 - 10:40: The Need for Network Visibility with Ixia
Companies try to ensure their networks are reliable, fast and secure through a number of teams that manage every aspect of the network, including: Network Ops, Application Ops, Security Admins, Server Admins, Forensics, and Privacy and Audit teams. Adding to the confusion, each of these IT teams generally buys their own set of analytics, monitoring, and/or security tools. Unfortunately for many organizations, these teams and their analytics tools have not solved the problem - blind spots still persist.

A recent Ixia application performance monitoring survey proves the point, showing that 79% of survey respondents report not getting expected results from their APM tools. Good monitoring and security tools are only a starting point, not the answer. Gaining access to all critical data flows and intelligent management of the data delivery system can optimize the performance of these tools and return significant value to your bottom line.

What was once only a firewall now usually involves a next-gen firewall with intrusion detection and prevention system, web-application firewall (WAF), SSL decryption, forensics tools and more. You purchase security tools to protect your network, but what have you done to protect your tools? Vendors recommend that enterprises place security tools inline to inspect live traffic flows. Every network architect knows that daisy-chaining a series of tools creates multiple points of failure and potentially a mess, should any of them freeze, reboot, or need to be taken offline for maintenance. Serial inline deployment is dangerous! Network traffic would stop in the event that any single tool fails. According to a report from Dimension Data, 42% of network incidents are due to hardware failures. A resilient Inline security framework ensures tool failures do not become network failures or security breaches.

In this informative session Steve Hester from Ixia will discuss how network visibility architectures can deliver ongoing insight into production networks to help maximize your company's productivity and profitability, as well as its return on IT investments. You will hear about how organizations have been able to reduce their investments in monitoring & security capex, yet experienced an increased awareness of application performance and security anomalies. You will also learn how a basic intelligent inline security architecture includes both high-speed bypass switches and network packet brokers. The bypass switch acts as a failsafe mechanism to isolate and protect the links, while the NPB load balancer manages the traffic flows between the security tools. Should a tool fail for any reason, this resilient architecture is programmable to keep your network traffic flowing both reliably & securely.

Coffee/Snack Break, Exhibit Area Open, Peer Networking, Product Demonstrations

11:20 - 11:40: Wi-Fi Network Architecture, End User Performance Requirements, Wireless/Mobile Security with Ruckus Wireless, now part of Brocade
By the end of 2013 there were more mobile devices than people on earth, and by 2020 it is predicted that 30 Billion devices will be connected to the internet. This is not surprising, given that every tablet, laptop and smartphone can only connect to the Internet via wireless, and the rapid adoption of Bring-Your-Own-Device (BYOD) programs by organizations of all sizes.

This massive influx of devices has introduced a new era in the world of Wi-Fi. IT professionals are facing enormous challenges, balancing capacity, flexibility, financial and QoS requirements, while simultaneously evaluating new technologies like 802.11ac. Plus there is increased demand for machine-to-machine mobile communications, seamless management of wired & wireless network connections, and enhanced security to prevent Internet-of-Things (IoT) attacks (wifi-enabled thermostats and cameras were the source of the mid-October DDoS attack).

Fortunately Steve Crivello from Brocade, along with regional systems integrator Verteks, will help you understand these issues and offer practical solutions. Mr. Crivello will demonstrate cloud-based management sytems that control remote access points, help you understand how different antennae designs can improve coverage, and why access points from different vendors, even if they operate under the same 802.11 standard, nonetheless have vastly different performance.

11:40 - 12:00: How to Deploy Office365, plus Strategies for Migrating Onsite Applications to the Azure Cloud, with Microsoft and Versatile
Jeff Forsyth from Versatile, one of Microsoft's top technology partners in the US, will discuss ways to achieve "Office 365 utopia" in this informative, technical and educational talk. Mr. Forsyth will explore best practices for positioning Office 365 in your organization, including establishing a vision, providing business solutions, and creating an adoption strategy. Some specific topics to be discussed include:

- Starting with a deep understanding of the business goals and people challenges.
- Providing a solution that people love and gets things done more effectively.
- Creating a strategy to drive adoption.
- Establishing benchmarks, key performance indicators, and success stories.
- Integrating Office365 with existing/legacy applications, anti-virus and backup utilities, plus cloud-based services such as Azure

In summary you'll learn how to help your organization run smoother, more efficiently, and more profitably by finding the right balance between traditional IT and cloud computing/Software-as-a-Service (SaaS) applications like Office365.

12:00 - 12:40: Microsoft: What's New with Azure, Open Source Linux Initiatives, and Windows Server 2016
The cloud puts new demands on your organization to innovate faster in order to compete effectively. You make decisions every day about how to balance traditional IT responsibilities with cloud innovation. At the same time, your organization faces increased security threats from outside and within. For these reasons and more, organizations adopt cloud computing at different rates.

Windows Server 2016 is the cloud-ready operating system that supports your current workloads while introducing new technologies that make it easy to transition to cloud computing when you are ready. It delivers powerful new layers of security along with Azure-inspired innovation for the applications and infrastructure that power your business.

In this session join Blain Barton, Technical Evangelist at Microsoft, as he brings you up to speed with some of the incredible innovation coming in Windows Server 2016, from Virtualization to Containers, Storage to Security, Networking to Nano Server and much more.

Mr. Barton will also share with the latest developments around Microsoft's Azure Cloud Platform, plus its significant support behind and Microsoft's commitment to Open Source/Linux Computing.

Full hot lunch (click here to see the delicious menu), Exhibit Area Open, Peer Networking, Product Demonstrations

End of Event, Raffle Prize Drawings for gift cards and other great items!

FAQs

What are Angelbeat's privacy and optin/optout policies
Each attendee acknowledges/understands that financial support from Angelbeat sponsors allows him/her to attend this event at no cost, and that the sponsors will be given your contact information 2 days after the event for follow-up email and telephone communications. All sponsors are required to provide you with an opt-out option, allowing you to be removed from their database.

However each attendee can opt-out of sponsor follow-up by informing Angelbeat staff at the event, or by emailing Angelbeat immediately after the event, but before Angelbeat releases the attendee list to the event sponsors.

If you have any questions regarding Angelbeat's privacy policies and how your contact information is used, please contact CEO Ron Gerber directly at 516-277-2057 or at rgerber@angelbeat.com.

Who is eligible to receive a free pass
There is no charge to attend for an end user IT professional who works in the telecom/IT/networking/security/data center/desktop/purchasing departments of corporations (private and publicly-held, large and small), universities, school districts, government agencies, hospitals, manufacturers, retailers, banks, financial services firms, insurers, real estate/construction/property management, insurance/brokerage agencies, pharmaceutical companies, law/accounting/consulting firms, trucking/transportation/logistic firms, etc. and use, support, purchase and/or are involved in or influence the purchase of products and services offered by our sponsors. If you are a government employee and have limitations/restrictions on your ability to attend free events, then please contact the Angelbeat team by clicking below. For instance, some individuals simply reimburse Angelbeat for the cost of the meals, to avoid any perception of conflict-of-interest.

All free attendees must be pre-approved in advance by Angelbeat and Angelbeat reserves the right to accept or reject a free pass request at its sole discretion. As a general policy Angelbeat does not offer free passes to individuals at companies that are looking to sell their products/services to the end user personnel described above who attend our events at no charge. If you fall in this category and would still like to attend then the fee is $300/person. To sign up please click here, complete the pdf document that appears and fax it back to Angelbeat at 703-783-8015. If you are a non-sponsoring vendor/integrator/consultant and would like to attend but avoid paying this $300 fee, then you must be accompanied by one of your clients who has not previously registered, and is a CIO, CISO or IT Director that meets the end user criteria above. Full-time reporters from major newspapers, websites, television and radio stations can attend as our guest, but again must be approved in advance.

If you do not meet the above criteria and still try to register, then you will receive an automatic reply/confirmation from Eventbrite. However you will shortly receive another email from Angelbeat, rejecting and cancelling your registration.

What are my transport/parking options getting to the event
Detailed driving directions will be sent out to all attendees one week before the event. There is complimentary self parking.

What is the dress code
Suggested dress is business casual.

What if you have special dietary needs/restrictions
If you have special dietary needs/restrictions, then please email Angelbeat below. We will do our best to accommodate any and all requests.


When & Where

Hilton Tampa Airport Westshore
2225 North Lois Avenue
Tampa, FL 33607


Thursday, November 17, 2016 from 7:30 AM to 1:30 PM (EST)
Add to my calendar
Organizer
Angelbeat CEO Ron Gerber
Ronald J. Gerber is the CEO of Angelbeat, and serves on the Board of Directors and is a former President of the Harvard Business School Club of Greater New York. To get the latest updates via social media on Gerber and Angelbeat (common hashtag #angelbeat), click here for Twitter, Linkedin, Facebook, Youtube, and Instagram, plus read Gerber's widely-respected blog at www.angelbeat.com.

Angelbeat is the largest technology event company in North America, based on its 100+ city geographic coverage, and has held over 1,100 seminars since its founding in 1999. These forums bring together tens of thousands of IT professionals with global technology leaders from Microsoft, Google, VMware, Amazon, Google, HPE, Dell and many others. Through these activities Mr. Gerber has an unmatched level of knowledge, contacts and credibility among both technology vendors and their CTO/CIO customer base. Based on his industry reputation, he was selected to write six supplements on emerging technologies for the New York Times. Further details are available at www.angelbeat.com. He is also the founder of Gerberama consumer-related seminars on home automation, digital entertainment, smart appliances/lighting and electric/self-driving cars.

Before starting Angelbeat, Mr. Gerber held senior positions at Honeywell, Kyocera, Pepsico and Accenture. Mr. Gerber received a B.S. in Engineering from Princeton University, summa cum laude, and an M.B.A. from Harvard Business School. He currently serves as Director of the Harvard Business School Club of New York. He is married to Andrea and they have four children, Lamarcus, Harry, Amanda and Sydney, plus their dog Scout, an Australian Shepherd.
Angelbeat Tampa Seminar: Security, Cloud, Infrastructure, Wireless