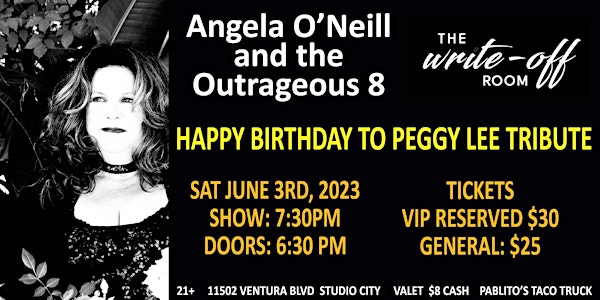 ANGELA O'NEILL AND THE OUTRAGEOUS 8: HAPPY BIRTHDAY TO PEGGY LEE TRIBUTE
When purchasing tickets - Please use the "BUY ON MAP" option to select your desired seats.
Date and time
Saturday, June 3 · 7:30 - 9:30pm PDT.
Location
The Write-Off Room 11502 Ventura Blvd Studio City, CA 91604
About this event
2 hours

Ages 21+

Mobile eTicket
PLEASE NOTE, THIS IS A STATE OF THE ART BAR - TICKET HOLDERS MUST BE 21 YEARS OLD AND OVER.
$20 TWO DRINK MINIMUM
Doors: 6:30pm //Show: 7:30pm
ANGELA O'NEILL AND THE OUTRAGEOUS 8
HAPPY BIRTHDAY TO PEGGY LEE TRIBUTE
This Contemporary Octet is powered by Gary Gibbons (Big Band Alumni, Psych Big Band)...who is our drummer and SAM MORGAN...WILL be back off tour...to join the group...
Accompanied by Bass player Bill Bodine (Joan Armatrading, The Manhattan Transfer, Olivia Newton-John) brings the groove and Rocky Davis on Keys( Arranger, Solid Gold, Marilyn McCoo) rounds out the Rhythm!
Outstanding Trumpeter Paul Litteral (The Uptown Horns, The Rolling Stones, J. Geils Band) are just a few of the OUTRAGEOUS musicians in this dynamic and original group.
This group performs all FRESH and original arrangements to celebrate the very talented and ultra musical Peggy Lee. Led by Bandleader and vocalist Angela O'Neill (Angela was a classically trained Oboe player for 10 years before returning to her true passion of singing). Angela will be joined by some very special guests!
We are excited to have Angela O'Neill & The Outrageous 8 make their debut appearance at The Write-Off Room…please come join us for an evening to celebrate and tribute the music of the incomparable Peggy Lee!
-Review-
ANGELA O'NEILL AND THE OUTRAGEOUS8 LIGHT AT THE END OF THE TUNNEL
Outrageous8 Records
CD, Digital
Solid and sizzling, California-based vocalist/bandleader Angela O'Neill and the Outrageous8 deliver an invigorating set with their enjoyable newest release, Light at the End of the Tunnel. Actually, she only sings on six of the 10 tracks with this formidable octet of musicians. These include the My Fair Lady classic "I've Grown Accustomed to Her Face" (here, it's "His Face") and it's kind of breezily upbeat, as opposed to the bittersweet and reluctant realizations of the musical's original context. She turns her attention and skills to two standards with Harold Arlen melodies from the 1940s that reference the same two weather extremes: "Come Rain or Come Shine" (lyric by Johnny Mercer, introduced in the Broadway musical St. Louis Woman) and holding on through the storm for the time "When the Sun Comes Out" (Ted Koehler's words). A somber turn arrives with the pop song "New York Minute," here darkened and deepened as an homage to friends lost to COVID-19.
Other vocalists bringing high spirits to the party are: clarion-voiced Bill A. Jones taking on the title song of the musical On a Clear Day You Can See Forever which recalls Frank Sinatra's recording of it; Al Timms for a buoyant "I'm Gonna Live Till I Die"; and Jackie Gibson for Rodgers & Hammerstein's "It Might As Well Be Spring." Gibson successfully brings brisk, frisky fun to "... Spring" instead of the predictable path of taking a cue from the lyric about feeling "restless" and "vaguely discontented". Seven of the arrangements are by the band's trombonist, Harry Smallenberg, who also composed the one purely instrumental piece, the likably fast-moving romp titled "Now and Again."
So, don't let that adjective "outrageous" in the group's moniker cause you to think things are super-wild or campy or shocking. This bright Light at the End of the Tunnel is mostly undemanding, agreeably accessible entertainment that goes down easy and won't get you down.
--
Ticket Holders must be 21 years of age or older. A minimum of $20.00 / two drinks is required per person while inside the showroom. Service fees apply to all tickets purchased via Eventbrite, at the door, and/or at the Box Office.
Guests requiring accessible seating should book directly by calling 747-400-4156 X321.
About the organizer
Pablito's World Taco Truck joins us every night offering up their Tijuana explosive flavor, along with the Peruvian touch.
21 & Over • 20% Gratuity on all Checks • A & P Valet $8 Cash Only
11502 Ventura Blvd, Studio City, CA 91604 | 747.400.4156 | www.thewriteoffroom.com