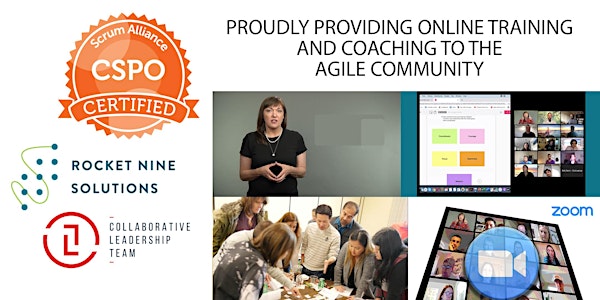 Angela Johnson|Online|Certified Scrum Product Owner|CSPO|December 2022
Live Online Scrum Master class led by Ignite Agility Podcast host -- 2 days with EVERYTHING you need to get your Scrum team up & sprinting!
About this event
This intensive two-day course will prepare you to take on the Product Owner role and is taught by a Scrum Alliance Certified Scrum Trainer®. We'll cover the Scrum framework but more importantly, what it means to function as the Product Owner, or Customer, for a Scrum team. You will learn about managing stakeholders, creating and refinement the Product Backlog, emerging detail with Product Backlog Items and User Stories including Acceptance Criteria and the Definition of Done.
This live, interactive 2-day session is intended for anyone who wants to gain an understanding of:
The basics of what Scrum is and how it fits into an Agile process
What the Product Owner role is and how it differs from a traditional product manager or project sponsor
The process for creating, refining and maintaining a Product Backlog
How to collaborate with the Scrum team to maximize business value with each Sprint
How Scrum can enable your business to respond more rapidly to changing market, business and customer needs
Course Benefits
Upon completion of the course, students are eligible for the following benefits:
A two-year membership with the Scrum Alliance and the CSPO designation
Can earn PDUs (one PDU per contact hour with the Project Management Institute)
Satisfy 14 of the 21 required training contact hours for the PMI Agile Certified Practitioner (PMI-ACP) as well as a strong foundation for the associated certifying exam
Receive SEUs towards your Certified Scrum Professional (CSP) certification
Course Outline
Scrum Overview
Product Owner Roles & Responsibilities
Product Owner Planning
Product Backlog
User Stories
Prioritization & How To Accurately Estimate
Release Planning
Working Collaboratively with Teams
Scaling Across the Organization
Acceptance Criteria
Measure, Test & Adapt with Metrics and Reporting
ABOUT THE CLASS
Rocket Nine Online CSM classes are live and in real-time. Training is fun and engaging, leveraging creative online learning opportunities including games and stories to help you learn about the Scrum Framework, and break-out rooms for "table" exercises. You'll learn how to apply Scrum to your team, and how to leverage Scrum throughout the organization while avoiding common pitfalls and mistakes. Get exposed to different techniques for your toolkit to help you truly make a difference.
Taught by Our Valued Partners at Collaborative Leadership Team
Angela Johnson - CST®, CLP®
Angela is a successful entrepreneur, educator and coach who founded Collaborative Leadership Team in 2010. She coaches, trains and empowers people to use a variety of techniques to achieve their professional goals and objectives. Angela is Certified LeSS Practitioner (CLP), a Certified Scrum Trainer (CST) and one of the first Scrum Alliance Path to CSP Approved Educators.
With over 24 years in helping leaders and teams of people, Angela's client roster includes those in the following industries: agency and services, software, hardware, marketing, financial services, insurance, learning and development and more. The breadth and depth of her experience extends beyond Scrum and includes Kanban, eXtreme Programming, small business administration, facilitation and organizational change for business agility.
A graduate of Hamline University (B.A.) and the University of St. Thomas (M.B.C.), Angela focuses her work with people and organizations who are interested in making structural and behavioral changes to produce better outcomes. Angela is a wife, a mom and lifelong learner living in Minnesota.
Click HERE for Angela's new book - The Scrum Master Files!
Click HERE for Angela's Coaching Services on the following topics:
Agile & Scrum
Leadership
Train the Trainer
Facilitation
Effective Public Speaking
Small Business Administration
WHY ROCKET NINE
Experience with BIG Change - Organizations face challenges at all phases of their agile implementations: from team-level execution and delivery, to higher-level strategy, governance, and leadership. We know that for an organization to achieve agility, people at all levels must understand agile principles and be educated about agile processes like Scrum. Our foundational training courses are firmly rooted in the core agile principles and practices you need to achieve success, regardless of your ultimate role in the organization.
Availability and Support - We're available for follow-up with you, your leadership, and teams. Our broader Rocket Nine team of Certified Scrum Professionals also provides remote coaching and support for Kanban, Product Management, Scrum for Marketing, traditional project management, and scaling agility with SAFe, LeSS, Scrum at Scale and much more. 
Other market-leading classes and offerings by Rocket Nine Solutions:
About Rosa Media Productions
Rosa Media Productions is the marketing and training logistics management licensee for this Rocket Nine Solutions course. Rosa Media Productions provides video studio consulting, online course creation, and content marketing video production services for the product development corporate training and public education markets.
Cancellation Policy - Reschedule to another of our classes anytime, or cancel anytime up to two (2) weeks before class for 100% refund. Fewer than two (2) weeks notice will result in a 50% refund to cover hard costs. For minimum learning experience, the course must run with a minimum ten registrants. If fewer are registered, the class may be cancelled more than two (2) weeks in advance, and attendees will be offered seats in the next Rocket Nine Solutions classes in the area or a full refund.
Please refer to our FAQs page if you have questions.
If you need assistance, please contact us at course.admin@rocketninesolutions.com  or call Cliff Rosa at 714-699-4679. 
© Copyright 2022 Rocket Nine Solutions