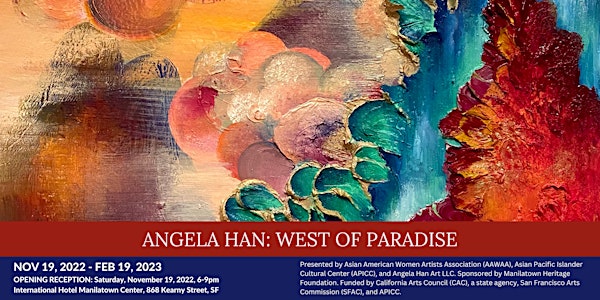 "Angela Han: West of Paradise" Closing Reception
A last chance to experience the work of Chinese-American artist, Angela Han, in this solo exhibition exploring the concept of "paradise"
When and where
Location
International Hotel Manilatown Center 868 Kearny Street San Francisco, CA 94108
About this event
ABOUT THE EXHIBITION
In Chinese mythology, the cardinal direction of the west represents a gateway into the unknown where realms of power and possibility thrive. The ladder between heaven and earth – 昆仑山 Kunlun Shan (Kunlun Mountain) – can be found there, protected by myriad hybrid creatures who shield this paradise from unmerited access. This paradise is also the home of 西王母 Xi Wang Mu (Queen Mother of the West), goddess of creation and destruction as well as patron of women. Every year, 西王母 Xi Wang Mu hosts a magnificent banquet and serves the coveted treasures, 仙桃 Xian Tao (Peaches of Immortality), offering her guests a chance to seize the impossible.
Angela Han: West of Paradise highlights work from Han's notable series including Serpents of Khaos (2020–present), 50 Mythical Worlds Inspired by 50 Women Composers (2020), The Nine Guardians of Water (2021), Shan Shui (2021-2022), and Realms of Courage: Celebrating Asian Women Composers (2022–present). Developed over the course of the COVID-19 pandemic, each series explores the concept of "paradise" within the context of hybrid identities, mirror communities, and yearnings for a "true" home. As a first-generation Chinese-American woman, Han tenderly carries the hyphen that shuttles between *Chinese* and *American* and strives to encapsulate speculative loci amoenus (spaces of safety and comfort) for Asian-American women through the vividness, intricacy, and layered complexities of her paintings.
Speaking as an artist, musician, and educator, Han asks: What does paradise – an idealized space, a "true" home, a fulfilled sense of being - look like for Asian-American women creators? How would thriving within this paradise feel day to day, and in the long-term? What elements are necessary to cultivate this space so that Asian-American women believe they can reach above the stars, overcome the impossible, and push beyond societal expectations? What would it take to build a home where Asian-American women feel respected, cherished, and celebrated as powerful forces of change and transformation?
This exhibition is co-presented by Asian American Women Artists Association (AAWAA) Asian Pacific Islander Cultural Center (APICC) and Angela Han Art LLCo-sponsored by Manilatown Heritage Foundation. Funded by California Arts Council (CAC), a state agency, San Francisco Arts Commission (SFAC), and APICC.
EXHIBITION DATES
November 19 - February 19
Gallery Hours: Wednesday-Sunday @ 1-6PM
CLOSING RECEPTION DETAILS
Sunday, February 19 @ 2-3:30PM
Join us for a closing reception with music performances by artist Angela Han and composers from the Realms of Courage series, Theresa Calpotura and Julie Zhu. Light refreshments will be provided. More details to come!
---
ABOUT AAWAA
AAWAA's mission is to advance the visibility and recognition of Asian American and Pacific Islander women in the arts. Through exhibitions, publications, public programs and an informative website, AAWAA is an accessible resource and portal for educators academics, researchers, arts and social justice communities and the general public.
This exhibition is part of AAWAA's efforts to create more opportunities for its Artists Members. If you would like to further support our Membership and programs, please consider joining as a member or donating! www.aawaa.net
ABOUT APICC
The Asian Pacific Islander Cultural Center's (APICC) mission is to support and present multidisciplinary art reflective of the unique experiences of Asian and Pacific Islanders living in the United States. APICC proudly presents the annual United States of Asian America Festival (USAAF), showcasing diverse artistic works in music, dance, film, visual art and more from API artists throughout San Francisco. www.apiculturalcenter.org
This exhibition's Opening Reception will be part of the AAPI Bay Area Arts Convening.
Questions? Email exhibitions@aawaa.net