Angela Eve and Eve's Parlor "Dead Man's Hand" New Years Ball at The Flat Iron. Sponsored by Sailor Jerry, Jameson and PBR!

Friday, December 31, 2010 at 8:00 PM

-

Saturday, January 1, 2011 at 4:00 AM (CST)
Event Details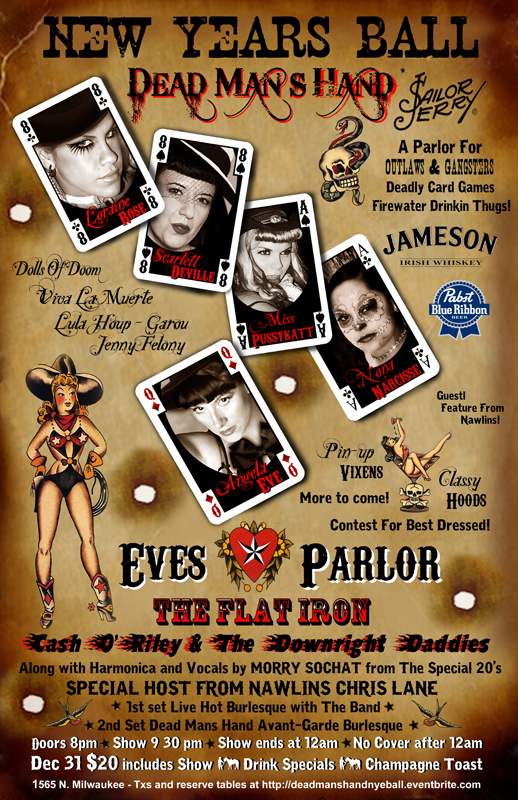 "DEAD MAN'S HAND" 
Angela Eve and Eve's Parlor along with Sailor Jerry , Jameson and PBR present a different type of New Year's Eve Ball at The Flat Iron. Eve's Parlor will vividly turn The Flat Iron into a dangerously erotic parlor for vixens, outlaws, gangsters, tribal ghosts, deadly card games and Firewater drinkin thugs. The Flat Iron is the the primer venue for Wicker Park's most celebrated low-brow artists and a perfect arena for a true multi-faceted burlesque show, Jumpin and Jive Live rock and roll and a sideshow extravaganza. In addition Angela Eve and Sailor Jerry will sponsor a contest for best dressed pin-up vixen and classy hood! So come dressed to the nines to be crowned the toughest outlaws at the ball and win Sailor Jerry merchandise and Eve's Parlor custom costume embellishments.

Angela Eve will be headlining with a full cast of top-notch beauties: Our regular Mid-West feature Miss PussyKatt from Grand Rapids, Out of town guest Nona Narcisse from Nawlins and Chris Lane guest host from Nawlins. Along with our local favorites: Viva La Muerte, Scarlet Deville, Loraine Rose, Lula Houp Garou, Jenny Felony and special Chicago acrobatic feature Dolls of Doom.
Cash O' Riley and The Downright Daddies from Detroit will open the show with a high energy Rockabilly/Blues set into a old skool, hip swingin, hot classic burlesque revue with the ladies of the parlor. Along with a special set of Harmonica and vocals from Morray Sochat of the The Special 20's one of the Chicago's primer blues swingin rock and roll bands.

DJ duo "Spank The Unicorn" Jeremy Scheuch and Miss Maya Sinstress will be playing music. The night will start out with heel stomping sounds of Rockabilly, Blues Roots, Country Classics and as the night progresses into a more rock and roll, head banging metal, stoner rock and go old punk rock Flat Iron style!
Angela Eve, Sailor Jerry and Miss Maya Sinstres one of Chicago's most well known fetish queens will host the best-dressed contest! And additional judge Pin-up expert Scarlet Deville will help determine the crowns of the ball during the break between the 2 burlesque sets around 10:30ish so come early and get ready to strut!!!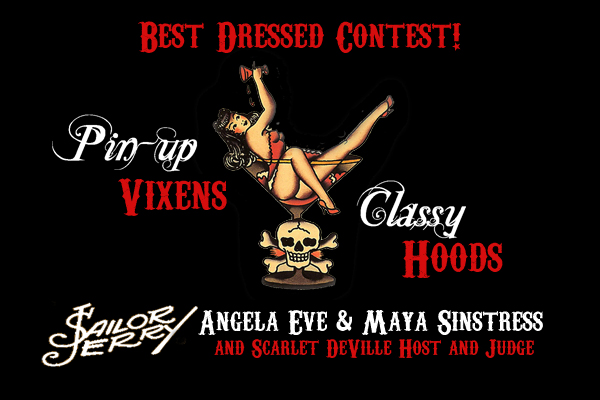 Our second set will be the Dead Man's Hand show. Each act will be based around a specific outlaw character creating a hard edge avant-garde burlesque show with aerial/acrobatic arts and sideshow flare. The second set will end just before midnight to lead into toasting the New Year with the crowd and then continue partying all night long!!!
Doors are at 8pm, show starts at 9:30 with 2 sets that ends at midnight with a champagne toast. $20 dollars includes show, drink specials and midnight champagne toast. No cover after midnight  for late-night partying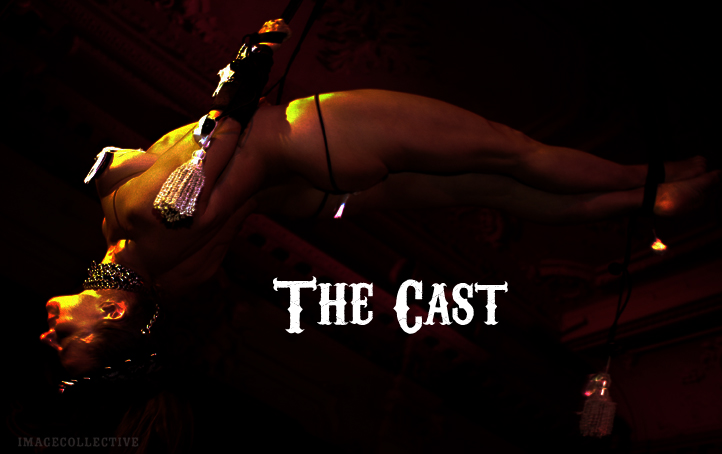 Angela Eve AKA Wild Bill Hickok - Angela Eve Creator, Producer, Headliner, Artistic director of Eve's Parlor along with being a international burlesque feature and multi-facet artist! Set in Deadwood Angela Eve will be a female Wild Bill Hickok during the last moments of the famous deadly card game and tribally reincarnate as the ghost of his horse in the after life! This cryptic act will be accentuated with the sounds of a high power old-timie dark mix of Jay Munley and the Lee Lewis Harlotts with an energetic aerial strap ending to Mastodon.
Nona Narcisse from Nawlins AKA Santa Muerte -  The Saint for lost souls and the "angel" of last resort for outlaws, criminals and outcasts. Nona will vividly transform Santa Muerte the saint for dead souls into the Aztec Queen of the underworld "Mictecacihuatl" in this cutting edge burlesque performance. Nona Narcisse started producing Slow Burn Burlesque in New Orleans a few years ago, which in a short time has achieved great success and has become one of the primer shows for alternative burlesque in New Orleans. In addition to burlesque Nona is also a working actress and model.
Chris Lane Our Guest Outlaw Host- He hails from the top city for criminals New Orleans. Chris Lane is a muti- faceted host and all around one of the most dynamic personalities in burlesque according to Angela Eve. For the past 4 years he has hosted for The Fleur de Tease Burlesque Revue New Orleans top neo-burlesque shows at One-Eyed Jacks. Mr. Lane has also performed with Angela Eve and Go Go Amy, in addition to hosting numerous fundraising events for charity. 
Miss Pussykatt AKA Belle Starr - Most Well-Known Lady Bandit in American History!Miss PussyKatt is our regular Mid-West feature from Grand Rapids. She is creator of Dare Devil Circus and an international sideshow performer that tours regularly and featured on "America's Got Talent". She will be putting a twist on this powerful historical lady as she walks on glass and shoots fire from her mouth to MOTORHEAD "Ace of Spades"!
Dolls Of Doom - Chicago's very own aerial, acrobatic, and engineered burlesque troupe. The Dolls of Doom will entertain us as energetic acrobatic gangsters. The Dolls are Chicago's top acrobatic burlesque troupe and winner of last years best variety act at Miss Exotic World. Creator and artistic director Lola Martinet has been showcasing her talent for years in Chicago and recently has reached international feature status.
Scarlet DeVille AKA Mistress of Al Capone -  One of Chicago's up and coming burlesque performers and an official member of Eve's Parlor. She recently created the DeVillettes her reto 40's burlesque troupe and is currently a monthly feature host for Bondage a Go-Go. Scarlet will be opening the show as Capone's Mistress to Frank Sinatra's "Luck to be a Lady". Classically seducing us as an Italian princess with a deadly edge in her lavish card-playing gown!
Loraine Rose AKA The Sadistic Alex from Clock Work Orange - Official member of Eve's Parlor and has currently created several new persona's for Loraine Rose and is currently in regular training with Angela Eve to becoming one of Chicago's hotttttttest rising burlesque beauties! She is going to sadistically and erotically captivate the audience as the crazy English gangster Alex from Clock Work Orange into a voluminous and erotic Milk Maid from the droogs favorite Milk bar. She will be performing to an edgy sound mix of The original movie score "The Funeral March of the Queen" and "The Thieving Magpie" into Edwyn Collins "A Girl Like You".
Lula Houp-Garou AKA Bonnie Parker of Bonnie and Clyde - Lula is one of Chicago's newest up and coming burlesque producers with her show Lula Houp-Garou Circus. She has been showcasing her hoop talent for the past several years in Chicago. She will take you on a seductive shotgun hooping journey as the very tough but sexy Bonnie Parker with old timie flare and killer charm!
Viva La Muerte "Snortin Whiskey" An Outlaw running booze during prohibition and getting into trouble along the way! Viva is Chicago's heavy metal burlesque queen and producer of Hot & Heavy Burlesque. She has excited audiences across the country with her rule breaking, innovative acts for nearly 4 years now. When you see this little lady you will know why they call her 'The Ass With The Most Sass'
Jenny Felony AKA Pretty Boy Floyd. Jenny is back from a brief  hiatus in the pen and is out on good behavior ready to get in trouble all over again.!!!!!!
When & Where

The Flat Iron
1565 N. Milwaukee
Chicago, IL 60647


Friday, December 31, 2010 at 8:00 PM

-

Saturday, January 1, 2011 at 4:00 AM (CST)
Add to my calendar
Organizer
Angela Eve and Eve's Parlor with Sailor Jerrry, Jameson and Pabst Blue Ribbon as our sponsors
Angela Eve and Eve's Parlor "Dead Man's Hand" New Years Ball at The Flat Iron. Sponsored by Sailor Jerry, Jameson and PBR!