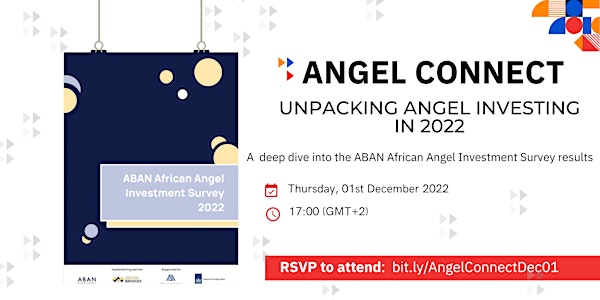 Angel Connect - Unpacking Angel Investing in 2022
Unpacking the Angel Investing in Africa Landscape based on insights from ABAN Africa Angel Investment Survey 2022.
About this event
1 hour 30 minutes

Mobile eTicket
So who are these angel investors that support promising founders on the African continent? How much do they invest and what are their preferred sectors? Do they invest individually or in groups? What are key drivers to make angels invest and what are hurdles to invest more?
For these and for many more questions, we are having this discussion to unpack insights shared in the ABAN African Angel Investment Survey 2022, launched in early November at #AESIS2022, the African Early Stage Investor Summit hosted annually by VC4A and ABAN.
The ABAN African Angel Investment Survey 2022 builds on the Angel Investing in Africa Landscape report. An exercise carried out in 2021 by Briter Bridges and ABAN. The 2022 edition is in collaboration with the African Angel Academy, and supported by the Dutch Good Growth Fund (DGGF).
If you have not already seen it, DOWNLOAD THE REPORT here.
Book your seat now to join this conversation.
-----------------
About the African Angel Academy
The African Angel Academy (AAA) (www.africanangelacademy.com) is an African-led initiative that aims to train and support angel investors through a self-paced online course or sponsored cohort programme. Since launching in early 2020, the Academy has enrolled over 350 angel investors from 12+ countries through the programme.
The Academy was established as a pilot project by Viridian and Viktoria Ventures, with the endorsement of the African Business Angel Network(ABAN).
About ABAN
The African Business Angel Network (ABAN) (www.abanangels.org) is a Pan-African non-profit association. ABAN was founded in early 2015 to support the development of early stage investor networks across the continent and to grow the cohort of early stage investors excited about the opportunities in Africa.
YOU CAN UNLOCK CATALYTIC AFRICA MATCH FUNDING IN 3 WEEKS - Update your profile or Register on https://catalytic-africa.com/ to kickstart your application process.
Follow Catalytic Africa on twitter for more details.
Briter Bridges
Briter Bridges (www.briterbridges.com) was founded in October 2018 as a data-driven research firm dedicated to collecting, curating, and visualising information about business and investment across underserved markets, with a specific focus on Africa.
After producing some of the largest visual libraries portraying the state of Africa's innovative ecosystems, Briter launched its own Intelligence platform, which allows real-time tracking, crowdsourcing, and market exploration.