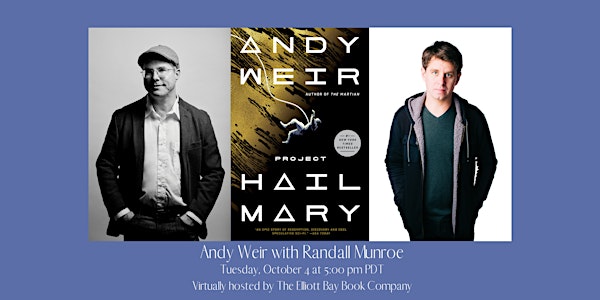 Andy Weir, PROJECT HAIL MARY, with Randall Munroe
Andy Weir launches the paperback edition of his bestselling PROJECT HAIL MARY with special guest Randall Munroe
Refund Policy
Contact the organizer to request a refund.
About this event
Co-presented with Old Firehouse Books (Colorado), Copperfield's (California), and An Unlikely Story (Massachusetts).
With the support of a a few of our indie bookstore colleagues across the US, Elliott Bay will host Andy Weir for the paperback launch of his New York Times bestselling novel Project Hail Mary. The Washington Post said of it, "If you loved The Martian, you'll go crazy for Weir's latest."
A ticket is required for entry to this virtual event. Each ticket comes with a copy of Project Hail Mary. A limited number of tickets will receive signed bookplates and patches. New York Times-bestselling author Randall Munroe will join Andy in conversation.
About the Book
Ryland Grace is the sole survivor on a desperate, last-chance mission—and if he fails, humanity and the earth itself will perish.
Except that right now, he doesn't know that. He can't even remember his own name, let alone the nature of his assignment or how to complete it.
All he knows is that he's been asleep for a very, very long time. And he's just been awakened to find himself millions of miles from home, with nothing but two corpses for company.
His crewmates dead, his memories fuzzily returning, Ryland realizes that an impossible task now confronts him. Hurtling through space on this tiny ship, it's up to him to puzzle out an impossible scientific mystery—and conquer an extinction-level threat to our species.
And with the clock ticking down and the nearest human being light-years away, he's got to do it all alone.
Or does he?
About the Authors
Andy Weir built a two-decade career as a software engineer until the success of his first published novel, The Martian, allowed him to live out his dream of writing full-time. He is a lifelong space nerd and a devoted hobbyist of such subjects as relativistic physics, orbital mechanics, and the history of manned spaceflight. He also mixes a mean cocktail. He lives in Illinois.
Randall Munroe is the author of the number one New York Times bestsellers How To, What If?, and Thing Explainer; the science question-and-answer blog What If?; and the popular web comic xkcd. A former NASA roboticist, he left the agency in 2006 to draw comics on the internet full time. He lives in Massachusetts.
This program will be virtually hosted by Elliott Bay Book Company.