Andy Grammer with Special Guest Antennas Up

Thursday, July 24, 2014 from 7:00 PM to 11:30 PM (CDT)
Who's Going

Loading your connections...
3 of your friends are going.
Share it to get more people on board!
Share

Sara Haughty
San Francisco, California

Luke Picard
London, United Kingdom

Rick Vespucio
Florence, Italy
Event Details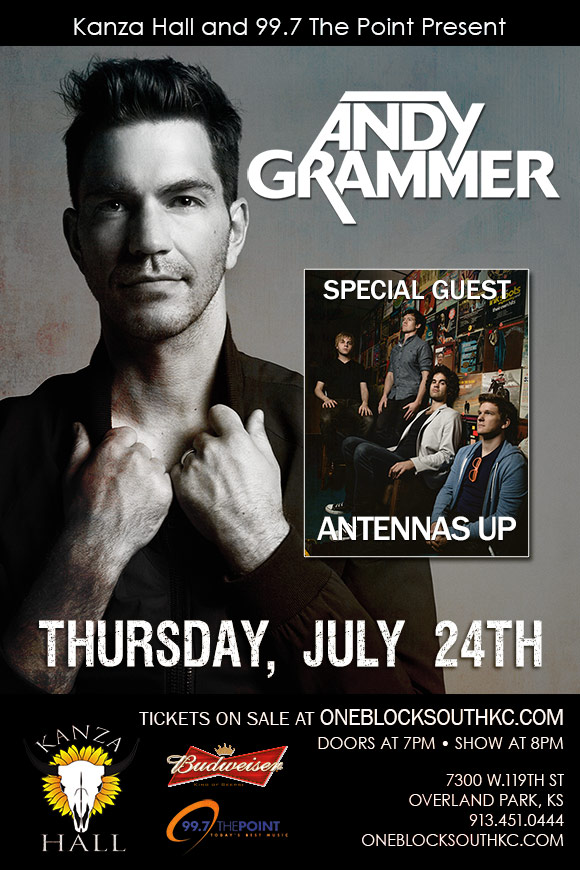 ANDY GRAMMER
In the three years since Andy Grammer released his self-titled debut album, the Los Angeles native singer-songwriter known for his vibrant pop/rock/soul mix has taken an incredible journey. Emerging as one of the biggest success stories in 2012, Andy has performed on Jimmy Kimmel Live and The Tonight Show with Jay Leno (three times) while sharing the stage with Taylor Swift, Train, and Colbie Caillat. He was named the first male pop star, since John Mayer in 2002, to reach the Top 10 at Adult Pop Radio on his first 2 singles, "Keep Your Head Up" and "Fine By Me", both certified Platinum and Gold respectively with more than 1.5 million singles sold together.
Now, in 2014, the acclaimed musician who began as a street performer in Santa Monica, CA is preparing for the release of his second studio album – an album he has been quietly working on and pouring his heart and soul into while in the midst of touring his first record. On March 25, Andy surprised both fans and critics alike when he debuted his lead single, "Back Home", off of his upcoming sophomore album. The anthemic feel-good jam blends his infectious pop style and an upbeat folk production, leaving summer graduates and listeners repeatedly singing along to the contagious chorus and nostalgia-induced lyrics. For Andy, "Back Home" is "about those friends, specific places, and vivid memories that remind us who we are". It was an important song for Andy to write while he was away from home and on a national headline tour.
On April 8, Andy surprises his fans by announcing his second headline tour, the Back Home Summer Tour, in conjunction with the release of "Back Home" on iTunes. With 26 confirmed tour dates in the summer, Andy is poised to make this year another big success story. 
It's widely known that it takes 10,000 hours of deliberate practice to become an expert at anything.   Andy Grammer logged his 10,000 hours of practice on the streets of Los Angeles. With his car battery-powered amplifier and acoustic guitar in tow, Grammer managed to sing his way from the streets to the center of the music industry.
One listen to Grammer's self-titled S-Curve Records debut and it is clear that this young man has become an expert. From the buoyant "Keep Your Head Up" to the breezy "Fine By Me," to the jubilant horn-laced "The Pocket," and emotionally-charged "Miss Me," his irresistible pop songs blend heartfelt, compelling lyrics with instantly unforgettable melodies.
Even though he knew music would be his path, Grammer never assumed it would be an easy road or that he could take any success for granted. He played any corner that would have him—using every experience to hone not only his songwriting craft but to learn how to understand his audience. His desire to be heard led him to the streets: "I didn't know what else to do. So I just went out there and started playing."
The success of Grammer's album would exceed even his expectations.  "That I even get to play a sold-out show where people know the words, and I'm singing about things I'm connected to is such a blessing," he says.  "It's the equivalent of a nine-year-old saying 'I want to be an astronaut when I grow up' and then getting to go to the moon. This year I've been to the moon, and it's awesome."
Grammer recorded the album in New York and Los Angeles with a collection of top producers, including Matt Wallace (Faith No More, Maroon 5), S*A*M & Sluggo (Train, Neon Trees), and Barrett Yeretsian (Christina Perri). "Basically, it was show up somewhere, really dig in with someone who's going to help you get your creative vision across and then go somewhere else and do it again," he says. "We got some really great stuff that I wouldn't have gotten if I just worked with one producer."
Every song that Grammer wrote on the album had one goal in mind: "I'm just trying to track down the truth," says Grammer, who was born in Los Angeles and grew up in New York. "My favorite thing is to pop up above everybody and write from a bird's-eye view. It may be about a break-up, it may be about a good relationship, it may be what we're doing on this planet here. I like to be far enough away to see the whole scope of what's occurring."
While much of his music is upbeat, Grammer is quick to add that he's hardly "pink and fluffy." I'm not intentionally trying to be positive, I'm just trying to be real."
In fact, Grammer wrote "Keep Your Head Up" as a letter of encouragement to himself after he'd spent an exhausting day street performing and had little money to show for it. The video--which features groundbreaking interactive technology in a partnership between VEVO, Interlude and S-Curve--won an MTV O Award for Most Innovative Video, topping entries from Arcade Fire, Robyn and OK Go!  "The most challenging part about the video was the sheer amount of times we'd have to tape each cut so people can go through the video thousands of different ways," Grammer says. "It was crazy."  The clip stars "The Office's" Rainn Wilson. "He's such a gracious, amazing guy," says Grammer, who met Wilson through a former roommate. "He gave me tips on how to look in the camera. The video has gotten so much more exposure because of him coming and hanging out."
Another album standout track is "Fine By Me," with its intimate lyrics, sparkling pop melody and funky undertow.  "'Fine By Me" is about having my heart stolen," says Grammer. "It's a story about a girl who came into my life and just robbed it right from under me. In my experience love is an all-or-nothing emotion. We are all really protective of ourselves because we know that if we fall in love we'll fall hard. So we kind of dance around the edges with our tippy toes in the water playing it cool. I went from playing it SO cool to falling SO hard in about four days."
Grammer grew up in a musical household. His father, Red Grammer, is a Grammy-nominated children's performer who gladly indulged his son's desire to get on stage...to a point. "My dad would bring me up to sing with him. I'd just have a couple of lines," Grammer remembers. "Afterwards, I'd say, 'Dad, I think I'm going to need a bigger part in your show because I nailed that. Seriously, it was intense.  I can see it in their eyes, they want more of me.' I was six or seven and he just laughed and laughed."
His dad gave Grammer an insider's insight into what happens off stage as well. "The most important thing I learned from my father about being a musician was the work ethic," Grammer says. "He worked really hard, he traveled all across the country. I saw his respect for his audience, respect for himself. I saw him take days off where he wouldn't talk to rest his voice. I saw the work it takes to cultivate an artist's career."
In 9th grade, Grammer picked up his dad's guitar and taught himself to write songs. "I knew one chord, so I was like, 'I'm going to write the coolest song with one chord ever'," Grammer laughs. His first band, Out of the Blue, got off to an auspicious start after playing some covers as well as Grammer's first original song, "Doorstep," at a battle of bands contest. "We did not win...at all," Grammer says. "I thought it was going to be a big concert moment. It was fun, but it was like, 'This is really hard and we suck."
Around the same time, Grammer had a musical epiphany when he heard Lauryn Hill's seminal solo album, 1998's The Miseducation of Lauryn Hill. "It felt like it was shifting things inside of me and I loved it," he says. Other artists who helped him influence his sound include Jack Johnson, John Mayer, Coldplay and Common. "For me, it's always been about a mix of hip-hop, acoustic singer/songwriters and piano rock," he says. "I pull all those together. Each song may lean more heavily on one than the other, but they all have all three pieces."
So that's what he did. Now based in Los Angeles, Grammer began playing everywhere he could, including gigs at more than 100 colleges and universities, as well as birthday parties and high school dance classes. "I'd send my music to a choreographer and she would choreograph a dance, then I would come in and play while 100 high school students would dance to my music," he says. "They'd know all my music and come to my shows. It was all really fun. Any time you make the transfer of 'I've created something and I'm giving it to you and I hope it makes you happy,' that's good."
Performing live remains a communal experience for Grammer, who's toured with Train, Gavin DeGraw, Colbie Caillat, Mat Kearney, the Plain White T's, Parachute, and Natasha Bedingfield - among others. "As an artist, you have an opportunity to get in and move things around in people. It's one of the only times during the day where they say, 'I'm going to open up to some other stuff here,' and you have that hour to get in and move stuff around and put it all back together. Those are the best gigs, where you can see that the whole room has moved somewhere together."
http://www.facebook.com/andygrammer
When & Where

Kanza Hall
7300 W 119th St
Overland Park, KS 66213


Thursday, July 24, 2014 from 7:00 PM to 11:30 PM (CDT)
Add to my calendar
Andy Grammer with Special Guest Antennas Up