Description
Andy Audate is a Pawtucket, RI raised Entrepreneur. He went to Middle School in Central Falls, was a troublemaker in High School at Davies Tech in Lincoln, RI, he graduated in 2013. In High School, he was introduced to a way of living including "just chilling," drugs and complacency, and he knew there was better. Truth be told, he started selling weed in high school and decided not to go down that route.
He wanted to be his own boss though, He started his first business at 11 years old, walking down Newport Ave in Pawtucket, going door to door asking people to shovel the snow in their yard for money. At 18, he found a mentor who taught him the basics of running a cell phone business, one year later, he opened a cell phone store at Emerald Square Mall, he then grew the business and opened stores at Providence Place Mall and in Coventry, RI.
Andy Audate is now an Acknowledged author, and motivational speaker. He works with the likes of Les Brown, Grant Cardone, Brad Lea and others. Come celebrate with Andy and friends, this newly launched book, No More Average (The Second Edition) and help make it a success and support one of our own.
Free Drinks and Exclusively Signed Copy is Included with Each Ticket. This is a Party!! #TurnUp #BringAFriend #BringYourGirls #FreeDrinks - Must Be 18+ to Enter.
"I wrote the book, "No More Average" because I knew there was better." -Andy Audate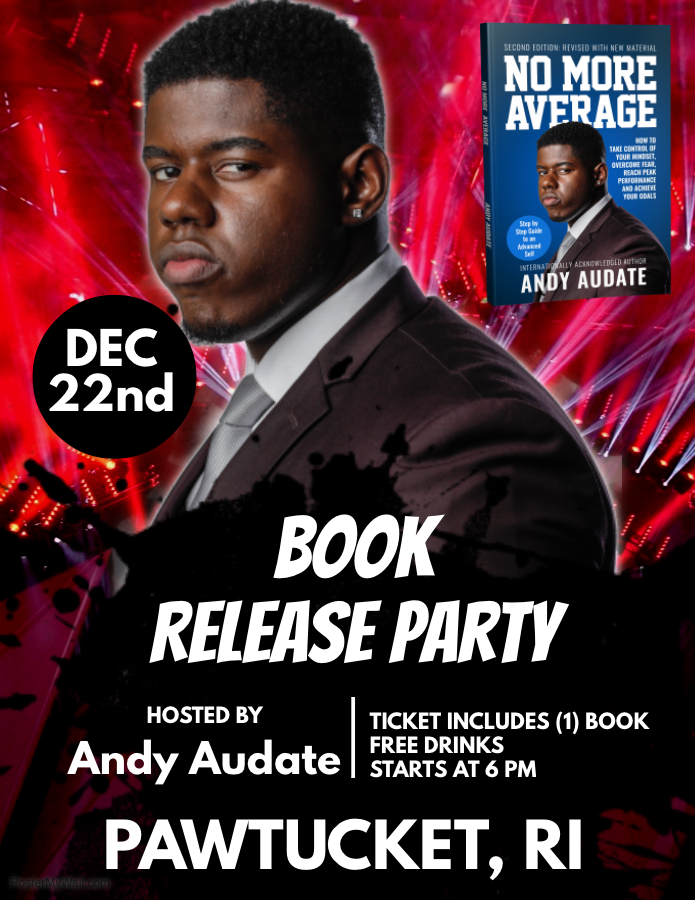 Click To Find Out What Others Have to Say About Andy Audate