Description
Andy is kind of a free spirit, Jerry is pretty uptight. Together they form The Trifecta; an Improv Trio forever looking for its third member.

Come see this completely improvised show as Andy and Jerry are joined by a new guest improviser each night. Watch as the completely improvised drama/comedy unfolds both onstage and backstage as the two try to find their third to complete The Trifecta.

This time around we are joined by the talented Tim Orr.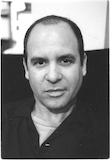 Tim has improvised since 1988 with many San Francisco-based groups, including BATS Improv, True Fiction Magazine, Awkward Dinner Party, and with the acclaimed troupe 3 For All. In 2009, he founded Improv Playhouse of San Francisco. Since 2015, he has toured Europe with Inbal Lori from Berlin performing their duo show Click.
Tim has also appeared in numerous plays in the San Francisco Bay Area, and received critical acclaim for his leading roles in the improvised feature films, Suckerfish and Security. With Stephen Kearin, Tim co-wrote, and originated the role of Dirk Manly in, An Evening with Dirk & Blaine.
Tim has performed and taught improvisation at the American Conservatory Theatre, BATS Improv, Stanford University, and many other venues nationally (Los Angeles, Chicago, New York, Austin, Louisville, Atlanta, etc.) and internationally (Amsterdam, Barcelona, Beirut, Belgium, Berlin, Bucharest, Dubai, Hamburg, Helsinki, Lisbon, London, Mallorca, Oslo, Paris, Saudi Arabia, Stockholm, and more.)
Tickets $15 online, $20 at the door