Description
Not able to attend this workshop?
Get informed about another upcoming workshop
Network, Get Certified to Boost your Résumé & have Fun
while learning the internal architecture of Android [Embedded] Systems
(A Hands-on Workshop)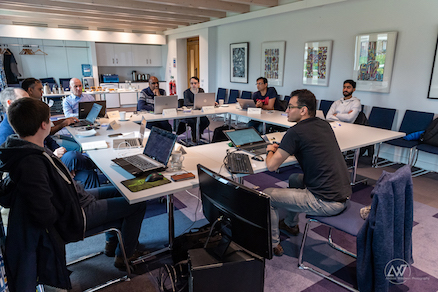 This is a unique and rare opportunity to meet like minded technology professionals or enthusiasts who share an interest in the internal workings of Android Smartphones and Embedded System Design and, together, learn how Google's Android operating system can be customised and built to run Embedded Systems, Smartphones, Wearables and many other types of devices.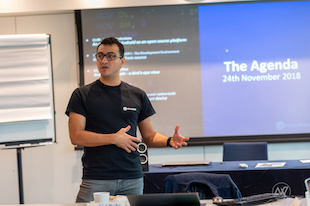 Not able to attend this workshop?
Get informed about another upcoming workshop
When it comes to building Apps or Games for Android, there are plenty of resources both online and offline to assist you. However, when it comes to understanding and custominsing the Android operating system itself to fit Embedded Systems, Smartphones, IoT devices and various other type of devices your options for learning are very limited (and in many cases inaccessible) - not to mention the cost of experimenting with real devices which can quickly add up to a big cost.
This two-day live and hands-on workshop, setup in lively city state of Singapore, is the place to learn all you always wanted to know about Android's internal workings so you can venture into a topic which can open doors to endless possibilities and exciting projects.
Limited places and booking fees
To ensure the best quality of delivery there are only 8 places available via online booking.
During the booking process, attendees are given the option to choose between attending only one or both of the two days. (Please see notes about certification points in below sections).
Participants will be paired up to work together on the hands-on parts of the workshop using a real physical device (a Sony Xperia X Compact Android smartphone) to use as their development platform.
The agenda
[Day 1]
09:30 - 10:30: Arrival, Registration and Refreshments

10:30 - 11:30: PART I - Introductions and an overview of Android as an open source platform

11:30 - 12:00: WORKSHOP I - Setting up your development environment & building Android from source

12:00 - 12:30: PART II - Android internals - a bird's-eye view

12:30 - 13:30: Lunch break

13:30 - 14:30: WORKSHOP II - Running your custom build on your device & running several experiments

14:30 - 15:00: PART III - A short introduction to Android App development and what is to come
[Day 2]
09:30 - 10:30: Arrival and Refreshments

10:30 - 11:30: PART IV - Linux internals - a bird's-eye view of the Linux Kernel

11:30 - 12:00: WORKSHOP IV - Experimenting with & customising your Android Linux Kernel

12:00 - 12:30: PART V - Android System Services & System Libraries - What a developer must know

12:30 - 13:30: Lunch break

13:30 - 14:30: WORKSHOP V - Customising a System Library fo for your App

14:30 - 15:00: Where to go from here and Wrap up
Who would benefit from this workshop and why?

For App Developers
How would you differentiate yourself as an App Developer whether you are a freelance developer in a competitive and crowded market or working in a larger team of developers? By attending and completing this workshop you would be able to learn how Android works internally to serve Apps and make them tick. With this new knowledge in hand you would better understand (and better guess) the effects and side effects of what you create & code as a developer which would translate into better performing Apps, lots of saved time when facing with seemingly difficult issues or bugs and overall, with a professional Certificate under your belt, a differentiating skill that sets you apart from the crowd. *See below about the certification tracks.


For Linux Firmware and System Software Programmers
Whether you are an experienced Linux Firmware or Linux System Software Programmer, or you are a new starter in this line of work you may not be so familiar with this relatively new addition to the collection of *nix-based operating systems which is increasing in popularity as much as you had like to be. If you have never had time to take a deep look into the Android Open Source Project (AOSP) then this is your chance to jump in and get started in a team eager to learn. And if you already have some experience then our deep dive session would help you breakdown, better understand and clarify many of the unknowns of this massively complex system we call Android. A professional Certification like this would show employers, team members and/or clients that you are not just interested but have taken steps (perhaps the most crucial steps) in becoming a valuable asset to any team. *See below about the certification tracks.


For Security Experts
Android's security model and generally its additional security checks and balances to the base line provided by the Linux Kernel out-of-box, makes a suitable platform for many applications. However, like any system, Android has its flaws too. During our deep dive session in this workshop we will review Android's security mechanisms which rely partly on Android Kernel's customised InterProcess Communications (IPC) method and see how this is different to most other Unix/Linux based systems.


For Embedded System Design Experts
Did you know that Android runs on a custom version of the Linux Kernel? Many Embedded System Designers or Engineers are under the impression that Android (initially designed for Smartphones) is not suitable for use in Embedded Systems Projects. This is far from reality. In fact Google is hard at work to tailor this popular operating system specifically to suit various sectors in the Embedded Systems markets as well as Internet of Things (IoT) applications. Expand your knowledge and become a more valuable consultant or team member by attending this workshop. Being certified is the first and most crucial step towards getting deep into the exciting world of the Android Open SOurce Project (AOSP). *See below about the certification tracks.


For Managers who are in charge of such engineering teams
If you are a decision maker, if you are managing or if you are about to start managing an Android-based Embedded, IoT or Consumer Electronics project (potentially with a team of highly technical engineers) then having a high level and clear understanding of technical aspects of your project is paramount to your leadership and your project's success. By attending this workshop you will always have the confidence in your decision making, hiring and management choices. Even if your project does not involve Android right now you are likely to require these skills in the future - so don't lose this opportunity and join us. You may also benefit from meeting and networking other engineers and professionals in the workshop.
What to bring with you and preparations
Please bring your own laptops. You may bring a Windows, Linux or a Mac laptop.
Building custom versions of Android from source code requires very powerful machines.
On the day of the workshop, you will be given instructions to access a powerful remote machine where you will run the required commands for WORKSHOP I.
To prepare for WORKSHOP I, you are advised to install SSH remote access tools. Instructions will be sent to you before the workshop.
For WORKSHOPS II, III, IV and V, you may use your own laptop to connect to and communicate with your development device which will be a "Sony Xperia X Compact" smartphone.

To prepare for these, you are advised to install the relevant Android Development Drivers on your machines. Instructions will be sent to you before the workshop.
The Certification

visualSilicon™ is running a point based certification program. Participants are qualified on completion of each 16-point which are delivered in the from of training sessions with various formats including class based hands-on workshops, online webinars or virtual/class-based short courses.
There are currently three certification tracks:
1- Grade I: visualSilicon™ Certified Android Embedded Systems Practitioner (16 points)

2- Grade I: visualSilicon™ Certified Linux Embedded Systems Practitioner (16 points)
3- and Grade II: visualSilicon™ Fully Certified Embedded Systems Practitioner (32 points)
This Android workshop on the 31st JAN 2019 would grant attendees a total of 16+8 points as explained below:
Completing the first day of the workshop would earn you 8 points towards the "Grade I: Android" certification track. Completing the first and the second days of the workshop would earn you the complete 16 points towards "Grade I: Android" certification track which would grant you this certificate. In addition, attending the second day of the event would earn you an extra 8 bonus points towards the "Grade I: Linux" certification track which you would be able to use to complete your Linux certification at our future workshops.
visualSilicon™ will be hosting more advanced workshops which would grant attendees the remaining 8 points in the second track. Upon completion of 16 points, attendees are qualified and will be issued their certificates by visualSilicon™.
Skilled instructor
Ramin is the founder of visualSilicon™, an embedded systems development and consultancy business based in the UK. He spent 12 years between 1995 and 2007 learning to program video games as a hobbyist and worked as a professional PlayStation and PC games programmer during and after his studies until 2009. Between 2010 and 2017 he worked in the semiconductor industry and contributed to a variety of Android Operating System projects together with microprocessor and system-on-chip (SoC) design engineers. These projects included creating open source software in Assembly, writing and submitting new C++ code to Google for extending the Android Operating System as well as designing and delivering deeply technical training courses to multinational companies designing the latest gadgets.
The venue
This event is set to take place at Sheraton Towers in Singapore. Further details and/or any changes in the venue will be communicated with attendees closer to the time.
Not able to attend this workshop?
Get informed about another upcoming workshop