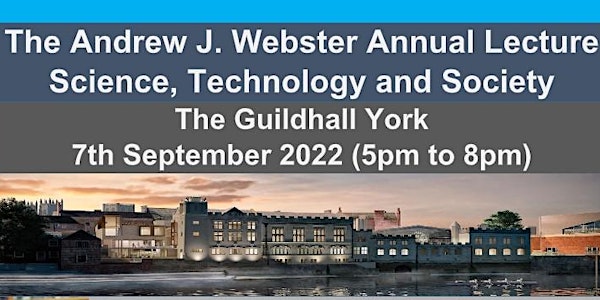 Andrew J Webster Annual Lecture on Science, Technology and Society
Location
The Guildhall York
Coney Street
York
YO1 9QL
United Kingdom
Health in space: Making sense of the experience of data-intensive cross-border healthcare - Professor Klaus Hoeyer, University of Copenhagen
About this event
To commemorate the life and work of Professor Andrew Webster, we are launching an annual lecture series that will showcase research in the broadly conceived area of science, technology and society.
Event details for 2022
Health in space: Making sense of the experience of data-intensive cross-border healthcare
Professor Klaus Hoeyer, University of Copenhagen
Klaus is Professor of Medical Science and Technology Studies at the Centre for Medical Science and Technology Studies (MeST), University of Copenhagen. He has worked with a range of topics in medical STS, including biobanks, ethics regulation, stem cell research, organ and tissue transplantation. More recently he has focused on data politics and what he calls 'intensified data sourcing' in everyday healthcare.
In addition to the lecture, the format for this first event will include a small panel of invited participants offering their reflections on Andrew and his intellectual contributions. We will also use the occasion to award the Andrew Webster Prize made by AsSIST-UK for an outstanding PhD in STS/innovation studies.
Afterwards, there will be a drinks reception and a chance to mingle - weather permitting - in the Courtyard Garden overlooking the river. We will close the event at around 20:00.
There is no charge to attend this event. Please register your details and we will send you more information about the event as it comes available.
This lecture series is being organised by the Science and Technology Studies Unit (SATSU) and the Department of Sociology at the University of York. If you have any questions about the event, please contact either Richard Tutton (richard.tutton@york.ac.uk) or Vanessa Ashall (vanessa.ashall@york.ac.uk).