Andrew J. Cevasco, Esq.; Partner, Archer Law (formerly Archer & Greiner), Hackensack, NJ
The NJ Uniform Trust Code…what is really new, what has really changed...and what does it mean for us and our clients

Wednesday, January 18, 2017 from 11:30 AM to 1:45 PM (EST)
Event Details
Continuing Education:
NJ INS - 2.0 credits The Uniform Trust Code Arrives in New Jersey  ( 88898591 )
NJ CPE - 2.0 credits The Uniform Trust Code Arrives in New Jersey
NJ CLE 2.0 credits The New NJ Uniform Trust Code
"This program had been approved by the Board on Continuing Legal Education of the Supreme Court of New Jersey for 2.0 hours of total CLE credit. Of these, 0.00 qualify as hours of credit for ethics/professionalism, and  0.00 qualify as hours of credit toward certification in civil trial law, criminal trial law, workers compensation law, municipal court law, and/or matrimonial law."
CFP 2.0 credits.  The Uniform Trust Arrives in NJ.  Program ID: 234065 
Program Description:
The New Jersey Uniform Trust Code is here! And there have been plenty of seminars, articles, and more about this very important topic. What does it mean to you and your practice? Whether you are a financial advisor, accountant, or attorney, or any professional – the new NJ UTC can and will have an impact on your work. What does this mean to your clients? Well, it can mean a lot, and also as to how you represent them and work for them.
This is not going to be some boring overview or briefing on what the legislation and UTC says. We are excited to have Andrew Cevasco, Esq., a partner in Archer & Greiner, P.C., give us a real, meaningful and practical application presentation. This is going to be unlike any other session you've attended before. Andrew has become an expert's expert and has taken a lead role at his firm in this very new and exciting area.
Don't miss this very exciting session – and learn real-life case studies, and the most current, up-to-date advice and guidance on how to make the NJ Uniform Trust Code work for your clients – and you! 
ANDREW J. CEVASCO
Andrew J. Cevasco is an experienced and successful personal and business advisor. He has handled a broad array of matters for business and individual clients in his 35 year career ranging from estate and trust planning to transactional matters to a variety of trials in both the Law and Chancery Divisions of the New Jersey Superior Court and in Federal District Court.
He appears regularly in court regularly in will contests, trust litigation and probate matters. He prepares wills, trusts and related estate planning documents, and is experienced in the administration of complex estates and trusts. He also represents clients with regard to guardianship and elder law issues. He has been appointed by the Court to represent minors and allegedly incapacitated persons in both contested and uncontested probate and guardianship matters. He lectures often in the areas of estate and tax planning and estate litigation.
Mr. Cevasco provides a broad range of services to the firm's commercial clients, including business planning, business formation and dissolution, employment and contract issues, and real estate matters. He has also appeared before the Disciplinary Review Board and the New Jersey Supreme Court to represent attorneys who have been charged with violations of the Rules of Professional Conduct. He has also argued appeals to the Appellate Division of the New Jersey Superior Court and appeared before the New Jersey Supreme Court.
After graduating from law school, Mr. Cevasco was legal secretary to the Honorable Robert L. Clifford of the New Jersey Supreme Court, gaining hands-on experience with the legal process from the unique vantage point of New Jersey's highest court. He has utilized this valuable experience on a daily basis to effectively represent his clients.
Mr. Cevasco is AV Rated by Martindale Hubbell. He is listed by the Supreme Court of New Jersey as a mediator and mentor on its Roster of Mediators and also serves as an arbitrator in the New Jersey Superior Court, Bergen County.
Throughout his career, Mr. Cevasco has demonstrated dedication to public service, most recently through his work on the N.J. Supreme Court Committee on Character, which reviews applications for admission to the New Jersey Bar. He is a member of the Board of Trustees of the Bergen County Bar Association, where he Co-chairs the Professionalism and Estate Planning/Probate Committees and currently serves as the Second Vice President.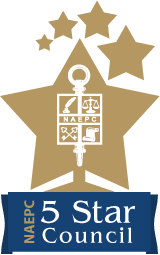 Documents for this presentation will be distributed to
registered attendees when available.
Continuing Education:
NJ INS 2.0 credits: The Uniform Trust Code Arrives in New Jersey  (Course 88898591 )
NJ CPE 2.0 credits: The Uniform Trust Code Arrives in New Jersey
CFP  2.0 credits The Uniform Trust Code Arrives in New Jersey (Program ID 234065)

Our NJ CLE Course is pending
Have questions about Andrew J. Cevasco, Esq.; Partner, Archer Law (formerly Archer & Greiner), Hackensack, NJThe NJ Uniform Trust Code…what is really new, what has really changed...and what does it mean for us and our clients?
Contact Greater New Jersey Estate Planning Council, Inc
When & Where

BACARI GRILL
800 Ridgewood Road
Washington Township, NJ 07676


Wednesday, January 18, 2017 from 11:30 AM to 1:45 PM (EST)
Add to my calendar
Organizer
Greater New Jersey Estate Planning Council, Inc
The Greater New Jersey Estate Planning Council, Inc. is a member of the National Association of Estate Planning Councils (NAEPC). The Council consists of various professionals involved in the many facets of estate planning, as well as financial, charitable and philanthropic, investment and insurance planning. Our Council invites allied professional, involved in any of these or related fields/industries, to apply for membership. Our members include: attorneys, accountants, investment professionals and advisors; financial planners, advisors and consultants; trust officers, business valuation professionals, insurance, professionals; nonprofit development professionals, home healthcare and senior care providers, and other related professionals.
Through its monthly presentations the Council offers a forum within which to learn from each other and from industry leaders about planning techniques, current events, and shared experiences pertaining to the many disciplines of estate planning. Continuing education credits are often provided for CPAs , CFPs,  NJ Attorneys and NJ Life Insurance practitioners.
Our meetings provide the opportunity to visit with friends and establish new relationships in the New Jersey/New York financial and estate planning community. Non-members are welcome to attend our meetings to learn more about the organization and attend presentations of special interest.
Andrew J. Cevasco, Esq.; Partner, Archer Law (formerly Archer & Greiner), Hackensack, NJ
The NJ Uniform Trust Code…what is really new, what has really changed...and what does it mean for us and our clients