Description
Midnight at the Museum
Wine reception from 5.30pm – 6pm, lecture starts at 6pm
Andrew Hunt is a curator and writer based in London and Manchester, and is currently Professor of Fine Art and Curating at Manchester Metropolitan University.

Between 2016 and 2017 he founded and directed the contemporary art festival Reading International and was a Research Fellow at Kingston University during the same period.

From 2008 to 2014 he was Director of Focal Point Gallery (FPG) in Southend-on-Sea, where he was responsible for developing the organisation's acclaimed exhibitions programme and publishing activities. Hunt oversaw FPG's move into its new building (arch. Manalo and White, 2013), while his doctoral thesis 'Six Years in the Development of a Contemporary Art Institution: Focal Point Gallery 2008 to 2014' concentrated on strategies for the expansion of an independently-minded publicly-funded UK visual art organisation in a period of austerity after the financial crisis.

Since the early 2000s, he has worked on intimate solo exhibitions with significant international artists such as Mike Nelson, Elizabeth Price, Tris Vonna-Michell, Kai Althoff, and Marc Camille Chaimowicz as well as designers such as Fraser Muggeridge, Jonathan Barnbrook, James Langdon, Abacke, Manuel Raeder, and Sara De Bondt on projects that range from minor printed ephemera to major publications, exhibition design and new branding for art institutions. In 2012 he was a member of the Turner Prize jury.

Recent independent projects include 'C. R. McBerny' (2018) co-organized with the artist Veit Laurent Kurz, 'The Critic as Artist' (2017) co-curated with Michael Bracewell, 'As You Change So Do I' a series of public art commissions for Luton, UK (2016 to 2019) co-organized with artist Mark Titchner, 'The Green Ray', Wilkinson Gallery, London and 'Concerning Concrete Poetry', Badischer Kunstverein, Karlsruhe (both 2016).

He has contributed to magazines and journals such as Artforum, Art Monthly, The Burlington Magazine, Domus, frieze, Mousse Magazine, Picpus and TATE ETC., and is founding editor of the Slimvolume imprint, which to date has published editions and books by over 250 artists. Recent publications include Jeffrey Dennis: Ringbinder (2017), Scott King: Public Art, Paul Buck: Disappearing Curtains and Cally Spooner: Scripts (all 2016).

He is currently working on three related books: Relax: On Contemporary Art and Indolence, Interviews on Contemporary Painting and Interviews on Critical Curating.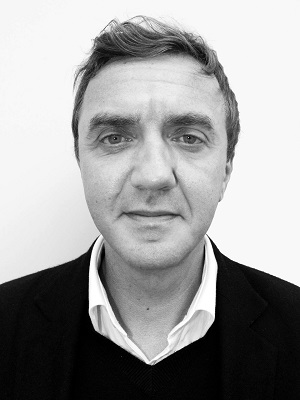 Andrew will be introduced by Professor Richard Greene. Richard Greene is Pro-Vice-Chancellor for Research and Knowledge Exchange at Manchester Metropolitan University. Professor Greene graduated in medicine at Charing Cross and Westminster Medical School in 1991 having obtained a BSc and a PhD from the same institution in 1986 and 1989 respectively. Professor Greene's academic interests are in the biology of psychiatric diseases and human neuroanatomy - which he teaches using novel approaches including his own BrainTower® modelling system. Professor Greene is a Fellow of the Higher Education Academy and a Fellow of the Anatomical Society. Outside of work, he is a lifelong supporter of Rugby League, a keen photographer and a frustrated furniture builder and model engineer.
The respondent to the lecture will be Michael Bracewell. Michael Bracewell was born in London in 1958. Between 1988 and 2000 he published three novels and three novellas. Since then he has written extensively on modern and contemporary art and culture and is a contributor to 'The Burlington' and 'frieze' magazines. His recent publications include The Rise of David Bowie 1972–1973 (with Mick Rock and Barney Hoskyns) (2016), Bridget Riley: Paintings and Related Work (National Gallery, London) (2010) and 'Kai Althoff' (Michael Werner, London (2016). He was co-curator of The Secret Public: The Last Days of the British Underground 1978–1988 at Kunstverein Muenchen and The Institute of Contemporary Arts, London in 2006 and The Dark Monarch: British Modernism and the Occult at Tate St Ives in 2009. His selected writings on visual art, The Space Between, were published by Ridinghouse, London in 2011.

Manchester Metropolitan University is committed to disability equality. If you have any access requirements, please let us know via 0161 247 6740 or email us at lucy.simpson@mmu.ac.uk before you arrive to help us to make sure that your visit to the event is as enjoyable as possible.