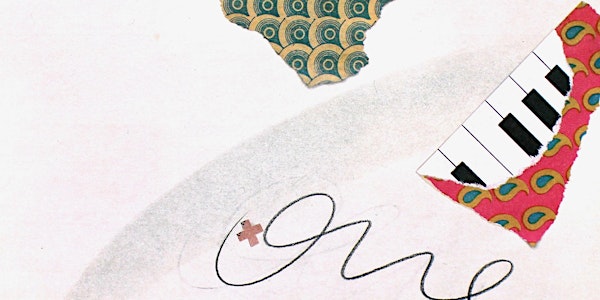 Andrew Cyrille/William Parker/Matthew Shipp Trio Concert
This concert is the 1st of 3 presented by The Graduate Center and Brooklyn College for Unit Structures: The Art of Cecil Taylor Conference.
When and where
Location
Elebash Recital Hall The Graduate Center, CUNY 365 5th Avenue New York, NY 10016
About this event
The Andrew Cyrille/William Parker/Matthew Shipp Trio Concert is the first of three concerts presented by The Graduate Center and Brooklyn College of the City University of New York for the Unit Structures: The Art of Cecil Taylor Conference.
Andrew Cyrille studied at the Julliard and Hartnett schools of music emerging to professional gigs with such noted legends as Mary Lou Williams, and Coleman Hawkins. In 1964, Cyrille formed an eleven year association with  pianist, Cecil Taylor, establishing himself as "one of the most instinctively, musically, inventive drummers of the era."  Since 1969, Cyrille has worked with many notable dance groups, most recently with Cleo Parker Robinson and her dance company.  He has organized several percussion groups including Dialogue of the Drums, Pieces of Time, Weights and Measures, which featured distinguished artists such as Kenny Clark, Milford Graves, Famoudou Don Moye, Michael Carvin, Victor Lewis, Ghanian drummer, Obo Addy and Haitian drummer, Frisner Augustin.  He has toured internationally with renowned Russian percussionist, Vladimir Tarasov.  He has also worked with some of the leading proponents of contemporary music such as Richard Muhal Abrams, John Carter, Walt Dickerson and David Murray.  Cyrille has been artist-in-residence at Antioch College and is currently on faculty at The New School University for Jazz & Contemporary Music in New York City.  His sterling work has earned him several grants and awards including funding from the NEA, Meet the Composer and a Guggenheim Fellowship for composition.
William Parker is a musician, improviser, and composer. He plays the bass, shakuhachi, double reeds, tuba, donson ngoni and gembri. He was born in 1952 in the Bronx, New York. He studied bass with Richard Davis, Art Davis, Milt Hinton, Wilber Ware, and Jimmy Garrison. He studied rhythmic concepts with Billy Higgins.  He entered the music scene in 1971 playing with many musicians on the avant-garde school Bill Dixon, Jemeel Moondoc, Beaver Harris, Sunny Murray, Grachan Monchur III, Charles Tyler, Gunter Hampel, Jeanne Lee, Billy Higgins, Charles Brackeen, Alan Silva, Frank Wright, Frank Lowe, Rashid Ali, Donald Ayler, Don Cherry, Cecil Taylor, Jimmy Lyons, Milford Graves and with traditionalists like Walter Bishop, Sr. and Maxine Sullivan. Early projects with dancer and choreographer Patricia Nicholson created a huge repertoire of composed music for multiple ensembles ranging from solo works to big band projects. Parker played in the Cecil Taylor unit from 1980 through 1991. He also developed a strong relationship with the European Improvised Music scene playing with musicians such as Peter Kowald, Peter Brotzmann , Han Bennink, Tony Oxley, Connie Bauer Derek Bailey, Louis Sclavis, and Louis Moholo. Also, the downtown NY Music Scene paying with Butch Morris, Wayne Horvitz, John Zorn, Bern Nix, Joe Morris, He began leading his own bands on a regular basis in 1994 starting two ensembles, In Order To Survive a sextet and The Little Huey Creative Music Orchestra. In 2001, Parker released O'Neal's Porch, which marked a turn toward a more universal sound working with his working with drummer Hamid Drake. The group Raining on the Moon Quintet was an extension of the O'Neal's porch quartet adding vocalist, Leena Conquest and eventually pianist Eri Yamamoto. William has through the years done special projects. Most notable among many recent projects is the Inside Songs of Curtis Mayfield and the Essence of Ellington featuring a 15-piece band plus vocalist playing the music of Edward Kennedy Ellington. He has taught at Bennington College, NYU, The New England Conservatory of Music, Cal Arts, New School University and Rotterdam Conservatory of Music. He has also taught music workshops throughout the world including Paris, Berlin and Tokyo and the Lower East Side. Parker is also a theorist and author of several books including the Sound Journal, Document Humanum, Music and the Shadow People and The Mayor of Punkville and a series of musician interview Books/  Conversations I and Conversations II 
With his unique and recognizable style, pianist Matthew Shipp  worked and recorded vigorously from the late '80s onward, creating music in which free jazz and modern classical intertwined. He first became well known in the early '90s as the pianist in  the David S. Ware Quartet, and soon began leading his own dates -- most often including Ware bandmate and leading bassist  William Parker-- and recording a number of duets with a variety of musicians, from the legendary  Roscoe Mitchell  to violinist  Mat Maneri. Through his range of live and recorded performances and unswerving individual development,  Shipp has come to be regarded as a prolific and respected voice in creative music into the new millennium. 
Born in 1960 and raised in Wilmington, Delaware,  Shipp grew up around '50s jazz recordings. He began playing piano at the young age of five, and decided to focus on jazz by the time he was 12. He played on a Fender Rhodes in rock bands while privately devouring recordings by a variety of jazz players. His first mentor was a man in his hometown named Sunyata, who was enthusiastic about a variety of subjects in addition to music.  Shipp later studied music theory and improvisation under  Clifford Brown's teacher Robert "Boisey" Lawrey, as well as classical piano and bass clarinet for the school band. After one year at the University of Delaware,  Shipp  left and took lessons with  Dennis Sasndole for a short time, after which he attended the New England Conservatory of Music for two years. 
Shipp moved to N.Y.C. in 1984 and soon met bassist William Parker, among others. Both were playing with tenor saxophonist Ware by 1989. Meanwhile, Shipp had debuted as a recording artist in a duo with alto player Rob Brown on Sonic Explorations, recorded in November 1987 and February 1988. Whipp married singer Delia Scaife around 1990. He then went on to lead his own trio with Parker and drummers Whit Dickey and Susie Ibarra. Shipp has led dates for a number of labels, including FMP, No More, Eremite, Thirsty Ear, and Silkheart. In 2000, he began acting as curator for Thirsty Ear's Blue Series. This excellent series hosted a number of Shipp's own recordings, as well as the recordings of William Parker, Tim Berne, Roy Campbell, Craig Taborn, Spring Heel Jack, and Mat Maneri. The following year saw the release of Nu Bop, an exploration into traditional jazz, followed closely by its 2003 counterpart, Equilibrium. In 2004, Shipp released Harmony and Abyss, a meditation on repetitive melodic and harmonic structures. One arrived in January 2006 and Piano Vortex followed a year later.
4D, featuring Shipp on solo piano, was released by Thirsty Ear early in 2010. It was one of several recordings from the pianist in the initial years of the 21st century, which included a two-disc solo piano recital entitled Creation Out of Nothing: Live in Moscow on the SoLyd Records imprint and the stellar trio set Night Logic, with Joe Morris and former Sun Ra saxophonist Marshall Allen, on the Rogue Art label. Shipp kept up the pace in 2011, kicking off the year with the double-CD offering Art of the improviser, which showcased him in two different live settings: one solo and one in a trio with bassist Michael Bisio and drummer Whit Dickey. In the spring he released a duet recording with alto saxophonist Darius Jones entitled Cosmic Lieder on the AUM Fidelity label. In 2012, he re-formed the trio with Bisio and Dickey for Elastic Aspects. Shipp entered into a prolific collaboration with saxophonist Ivo Perelman for a slew of projects that year, and 2013 included a duet, trios, and quartets with various personnel, all issued by Leo Records. Titles included The Gift, The Clairvoyant, The Foreign Legion, A Violent Dose of Anything, Enigma, The Art of the Duet, Vol. 1, The Edge, and Serendipity. In the fall of 2013, Shipp released the solo piano offering Piano Sutras for Thirsty Ear, as well as a retrospective for the label entitled Greatest Hits and a duet offering with saxophonist John Buther, Fataka 2.
Shipp  maintained a prolific release and touring pace in 2014. First to appear was the trio date  The Roots of Things  in February with  Dickey and Bisio, followed by two more sets in various ensembles with Perelman . The first, entitled The Other Edge, was issued in March and featured the pianist's quartet backing the saxophonist, while the second, released the same month, was  Book of Sound, a collaborative recording between  Perelman, Shipp, and Parker. Symbol Systems, a solo piano outing, appeared in May from Lithuania's No Business label, while The Darkseid Recital, a second chapter in  Jones' and  Shipp's "Cosmic Lieder," was released in August by AUM Fidelity, followed by the solo piano offering  I've Been to Many Places on Thirsty Ear in September. That year, the French Rogue Art label issued no less than four  Shipp-led dates compiled from several years of performances. They included the solo  Piano (2008); a duet album with  Evan Parker  entitled  Rex, Wrecks & XXX  (2013); Right Hemisphere with Brown, Dickey, and Morris (2008), and Declared Enemy: Salute to the 100001 Stars: A Tribute to Jean Genet with Parker, Gerald, Cleaver, Sabir Mateen, and Denis Lavant (2006).  
The following year saw two more releases from the label.  Our Lady of the Flowers was a Genet tribute follow-up a decade on (sans  Lavant), and the controversial but still widely celebrated trio recording  To Duke.  Shipp also issued a pair of duet recordings:  Live at Okuden: The Uppercut with Polish reed and woodwind master  Mat Walerian on ESP-Disk, and  Calla with  Perelman  for Leo.  Associations with both men produced thirteen more recordings in 2016 and 2017. Complementary Colors and Corpo were duo dates with Perelman (the pair released 13 albums together before 2017 was out), while Butterfly Whispers added Dickey to make it a trio. Live at Okuden: Jungle with Walerian and Hamid Drake, capturing a performance from 2012, was released by ESP-Disk. The pianist issued a trio date titled Piano Song in early 2017, with Michael Bisio on bass and drummer Newman Taylor Baker. Produced by Peter Gordon, it marked Shipp's swan song as a recording artist for Thirsty Ear, though he remained curator of its Blue Series imprint. An ESP-Disk trio date with Walerian and Parker was released as Toxic: This Is Beautiful Because We Are Beautiful People during the late spring. In early 2018, Shipp had no less than three albums released. In January, Accelerated Projection, a duo date with Roscoe Mitchelle was issued by France's Rogue Art label. A month later, Shipp issued two dates through ESP-Disk simultaneously: Sonic Fiction, a quartet date with Walerian, Bisio, and Dickeyand a solo piano offering entitled Zero in February.
(Matthew Shipp biography by Joslyn Layne)
Image credit: Klaus Baumgärtner