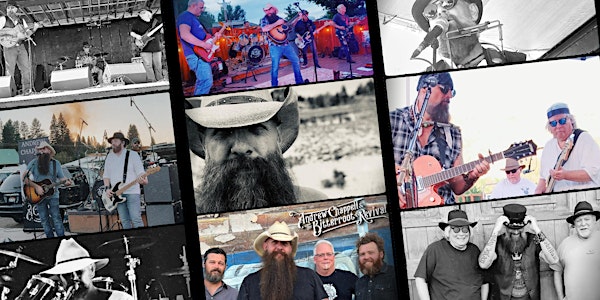 Andrew Chappell & The Bitterroot Revival and M Rose & The Weary
Two local bands take the stage for one great night of Country/Rock/Americana music.
When and where
Location
The Sapphire Room at The Riverside Hotel 2900 Chinden Blvd Boise, ID
Refund Policy
Refunds up to 1 day before event
About this event
7:00-8:15PM: Andrew Chappell & The Bitterroot Revival- Andrew Chappell is a singer/songwriter from Boise. Andrew's debut album – the self-produced and timeless collection 'Loneliness and Whiskey' - hit the scene during a tumultuous 2020. Covering topics like love, loss and addiction in a fearlessly vulnerable manner, the album secured Andrew's role as one of indie country's most captivating songwriters. With the topically relatable new single 'Mr Radio', Andrew continues to delve into the modern artist's mind. With acoustic presence but country tendencies and full-throttle rock and roll all intermittently on show, Andrew's emotive vocals and expressive guitar playing make for a welcomed relief from the tribulations of modern life.
8:30-9:45PM: M Rose & The Weary- As a solo musician and a member of M Rose & The Weary , Michael F Rose has released two albums with his most popular songs "Cinnamon Creek" and "She Don't want me Drinkin'" from his self titled 2020 Album "Michael F Rose." Michael spent years writing for other artists and still does. Now partnered with Bob Umphress (Bass) and Greg Kirkes (Drums) to form M Rose & The Weary in late 2021, the band has recently completed their first album. Their debut album will be released Sept 16th, 2022. M Rose & The Weary can't be summed up by genre. This eclectic blend of Americana, Rock, Blues, Country, and Jazz is unique in music today. From their uptempo rocking blues "Born to Run" and "Still America" to heartfelt ballad "Heaven Help Me" this band offers something for every music lover. This original project also plays a handful of amazing cover songs are just as special once they're put through the "Weary Filter." https://www.facebook.com/MRoseTheWeary
Join us for dinner and drinks ! The Sapphire Room features a full food and bar menu with table-side service.
With the purchase of a ticket, Sapphire guests are eligible for The Riverside Hotel's "Sapphire Getaway" for $169 + tax. Includes a standard hotel room (double occupancy) and breakfast for two the following morning. To reserve, please call 208-331-4931. Sapphire Getaway rate subject to availability.
The Sapphire Room is all-ages and family friendly. Every person that enters must have a ticket. No babes in arms.
FREE and convenient parking.
Please note that general seats may have a partially obstructed view.
Many tables are at bar height. Guests requiring lower seating will be most comfortable at tables 11 - 49. Guests requiring ADA accessible seating will be most comfortable at the following tables: 35, 36, 37, 38, 45, 46, 47, 48 and 49. For questions about accessible seating, please call 208-343-1871 or email music@riversideboise.com.
100% refunds are available until 24 hours before the event. Refunds cannot be processed after the event occurs for any reason.