Description
6.1 Saturday (Electronic)
Nectar, SolidSound &

Deep N Bass

present:
(in alphabetical order)
ANDREILIENDAVID STARFIREKLL SMTHSOOHAN
MUMUKSHU
$18adv
7:30pm doors, 21+
Nectar Lounge
412 N 36th St
ANDREILIEN
Andrei Olenev has been a staple of the west coast bass music scene for about a decade. His first project, Heyoka, brought him to festivals all over the world. Over the last 5 years, he has been producing and performing under the name, "Andreilien." His distinct musical style has a constantly evolving sound with a solid foundation of deep sub bass and heavy psychedelia, combining influences of many musical styles, without confining itself to any particular genre.
Over the years, Andreilien has maintained a heavy club and festival tour schedule. He has performed often at North American festivals like Symbiosis, Sonic Bloom, and Lightning in a Bottle. He has also been performing on the large bass music camps at Burning Man over the last decade. Andrei also performs in many international festivals and clubs.
As Heyoka, Andrei released his first ep in 2008, and has since released many albums and ep's through San Francisco's Muti Music, a leader in the glitch hop and bass music scene. As "Andreilien", he has continued to develop his sound, culminating in his latest release, "Fragment." Further expanding his repertoire, Andrei has been continually working to develop a multimedia project with original Visionary and 3D art to create full sensory fractal journey, which he plans on touring with in the future.
DAVID STARFIRE
David Starfire is a world-renowned producer/multi-instrumentalist/DJ that is known for his signature "global-glitch-bass" sound. His niche is mixing world instruments and fusing them with modern beats. For his DJ sets, he often performs with percussion and various world instruments such as the phin (Thai lute) or the tumbi from India. His sound has brought him to perform at some of the most amazing places on earth, including the Pyramids of Giza, The Coliseum at Caesars Palace and Coachella.
David has performed at festivals and shows along with some of the biggest electronic artists including Skrillex, Bassnectar, Deadmau5, Daft Punk, David Guetta, Diplo and countless others. He's performed around the world in exotic places such as India, Thailand, Canada, Costa Rica, Mexico, Australia and most major cities in Europe. Festival highlights include Coachella, Winter Music Conference, Lightning in a Bottle, Symbiosis, Love Parade, Outside Lands, Electric Picnic (Ireland), Shambhala(Canada), Burning Man and Wakarusa.
David has released 4 albums and 6 EPs in the last 10 years as well as various singles and remixes. David's Ascend album reached #7 on the iTunes world music chart and # 5 on the RPM and World music CMJ charts. His songs have been remixed by the likes of Govinda, iLL Gates, An-Ten-Nae, Sidecar Tommy (Beats Antique), Kalya Scintilla and Kaya Project.
David's songs are featured on several TV, cable, movies and video games. Some highlights include Lie to Me (FOX), Outsourced (NBC), Live with Kelly Ripa (ABC), ESPN2, Fox Sports, MTV, MTV2, Fuse, Showtime, HBO, EA sports and a Right Guard commercial. His songs are featured on several music compilations including Sony, Lonely Planet, Red Bull, Craig's List, and his song "Shout it Out" was regular rotation at Starbucks.
David's signature sound has led him to perform public and private shows for Lucas films, Samsung, Sprint, Beats Audio, Google, Siemens, Nokia, HP, Symantec, Virgin Galactic, Roland, Digg, MacWorld, Best Buy, Flaunt Magazine, CAA, Red Bull, Warner Music, Atlantic Music, Industrial Light and Magic, Chobani Yogurt, Hotel W, City of San Francisco and many others.
David has collaborated with the likes of Afrika Bambaataa, Ooah (of the Glitch Mob), Natacha Atlas, Cheb i Sabbah, Gaudi, Govinda, Ganga Giri, FreQ Nasty, Desert Dwellers, Beats Antique, William Close and members of Beck's band. He produced an official remix for reggae king, Sizzla and he's had two #1 bootleg remixes on the Hype Machine that included the Beatles and Led Zeppelin. In 2015 he released an album from his side project with FreQ Nasty called The Dub Kirtan All Stars that features the Grammy Nominated singer Chaytanya.
David is currently touring in support of his latest album, Karuna, where he traveled to the Thai-Burma border-zones to collaborate with Burmese refugee musicians, which was a first for an electronic artist. All of the proceeds go towards a non-profit to pay for education for Burmese refugee children. Other collaborators on the album are Alex Grey (the well-known visionary painter), William Close and the Earth Harp (runner up on America's Got Talent), and Govinda. The album cover was designed by the world-renowned digital painter, Android Jones.
Looking towards the future, David will be releasing a "Karuna" remix album and a new EP this fall with heavy tracks for the dance floor that conjures up tribal music with elements of future bass and hip hop.
Billboard "David Starfire brings a unique perspective."
BBC Radio "One of the most brilliant world-fusion producers of our time."
DJ Times "a wealth of heavy bass and world music influences…"
VIBE Magazine "L.A.-based music producer/DJ David Starfire is known best for his seamless fusion of signature bass styles with a diversity of music genres, including world and hip-hop."
Huffington Post "His undeniable swagger of instrumentation between beats is exceptional."
Yahoo Voices "A driving force in the tightly knit underground music community stringing from LA to SF."
KLL SMTH
Like a prismatic audio avalanche ripping down the mountains of Colorado to ears all around the world, kLL sMTH has stayed vigilant in his mission to keep the heart in the bass and the bounce in the booty. Cruising powerfully through gut-wrenching lows to illuminated peaks (and occasionally stopping off in sexy-time), his music paints an inspired portrait of an ecstatic dance-floor.
SOOHAN
Long known within the festival community as a skilled performer, remixer, and producer, Maryland's SOOHAN (Stephen Suchan) has been taking over the underground and mainstream with a steady output of the most creative sample-based work since the likes of Girl Talk and DJ Shadow. Entering 2018 with 5 albums and full-length projects under his belt, for a combined 2 million plays, he has singularly redefined success for the independent electronic musician, forging strong, personal, and lasting connections with musicians, industry, and fans alike across his extensive travels.
Newcomers to Soohan will find a treasure trove of remixed and sample-based works, celebrating regional dance and folk music the world over, with bass-heavy reinterpretation bringing sounds to enthusiastic audiences who would never otherwise experience them. Soohan's creative process has put him in touch with countless originators and musicians from all corners of the world, brokering a unique brand of global celebration and appreciation all too rare in modern remix culture. This year, he sets his sights on new original productions, in addition to more remixes and sample-based work that has made the bedrock to his sound.
MUMUKSHU
Jacob Penn is an American electronic musician and creative technologist. Focused on the intersection of art, technology, & engaging experience, his work takes on many forms including electronic music composition, custom A/V software, and interactive art experiences.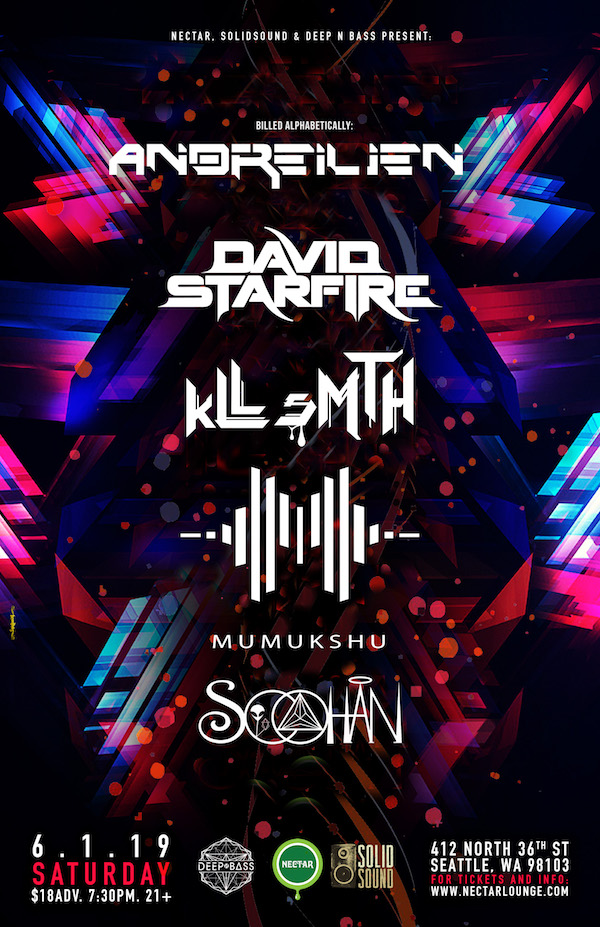 Performers
Date and Time
Location
Refund Policy