Andrea Tuya is bringing Mongolian culture to San Francisco Nightlife
About this event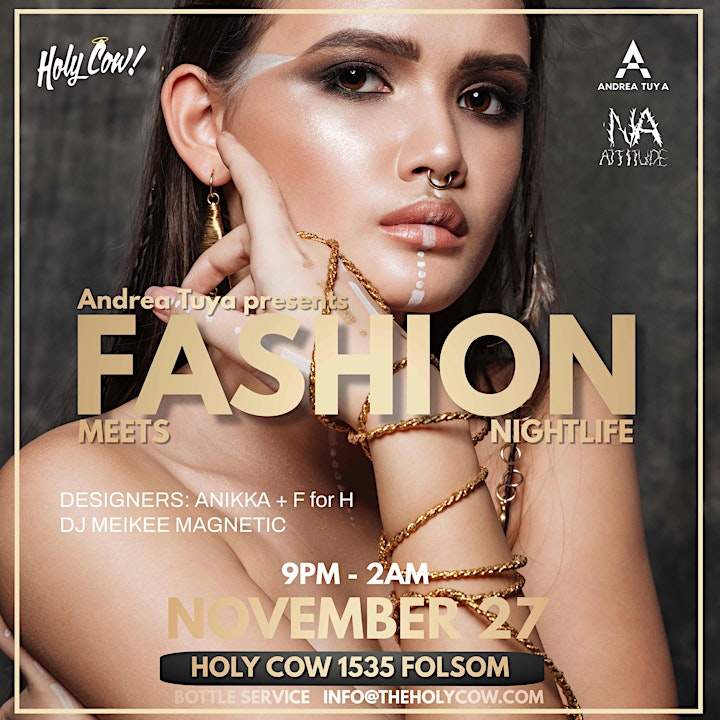 Andrea Tuya & The Holy Cow presents...
FASHION MEETS NIGHTLIFE
Saturday November 27th Doors @9pm
Designers:
Anikka (The New Attitude)
Anudari Tuvshintuya, aka Anikka was born on April 5, 1999 in Mongolia. At age 20, she started pursuing fashion design and blogging about the fashion industry. Her goal is to influence and inspire people using fashion as a platform to make political statements, talk about social issues and Bring New Wave to the Fashion Industry. If we want to prepare for the future generation and find a safe place for them, we need to start from ourselves and take action. We're seeking more support and waiting for a big campaign and big impact for the earth. Her mission is to fulfill our duty as human beings and express our feelings about social issues through our artwork. It's our duty to not only acknowledge these issues in our society but also educate each other and seek common ground.
F for H (From Italy)
Andrea Tuya studied economics and radio television broadcasting. Andrea came to the United States, 20 years ago. Her dream was to be the voice of the people of Mongolia. In her current collaboration as Executive Producer, Andrea is bringing her latest creation 'Fashion Meets Nightlife', an ambitious effort featuring celebrated Mongolian designer Anikka. Her wish is to share the Mongolian entertainment industry to the World.
Music by DJ Meikee Magnetic
San Franciscan native who got his start in music with various live bands in his teens and 20's but found his calling behind the DJ booth while living in Tokyo. 1990 was the year he was exposed to the SF House Music scene while bartending at nightclub DV8. In the 90's he was responsible for booking multiple events at The Fillmore, Slims, Bottom of The Hill and Paradise Lounge during the live Hip Hop Acid Jazz explosion. 2001 Meikee made his UK television debut in BBC London's electronic music documentary "Choice World Clubbing (Tokyo)" hosted by Seb Fontaine. An exciting and colorful doc featuring interviews with Carl Cox, Josh Wink, Ken Ishii, Tadao Kikimoto (TR-909 Drum Machine Roland) and 808 State. His performances include Ultra Music Festival, Mt Fuji, 1015, Ruby Skye, Temple, Great American Music Hall, The Fillmore, Westin Hotel, W Hotel, Starlight Room, Shoreline Amphitheater, Viper Room, House Of Blues, Cow Palace, Daybreaker, California Academy of Sciences and Harlot to name a few.
Event host Allyn Durden