Description
Showcase is approx. 1hr, 45min of drama. Performs at 1pm & again at 4pm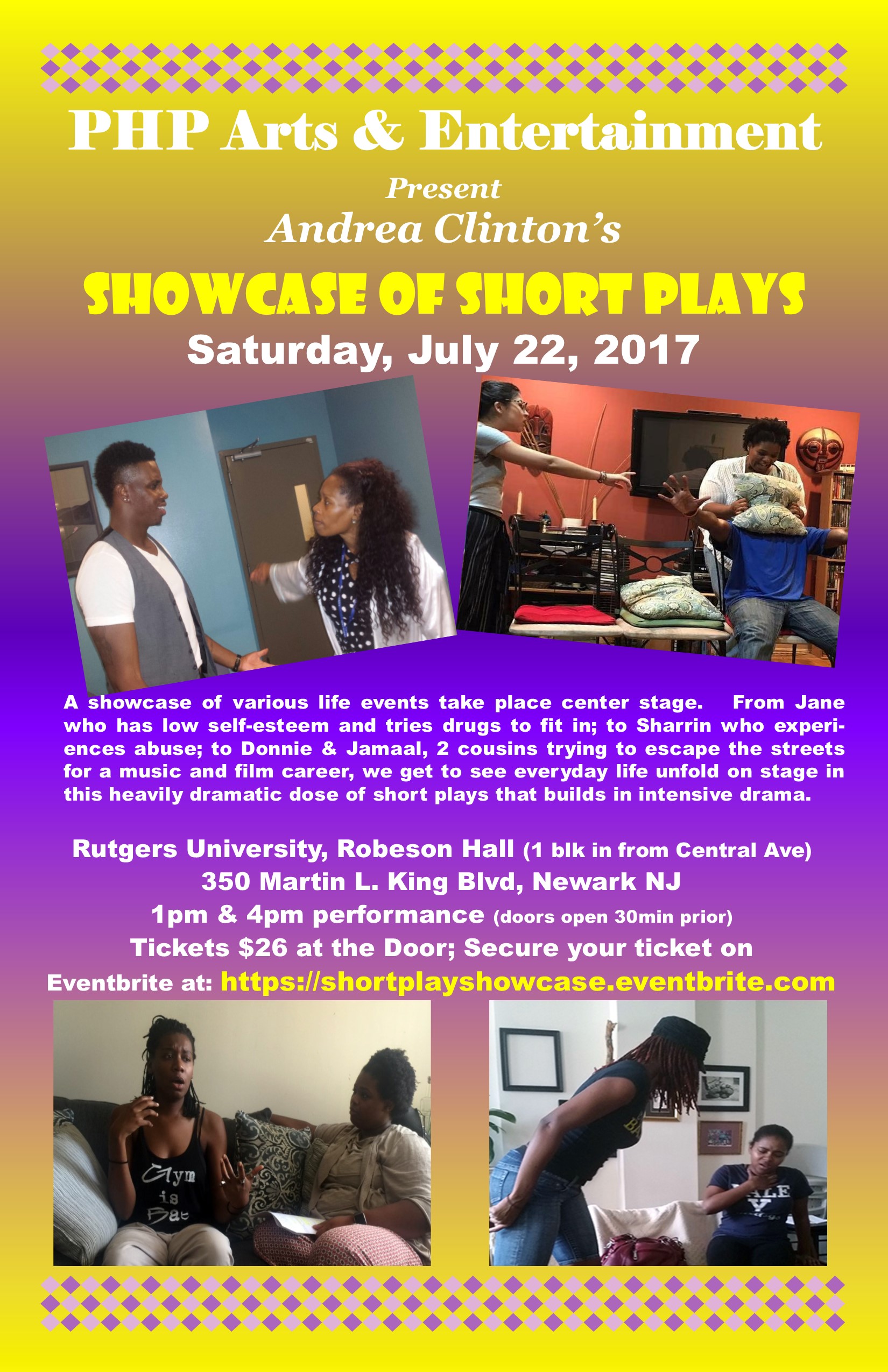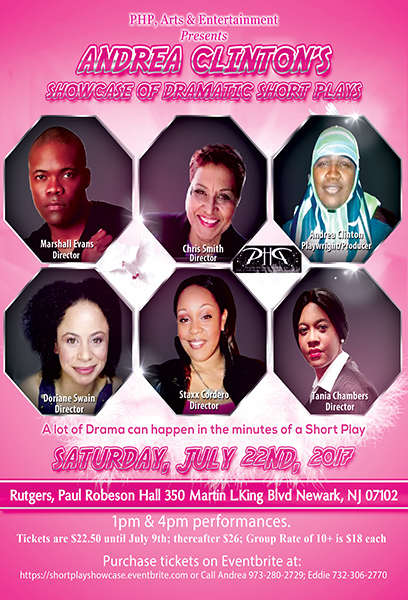 Come out & see Andrea's short plays manifest on the stage. Each one is more Dramatic than the next.
5 different Directors, 7 different Short Plays, All on 1 day, with 2 Performance times
SYNOPSIS:
This culmination of plays address everyday life issues. From Jane who has low self-esteem and tries drugs to fit in; to Sharrin who's abuse drives her to snap; Donnie & Jamaal, 2 cousins who try to escape gang life for a music and film career; to 2 women who finally come face to face; on down to the history of Route 280, where we learn of the homelessness and racial tensions it caused. This and more unfolds on stage in this dramatic dose of short plays that build in intensity.
Saturday, July 22, 2017 at Rutgers University, Robeson Hall, Essex Rm., 350 Martin L. King Jr. Blvd., Newark, NJ 07102. (Just in from Central Ave, less than 5 min from Penn Station)
General Ticket: $26 (no fees); Remaining Tickets sold at the door. Parking on surrounding streets, mass transportation on all sides
For Group Rates of 10 or more $18 per ticket (no fees)


---


OTHER INFORMATION:
Refreshments will be sold (as part of our fundraiser): all proceeds go toward the filming of H.I.T.S series, which we are pitching to Netflix and in talks with their distribution networks. We ask that you come prepared to buy and support our efforts.
Parking: There is parking on Martin L. King Blvd and all the side streets. To assure you get a good parking spot, we suggest you come in 30-45 minutes prior to your show.
Safety: Newark police as well as Rutgers University police are always circulating and securing the building and area. You and your vehicles should be safe. Be mindful of parking lot hours.
Tickets Sales at Door: Save by buying your ticket online at Eventbrite. Also note, we are trying to avoid ticket sales at the door to keep down traffic, so we encourage you to buy your tickets online or from Andrea, Eddie or Alex.
Seating: Doors open 30 minutes prior to each show. Late arrivals will be seated to the back so as not to disrupt the other audience members.
Wheelchair Accessible: Let us know and we will reserve comfortable seats for those in need.