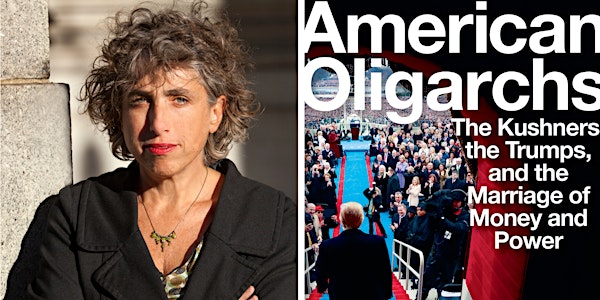 Andrea Bernstein and Kelly McEvers - Free Livestream
Andrea Bernstein and Kelly McEvers on American Oligarchs: The Kushners, the Trumps, and the Marriage of Money and Power
About this event
The video of the livestream will be posted on our Youtube Channel after the event.
After you register, we will follow up with email instructions on how to redeem your ticket and access the event. Please read your Eventbrite email confirmation carefully.
Please support authors by purchasing American Oligarchs: The Kushners, the Trumps, and the Marriage of Money and Power from Creating Conversations.
A multigenerational epic, filled with immigrant beginnings, rise to massive fortune, political influence, and dynastic impulses, award-winning journalist Andrea Bernstein braids the destinies of the Trump and Kushner families together while detailing the advantages (a heady combination of savvy and lucky political breaks) and larger than life personalities - that drove them to such wealth.
In her new book, American Oligarchs: The Kushners, the Trumps, and the Marriage of Money and Power, Bernstein, who reports for WNYC, the NPR affiliate for New York, weaves these family histories with enough color to imagine that this could be a beach read, littered with social climbing ambition, scandal, corruption, blackmail with prostitutes, prison, family vendettas, and political savvy to accumulate more and more wealth, by whatever means. Bernstein shows how these families bent the law, but also broke it, time and again. In sweeping and detailed reporting, Bernstein's minor players are as wildly interesting as the leads.
In conversation with Kelly McEvers. You listened to Kelly McEvers for years when she hosted NPR's All Things Considered. Now you hear her on NPR's acclaimed news podcast, Embedded, as well as on Consider This, NPR's daily afternoon roundup of the news. It's essential listening.