About this Event
At one point on his 2019 album, Buddha and The Blues, Anders Osborne sings, "Oh, it's a miracle we still care. Oh, it's so wonderful we're still here. We're still here!"
He's not going anywhere either…
Osborne's six-string virtuosity, inventive musicality, and poetic songcraft underpin an ever-expanding three-decade catalog celebrated by fans and critics alike. As a sought-after studio talent, his writing resounds through Keb Mo's GRAMMY® Award-winning Slow Down, Tim McGraw's number one "Watch The Wind Blow By," and covers by Brad Paisley, Jonny Lang, Edwin McCain, Aaron Neville, and more. His output live and in the studio spans working with everyone from Eric Church, Toots and the Maytals, and John Scofield to The Meters, North Mississippi Allstars, and Galactic. His extensive touring history encompasses gigs, collaborations, and performances alongside everyone from Derek Trucks, Warren Haynes, and Stanton Moore to The Grateful Dead's Phil Lesh and Jackie Greene. Not to mention, he lights up the screen on an episode of the HBO hit Treme. Plus, he has garnered acclaim from USA Today, Guitar Player, Relix, Offbeat, and more.
He also gives back whenever possible via the "Send Me A Friend" foundation and through writing music for New Orleans Children's Museum. A pair of 2016 albums—Spacedust & Ocean Views and Flowerbox—maintained his prolific output at a record pace. Now, 2019's Buddha and the Blues references the full scope of the creative and personal duality at the heart of everything this maverick does.
"I came up with the title early on, so I knew what the vibe of the record should be," he explains. "Buddha and the Blues means the duality of our existence."
As Osborne crafted the music, he pondered an existential struggle we all face. On the one hand, humans do good, but it's under the expectation of personal gratification. On the other hand, they desire success and wealth, but they attempt to maintain an appearance of humility. This constant push-and-pull led him to write about "not getting lost in a sunken path or idolizing an intangible future, but instead to be present in this moment and to be fully alive."
These thoughts filtered into the words, especially.
He goes on, "The lyrics are supposed to be true, conversational, and uplifting with clean, classic, and thumpin' sounds. That's what I set out to accomplish."
In order to do so, he joined forces with "a world-class ensemble" of Waddy Wachtel [guitar], Bob Glaub [bass], Benmont Tench [keys], Windy Wagner-Cromwell [background vocals], and Chad Cromwell [guitar]. Chad also assumed the role of producer. Like "a big brother" to Osborne, the producer and artist leveraged years of friendship, trust, and creative kinship to "make a record [they] wanted to do for many years."
"I didn't have to push," admits Chad. "It was his idea to let me 'drive the bus,' so to speak. That allowed him to focus on songs and his performances. The freer he is to write, play, and sing; the better the record. He really trusted me. To trust someone to help you make a record is an act of faith. It's a big responsibility to make sure that happens. That's a mighty thing Anders did, and I appreciate his trust. All signs pointed to this team, this time, and this music."
The setting proved to be as instrumental as the players did. From the beginning, Osborne envisioned making the album in California, but not the big screen vision of Hollywood. It made perfect sense to zero in on a location just far enough from the city. Ojai felt perfect to siphon the soul of SoCal into wistful sun-soaked soundscapes. You can practically hear Ojai in the aural fabric of the album.
"The Southern California vibe was essential to the record," Osborne continues. "Early on, Chad and I agreed it had to be tracked out there. I've been wanting to do this for a while, and we needed to go out there. You can hear the influence. It's played with a gentle breeze and tight precision. Cutting it in Ojai was crucial to achieving the right atmosphere. I usually write with a location in mind, so it helps me stay focused and guides me to craft a body of tunes rather than individual songs."
That "body of tunes" kicks off with the dusty dynamics of "Alone." In the pocket of a steady beat, the twang of clean guitar offsets his gruff delivery as the track unfurls towards a discordant guitar lead highlighted by organ.
"'Alone' was a meditative prose I wrote in my backyard," he says. "It had a circular vibe to it, When I added the music, I wanted it to match the poem: a small word with an epic impression."
Elsewhere, "Escape" captures the tension prior to his California trip with its off-kilter groove and roots-y shuffle. A wail of slide guitar cuts through sunny strumming as an idyllic narrative unfolds on "Traveling with Friends."
He adds, "I wrote 'Traveling with Friends' on St. Thomas, Virgin Islands while on vacation with my family. We had an amazing spot on top of a mountain overlooking a big part of the island, and I felt inspired and really grateful. I had a moment of relief from all of my searching and dissonance. I saw us all for what we are—beautiful, fragile, and in this tumultuous space trip all together."
He crafted the perfect soundtrack to the trip with Buddha and The Blues, illuminating his own duality like never before. The message ultimately becomes clear in the music.
"Learn to choose," he leaves off. "Be happy or continue suffering."
-------------------------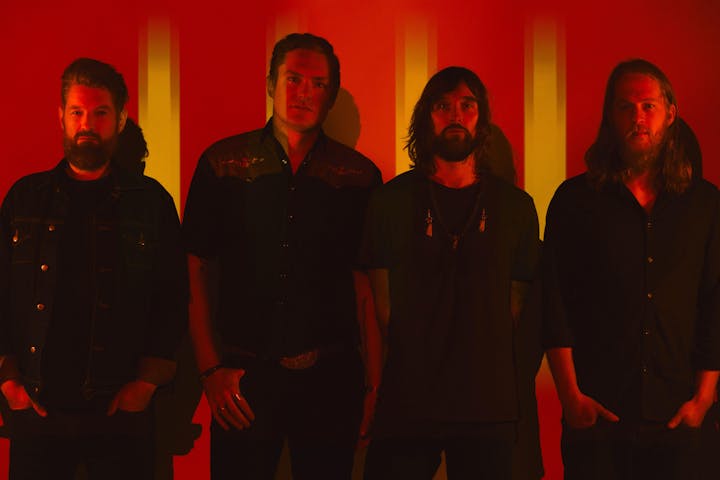 On June 11, 2019 Color Red will release a digital 45 by Dragondeer, one of Colorado's fastest rising acts that have turned heads across the country with a distinctive blend of psych-blues and soul. The release coincides with Dragondeer's active summer schedule including key festival plays at Firefly Music Festival in Dover, DE, Summerfest in Milwaukee, WI, and Electric Forest in Rothbury, MI.
"Mirage Á Trois" and "Max Patch" find the group exploring new sonic territories with the help of Jordan Linit on guitar (Analog Son) and Jeff Franca on percussion (Thievery Corporation). "Mirage Á Trois" takes late-night downtempo disco flavors reminiscent of Portugal the Man and Gorillaz and tells the tale of inner-conflict between the proverbial "me, myself, and I." "Max Patch" is a smoky-mountain funk tune that tips its hat to a carefree, moonshine-drinking jam session that transpired in a cabin at the highest point in the Appalachian Mountains. Both tracks represent the collaborative nature of Color Red and the community within the Colorado music scene.
On expanding their sound, Dragondeer's Eric Halborg details the decision to partner with Color Red on these brand new tracks:
"Dragondeer has been naturally adding shades of old school funk to the swampy blues and soul that's been our forte. Going into the Color Red sessions, we consciously allowed ourselves to go into new sonic territories. The tracks were inspired by the classic sounds of Stax Records and The Meters catalog coupled with the indie dance floor sensibilities of Gorillaz and Portugal The Man. The Color Red studio provided the perfect space and vibe to explore and be creative musically all while being captured to analog tape and produced by Sunsquabi's Josh Fairman. We love the fact that Color Red encourages collaboration between artists. Both of these new Dragondeer tracks include special guests. Percussion from Jeff Franca of Thievery Corporation gave us the extra motor and shake the tracks needed, while the guitar work of Jordan Linit of Analog Son delivered the perfect 70s guitar driven funk that we had envisioned."
Dragondeer has shared the stage with Nathaniel Rateliff & The Night Sweats, Shakey Graves, and Drive By Truckers and has performed at Telluride Blues & Brews, Grandoozy Music Festival, Jazz Aspen Snowmass, and more to name a handful of accolades. The digital 45 on Color Red comes ahead of a series of singles the band will release throughout the summer of 2019 culminating in a full-length release at the end of the year.
-------------------------
Standing Room Only, General Admission Venue
Performers
Date and Time
Location
Refund Policy