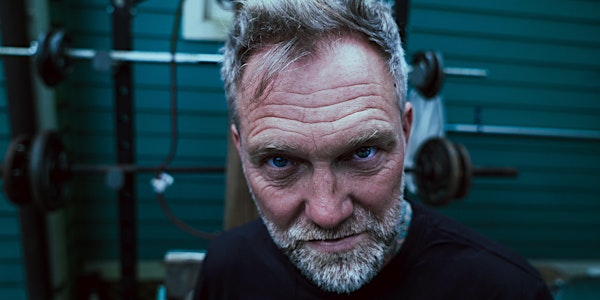 Anders Osborne: Full Band Show w/ Dan Tedesco (Night 2)
Anders Osborne: Full Band Show w/ Dan Tedesco (Night 2) at SPACE in Evanston, IL // Doors: 7pm | Show: 8pm // Tickets: $36 (ADV) - $40 (DOS)
When and where
Location
SPACE 1245 Chicago Avenue Evanston, IL 60202
Performers
Headliners
More Performers
About this event
GENRE: Singer-Songwriter
ABOUT THE ARTIST
Between the potency of his richly detailed songwriting, his intensely emotional, soulful vocals and his piercing, expert guitar work, New Orleans' Anders Osborne is a true musical treasure. He is among the most original and visionary musicians writing and performing today. Guitar Player calls him "the poet laureate of Louisiana's fertile roots music scene." New Orleans' Gambit Weekly has honored Osborne as the Entertainer Of The Year. OffBeat named him the Crescent City's Best Guitarist for the third year in a row, and the Best Songwriter for the second straight year. Osborne also won Song Of The Year for his composition, Louisiana Gold.
Osborne's latest released Flower Box, his second full-length album of 2016, recorded in his hometown of New Orleans late last year, Flowerbox is a heavier, guitar-driven follow-up to the acclaimed Spacedust & Ocean Views.
"I love the way this record comes out stout and determined right out the gate, a four-piece rock & roll band making beautiful and conquering noise," says Osborne. "The producer, Mark Howard, has a way of making you play in the moment and being confident. His sounds and engineering style is that of classic records, with his own special sauce of 'haunting' on top of it. The musicians on here are undoubtedly some of my absolute favorites in the world, both as players and as people. Their contributions are invaluable. Scott Metzger, Brady Blade, Carl Dufrene, Chad Cromwell, Marc Broussard, David LaBruyere, Rob McNelley & Justin Tocket. Bad boys! I've been wanting to make this record for several years and I am stoked it's finally here."
A powerful live performer, the musician has won over fans through non-stop touring as well as a heralded collaboration with the North Mississippi Allstars & Southern Soul Assembly.
Jambands.com said, "Osborne finds a striking balance of muscle and grace that allows for the smaller moments of quiet to be just as resounding as the sonic booms." And USA Today has praised his music, saying "The relentless approach amplifies the anguished lyrics, which appear to be about the death of a loved one or a relationship torn asunder or perhaps a spiritual crisis." In a review of Spacedust & Ocean Views, Boulder Weekly said the album "finds the guitarist in a (largely) reflective mood, an extended meditation on place and moments in time, memory, passages through and exits from paragraphs in the non-fiction docudrama of life. Through languid, gently formed figures, Osborne coaxes odes of gratitude and compelling imagery in what seems a little like a travelogue — like watching his kid chasing seabirds on the beach..."
Osborne has earned hordes of new fans. He has toured virtually non-stop, either with his own band, as a solo artist, or as a guest with his countless musical admirers, including Toots and The Maytals, Stanton Moore, Derek Trucks, Warren Haynes, Keb Mo, The Grateful Dead's Phil Lesh, Jackie Greene and Karl Denson's Tiny Universe. He's produced and played on critically acclaimed albums by Tab Benoit, Johnny Sansone and Mike Zito.
Since his recording debut in 1989, Osborne has written virtually all of his own material and contributed memorable songs to a wide variety of artists. Two tunes co-written by Osborne appear on Keb Mo's Grammy-winning 1999 release Slow Down. Country superstar Tim McGraw scored a #1 hit with Anders' song Watch The Wind Blow By. Osborne's compositions have been covered by artists as diverse as Brad Paisley, Tab Benoit, Jonny Lang, Edwin McCain, Sam Bush, Trombone Shorty and Aaron Neville and Kim Carnes. His songs have appeared in multiple feature films. He can also be seen performing in an episode of HBO's New Orleans-based drama, Treme.
https://www.andersosborne.com/#home-section
My story is…..that I have no story, per se. I come from a solid family. It's a point of pride. I grew up in the far west suburbs of Chicago. The only serious addiction in my life, if you'd like to call it that, has been with music. Let me bring you up to speed.
Piano at age 5.
Violin at age 9.
Guitar at age 11 after hearing Eddie Van Halen.
And that, as they say, is all she wrote.
I've been madly in love with it ever since.Growing up my ears were fortunate enough to be treated to a fairly eclectic musical mix: The Beatles, Dylan, Paul Simon, James Taylor, The Band, The Beach Boys, Pink Floyd, CCR, Bob Seger, Bruce Springsteen, Tom Petty. Even a healthy dose of Mozart, Beethoven and Wagner. A friend in my neighborhood used to make cassette mixes for me: The Who, They Might Be Giants, The Police, The Clash. I missed the grunge period, and it wouldn't be until nearly a decade later that I'd discover the power of Nirvana, Pearl Jam and Soundgarden. Once I found the guitar, things focused in a touch. It wasn't unusual for me to fall asleep at night to the sounds of guitar wizards like Joe Satriani and Eric Johnson. And the random Van Halen record was never far away.
Then there was the jazz period. Wes Montgomery. Joe Pass. George Benson. Charlie Christian. John Coltrane. Elvin Jones. McCoy Tyner. The things I learned from those guys. Man. It's everything really. The spirit of jazz. The freedom of it. That's been it's great influence on me.
But I was always a rock 'n roll kid. Pete Townsend more than Pat Metheny. And, ultimately, I craved power chords over the complex harmonies of jazz.
High school was a weird time. I straddled the jock world, playing baseball, and the music world, as a member of the high school jazz band. Most mornings, after being dropped off by the bus, everyone would hang out in the lunchroom before first period. Not me. I'd head straight to a room adjacent to the school's band rehearsal hall, writing music on the computer. Like I said, it was an addiction. Outside of school, I jammed in a duo with one of my best friend's, who happened to be a fantastic drummer. We wrote all kinds of stuff. Lots of instrumental music (queue the Satriani). Recorded various demos. But neither of us sang. That made it hard to play out. And most of the other kids were interested in the classics: Zeppelin, Pink Floyd, The Stones. They weren't interested in what we had going on.
So, like many of my heroes, I was a bit of a social outcast. That, if anything, was and has always been my struggle. Everyone has at least one. And I found my comfort, security and confidence in the world out on the fringe, populated by the misfits. The world of rock 'n roll.
Let Me Play My Old Guitar, and sing for you my song
Let Me Play My Old Guitar, and sing for you my song
I promise you my friend
I Will Not Do You Wrong
– DT