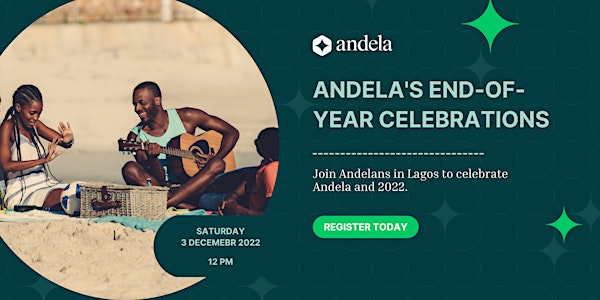 Andela's end-of-year celebration | Lagos
As 2022 comes to a close, Andela is excited to celebrate yet another busy year, join us in Lagos on December 3rd.
When and where
Location
Oba Elegushi Beach Road Oba Elegushi Beach Road Lagos, LA 106104 Nigeria
About this event
As 2022 comes to a close, Andela is excited to celebrate yet another busy year with over a dozen regional meet-ups for Andelans around the world.
We want to celebrate you, your community and of course Andela.
Join us at Oba Elegushi Beach Rd, Lagos, on December 3rd for our best meet-up yet.
Ticket information:
This event is for members of Andela's Certified Talent Network ONLY, please use your Andela email address when booking your ticket. Tickets that are purchased without an Andela email address may be cancelled.
Health and Safety notice:
Please follow public health guidelines which may be in place in your local area. We ask you to respect people's health situations and choices. We ask you to exercise good hygiene. Please do not attend this event if you have been experiencing symptoms of COVID-19 or Monkeypox in the past 48 hours.
Please note that you are solely responsible for your personal belongings at this meet-up.
We expect all hosts, staff and attendees to adhere to Andela's Code of Conduct which is available at https://andela.com/code-of-conduct/.
By attending this event you acknowledge and agree to the following:
I understand that I fully and personally responsible for my own safety and actions during the Andela Lagos Meetup. With full knowledge of the risks, I hereby release, discharge and indemnify Andela, (including its board, subsidiaries, officers, affiliates, employees, representatives, successors, and assigns) from any and all liabilities, claims, demands, actions, and causes of action whatsoever, directly or indirectly arising from activities I may undertake during the Andela Lagos Meetup.