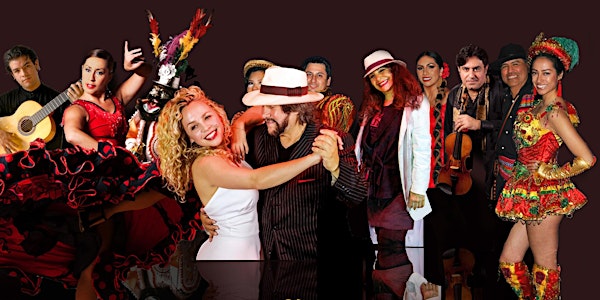 Multiple dates
"Andean Carnaval, Latin, and Flamenco Fusion: A Journey Across Cultures"
Experience live music, dance, stories, organic food and drink in an artist-owned intimate theatre peña that was once a legendary speakeasy
Date and time
April 22 · 8pm - June 24 · 9:30pm PDT
Location
Peña Pachamama 1630 Powell Street San Francisco, CA 94133
Refund Policy
Refunds up to 7 days before event
About this event
Join us for an unforgettable night of live music, organic food, dance and culture at Peña Pachamama. Two-time Latin Grammy nominee Eddy Navia and SUKAY founder Quentin Navia will take the stage with special guests and exceptional Andean and flamenco fusion dancers. Our venue has a rich history as a famous speakeasy and restaurant, where Hollywood icons like Marilyn Monroe, Joe DiMaggio, Clark Gable and Carole Lombard once dined. Showtime starts at 8 PM - come and discover the magic that is Peña Pachamama.
Peña Pachamama has been recognized as a San Francisco Legacy Business, a testament to our longstanding commitment to serving the community and preserving cultural heritage. With your support, we can continue to present the best in music, dance, and cultural traditions for many more years to come. Please frequent Peña Pachamama and help us continue to be a valuable part of the city's cultural fabric.
We would greatly appreciate it if you could help us spread the word about Peña Pachamama by telling your friends and family about our intimate venue and unique events
"San Francisco is a city of 'it' places. And Peña Pachamama has always been one of those places in the city," -Hon. Mayor Willie Brown, 7x7
"I just love the music, whether it's new style or old style, the music played here is hard to find anywhere else." -Stanlee Gatti, 7x7
"For our Mother Earth and all of us, North Beach's Peña Pachamama: the cuisine, the music, and the atmosphere all say the same thing, love is the way." -Dr. Will Tuttle, author The World Peace Diet
Robin Williams declared the wildly rhythmic nightspot "the kind of place even the Amish would dance." -Catherine Bigelow, SF Chronicle
It began as a home-season concert in the late 90s, but the musicians unknowingly stumbled upon a piece of San Francisco's rich history - the iconic Speakeasy and later, the beloved Amelio's restaurant. The historic site where Joe DiMaggio and Marilyn Monroe celebrated their wedding dinner and Clark Gable romanced Carole Lombard, now serves as the inspiring backdrop for Peña Pachamama, a hub for creative individuals.
Peña Pachamama's founders, two-time Latin Grammy nominee Eddy Navia (Savia Andina) and Quentin Navia of SUKAY, toured and performed for over 50 years bringing the music and dance of Bolivia and the Andes mountains throughout the world. SUKAY has appears on hundreds of the great stages across America including New York's Carnegie Hall, Lincoln Center's Avery Fisher Hall, Colorado's Red Rocks Amphitheater and Vilar Center for the Arts, San Francisco's Herbst Theatre, Masonic Auditorium, Washington DC's Lisner Auditorium and Smithsonian's Baird Auditorium, Bushnell Performing Arts Center, Hartford, Banff Center Theatre, Alberta, Spivey Hall, GA, Detroit Institute for the Arts, MI, Arizona's Roy Disney Center for the Performing Arts and Centennial Hall, Jack Singer Concert Hall in Calgary, Wilder Hall at Oberlin College, OH, Live Oak Theatre, Austin, Annenberg Center for Performing Arts, PA, Scottsdale Center for the Arts, AZ, Chautauqua Institution Amphitheater, NY, Obert C.Tanner Amphitheater, Zion National Park, UT and the Colisée in Quebec City (opening for Peter Gabriel and Genesis). The group also appeared at major festivals in Vancouver, Calgary, Winnipeg and Toronto, at Pete Seeger's Clearwater Festival and countless other venues.
Discover the organic goodness of our 'Best of Raw' awarded Kale Chips, crafted with care in-house every day. Try our original, pizza, and spicy flavors today and enjoy priority mail delivery across the USA at: www.pachamamaraw.com
Peña Pachamama 1630 Powell Street, San Francisco, CA 94133
mailing: Peña Pachamama, 3450 Sacramento Street, Suite 523, San Francisco, CA 94118
www.penapachamama.com
About the organizer
After three decades of touring internationally, Bolivian composer & two-time Latin Grammy nominee Eddy Navia, co-founder of Savia Andina and Sukay's co-founder Quentin Navia have established a home at Peña Pachamama, a gathering place for great musicians and dancers and an organic restaurant and world music center. 
Robin Williams declared the wildly rhythmic nightspot "the kind of place even the Amish would dance." (Catherine Bigelow, SF Chronicle)