And then there is California. Short films with Beck+Col
Description
Image: Beck+Col, Rainbow Face! on Vacation, 2017
In conjunction with the exhibit And then there is California., Beach=Culture presents an evening of screenings featuring short artist-created films.
Molly Shea - Someday, 4:43
Kelly Wall + Jessica Dillon- Blue River, 6:35

Hanieh Khatibi - Drawn-In Drawn-Out, 20:38

Stephanie Mei Huang - erasure ii, 8:34

Kelly Wall - Dusty Cheeks, 3:29

Beck+Col - Rainbow Face! on vacation, 6:40
About the filmmakers
Molly Jo Shea is an artist and performer living in Los Angeles. Her work is often an interdisciplinary weaving that attempts to create worlds, characters and interactive engagement. Her video "Someday" is a recreation of the 1960s surf videos from a seasonal depression standpoint. Most recently she has solo shows at Horse and Pony Gallery in Berlin and Monte Vista Projects in Los Angeles. She is available for bachelorette parties, bar mitzvahs and funerals. mollyjoshea.com
Jessica Dillon and Kelly Wall met in 2010 while receiving their bachelors in Fine Art from Otis College of Art and Design. Over the last eight years they have collaborated before pursuing their Masters degree separately, Dillon graduating from ArtCenter in 2018 and Wall currently completing her final year at Calarts. Their work roots from a connection to place and environment as well as a 'living-art' practice. Often composed of Video, Performance, Curatorial works, and Relational Aesthetics, Wall and Dillon's approach to their combined work stems from friendship often cultivating in a "front porch dialogue". jessicadillon.info
Hanieh Khatibi's works present the notion of precariousness and uncertainty in conditional beings or self-made situations. Alongside a concern with gender and body she seeks an ongoing relationship of human to that which we often call nature, by placement and displacement, formation and transformation through material strategies designed to interrogate and reconfigure the body itself. Hanieh chases the very overlap between restriction and possibility, which is to say that she explores liminal space. She recently received an MFA from the California Institute of the Arts.
stephanie mei huang is a Los Angeles-based interdisciplinary artist currently completing her MFA in Art at the California Institute of the Arts. Her work concerns itself with critical scripts of notions around authority, expansionism, and displacement. She is interested in transversing territories of confrontation between notions of history/expansions and intimate bodily containers. She examines the American West as a repository of all discourses as products of modern diasporas. She is the recipient of a Getty Foundation grant and has taught at non-profits such as the Marfa Studio of Arts and Venice Arts. highstitchedvoice.com
LA-based artist Kelly Wall received her bachelors from Otis College of Art and Design in 2012 and completed her Masters at Calarts in 2019. The subjects of Wall's work vary as much as the medium in which they are portrayed, but more often than not utilize humor to usher in and make palatable themes of solitude and social performance. Wall's installations take influence from the occult, mundane realities, and mythologies, creating parallel worlds in which to view everyday normalcies from behind a new filter. A multimedia artist whose work includes sculpture, video, performance, and sound, her work is introspective while leaving ample space for the viewer to enter. kellywall.com
Los Angeles based duo Beck+Col use humor and chaos to examine the crises that emerge from human exceptionalism. Through costume-based performance and video, their work explores alternate universes populated with monsters.The monsters are at once silly, playful and exceptionally brutal. beckandcol.com
About the Exhibit:
And then there is California.
On view May 4, 2019 - August 26, 2019
Curated by Beck+Col

Featuring work by Santiago Acero, Alia Ali, Diego Barrientos, Kira Doutt, Philipp Farra, lydon frank, Hanieh Khatibi, Serena Himmelfarb, Chloe Levaillant, Alicia Piller and Kelly Wall.
There is science, logic, reason; there is thought verified by experience. And then there is California. -Edward Abbey
Approaching contemporary landscapes from unique perspectives, the artists in 'And then there is California.' challenge the way we look at the California coast. The works in the show are a reflection of their interactions with the coastal landscape and a celebration of its intersection with the unique culture of Los Angeles.
Beach=Culture is a program of Santa Monica Cultural Affairs #ArtSaMo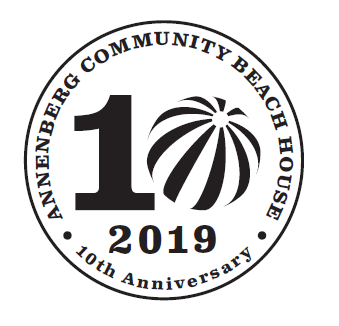 ---
By registering for this program via this eventbrite page, you consent to receiving occasional email about cultural events from @smgov,net. You can unsubscribe, or change your preferences at any time using the "unsubscribe" or "manage preferences" links on these emails.
Stop by early to save your seat and check out the historic site. Picnickers welcome (no pets, alcohol or glass permitted onsite.)
Tickets are free but space is limited and reservations are required. Arrive by 15 min before start time to retain your reservation. Late seating, even for reservation-holders, is not guaranteed. To adjust or cancel your reservation for this event, email culture@smgov.net. We appreciate your keeping in touch!
Getting Here: The Beach House is located at 415 Pacific Coast Highway, Santa Monica, CA 90402 on the west side of Pacific Coast Highway. Enter off PCH at the Beach House Way traffic light.
Accessibility: The Annenberg Community Beach House is wheelchair accessible and ADA compliant. If you require any special disability related accommodations, please contact us at culture@smgov.net, call us at (310) 458-8350 or TDD: (310) 458-8696 at least 5 days prior to the event.
Parking: The parking rate is Apr - Oct: $12/day or $3/hour; Nov - Mar: $8/day or $3/hour, payable at the park and pay machines in three areas of the ACBH parking lot. Credit cards or exact change only. Handicapped placards and Senior Beach Permits are accepted. For other parking info and lot hours, please check the website for details.
Other events: To view & make reservations for future free Beach=Culture events, check annenbergbeachhouse.com/beachculture and santamonica.gov/arts/beach-culture
General Info: For hours, events and more, visit annenbergbeachhouse.com, or call (310) 458-4904. Back on the Beach Café hours are subject to change but are generally through 8pm in the summer and 3pm in the off season, call (310) 393-8282 to confirm.