And then there is California. Short films with Beck+Col
Description
Image: Beck+Col, Rainbow Face! on Vacation, 2017
In conjunction with the exhibit And then there is California., Beach=Culture presents an evening of screenings featuring video works from Kelly Wall, Hanieh Khatibi and exhibition curators Beck+Col.
Kelly Wall's Beneath the Rosy Tinted West, Through Dusty Curtains I Will Come, was filmed in the Santa Monica Mountains, near her home in Venice Beach. It is a story about a paper mache sculpture that her mom made as a child that Wall brought to life. She explores her relationship with her mother through this sculpture and the nostalgia of old western Hollywood.
Hanieh Khatibi's Drawn In-Drawn Out was filmed at Malibu Beach. In this film, Khatibi carries two rocks wrapped in textiles along the coast. Using her body, she explores the relationship between weight, weightlessness and suspension. The experience of loss and precariousness is at the heart of her work. She uses materials found near her home in Santa Monica.
Beck+Col screens Rainbow Face! on Vacation, a film shot while in residency at the Annenberg Community Beach House July 2017. A celebration of their alter ego characters' love for the Southern California beach.
About the Exhibit:
And then there is California.
On view May 4, 2019 - August 26, 2019
Curated by Beck+Col

Featuring work by Santiago Acero, Alia Ali, Diego Barrientos, Kira Doutt, Philipp Farra, lydon frank, Hanieh Khatibi, Serena Himmelfarb, Chloe Levaillant, Alicia Piller and Kelly Wall.
There is science, logic, reason; there is thought verified by experience. And then there is California. -Edward Abbey
Approaching contemporary landscapes from unique perspectives, the artists in 'And then there is California.' challenge the way we look at the California coast. The works in the show are a reflection of their interactions with the coastal landscape and a celebration of its intersection with the unique culture of Los Angeles.
Beach=Culture is a program of Santa Monica Cultural Affairs #ArtSaMo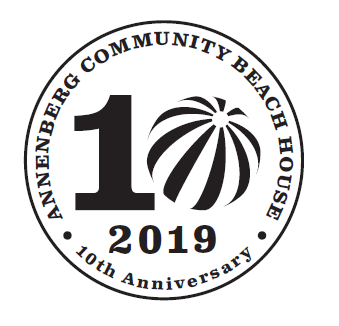 ---
By registering for this program via this eventbrite page, you consent to receiving occasional email about cultural events from @smgov,net. You can unsubscribe, or change your preferences at any time using the "unsubscribe" or "manage preferences" links on these emails.
Stop by early to save your seat and check out the historic site. Picnickers welcome (no pets, alcohol or glass permitted onsite.)
Tickets are free but space is limited and reservations are required. Arrive by 15 min before start time to retain your reservation. Late seating, even for reservation-holders, is not guaranteed. To adjust or cancel your reservation for this event, email culture@smgov.net. We appreciate your keeping in touch!
Getting Here: The Beach House is located at 415 Pacific Coast Highway, Santa Monica, CA 90402 on the west side of Pacific Coast Highway. Enter off PCH at the Beach House Way traffic light.
Accessibility: The Annenberg Community Beach House is wheelchair accessible and ADA compliant. If you require any special disability related accommodations, please contact us at culture@smgov.net, call us at (310) 458-8350 or TDD: (310) 458-8696 at least 5 days prior to the event.
Parking: The parking rate is Apr - Oct: $12/day or $3/hour; Nov - Mar: $8/day or $3/hour, payable at the park and pay machines in three areas of the ACBH parking lot. Credit cards or exact change only. Handicapped placards and Senior Beach Permits are accepted. For other parking info and lot hours, please check the website for details.
Other events: To view & make reservations for future free Beach=Culture events, check annenbergbeachhouse.com/beachculture and santamonica.gov/arts/beach-culture
General Info: For hours, events and more, visit annenbergbeachhouse.com, or call (310) 458-4904. Back on the Beach Café hours are subject to change but are generally through 8pm in the summer and 3pm in the off season, call (310) 393-8282 to confirm.