About this Event
Captains:
We invite you to join us for a day of historical discovery and exploration aboard the HCMS Haida!
Come join World of Warships NA staff: _irony_, Gneisenau013, Karmat1ka and Femennenly for the next stop on the 2019 Anchors Away Tour.
There will be plenty of time to explore this historic ship, opportunity to engage in a live feedback session, and take part in a scavenger hunt around the ship for prizes. As a special bonus the: Engine Room, Radio room, Gun magazine, and Operations rooms will be made available exclusively during the next two days - Typically not open to the public .
Community Contributor; iChaseGaming will also be joining the staff for the event, make sure you check in with him and say hello!
Included with your ticket:
Access for the day to the HMCS Haida
An attendance goodie bag containing: Tour Shirt, Poster and code for In-Game player gathering patch (This will be distributed on the day at the event).
Entry into the main giveaway for bigger prizes
Please note ticket admission does not include parking or food/beverage. Please come prepared with snacks and water to ensure you stay properly hydrated during your time on the ship.
Event Schedule:
9:50 AM - Welcoming announcement, staff introduction, and opening instructions/brief while on the ship
10:00 AM - HMCS Haida Opens and Registration Opens.
10:00 AM - Scavenger Hunt Begins! Find 10 questions around the Main Deck of the ship, answer them correctly, return to Prize desk at the bottom of the Jetty to claim a prize
10:45-11:30 AM - Feedback session on the Mess Deck
11:30 AM - Registration Closes
``12:00 PM - Staff announcement, Giveaway Drawing, and Group Photo on the grass at the front of the Ship
12:00-1:00 PM - Formal Staff/CC Meet and Greet on the grass at the front of the Ship
12:30 PM - Cut off for Scavenger Hunt prize redemption
1:00 PM - Wargaming Staff say Goodbye! You may continue exploring the ships until its official close at 4:45pm
Event Map: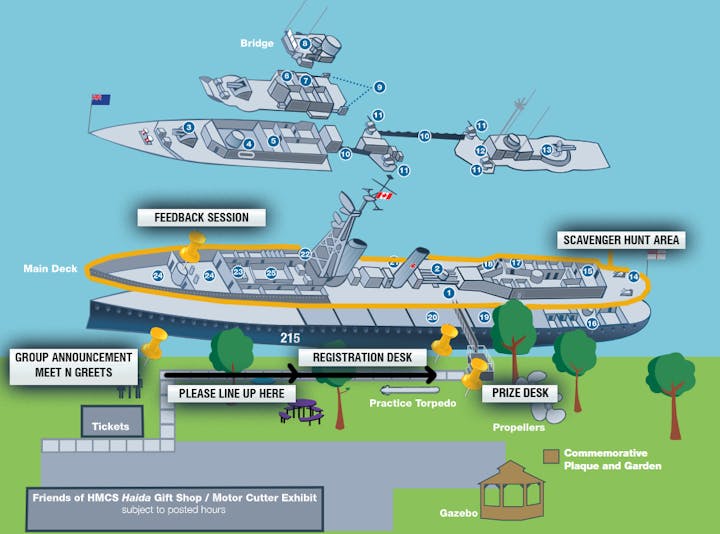 Parking Map:
Please park in the designated parking areas notated in the map below, there is an overflow lot available across Catherine S1 N if primary parking is full. Please be aware there may be a small charge for parking.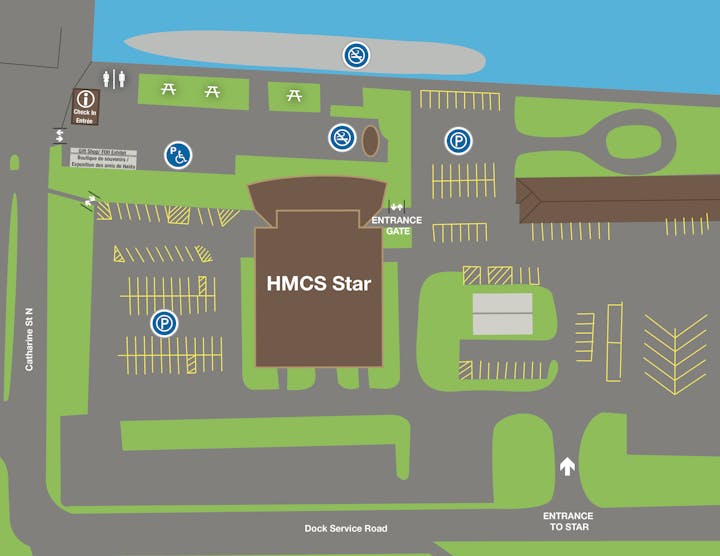 On the fence about purchasing a ticket? Check out NA CC NoZoupForYou thoughts on World of Warships, why he plays, and the USS New Jersey and Massachusetts events.