Description
The Anchored Woman Retreat is a one day retreat for Christian women who want to enjoy some time outside of the city, in community with women exploring Scriptures and learning the art of Bible journaling.

---
WHO SHOULD JOIN US?

Women who want to trade in their fast-paced weekends and to-do lists for a day of rest and spiritual refreshing.

Women who love being in community with fun, like-minded women.

Women who want to spend time digging into and understanding Biblical truths.

Women interested in exploring their creativity as they use art materials to study the Bible, learn truth and develop tools to remain anchored in it.

---
WHAT DO YOU NEED TO BRING ON THIS RETREAT?

If this will be your first time Bible Journaling you do not have to shop for any art supplies. I provide basic classroom supplies to share at each table. Your fee will cover the cost of your supplies and devotional kits, breakfast and snacks.

However, if you are looking to start a kit then you might want to take a look at my personal favorite Bible's here. This may help you decide which Bible is right for you if you're stuck comparing Bibles.

Recommended:

YOUR JOURNALING BIBLE or, A NOTEBOOK

SOMETHING TO WRITE WITH

BASIC JOURNALING SUPPLIES - a Bible mat, your favorite stamps, colored pencils, and washi tape (optional, and only if you already have these things)

If you need help building your starter kit there's more information here My Favorite Bible Journaling supplies*.(*Disclaimer: there are affilitate links on this page)

You can purchase more than one ticket but they will have to be purchased individually as we will need each participants name and email address when tickets are purchased.
You can find Frequently Asked Questions about the retreat here.
Hope to see you there!

Feel free to email me with any specific questions at Diana@dianadenis.org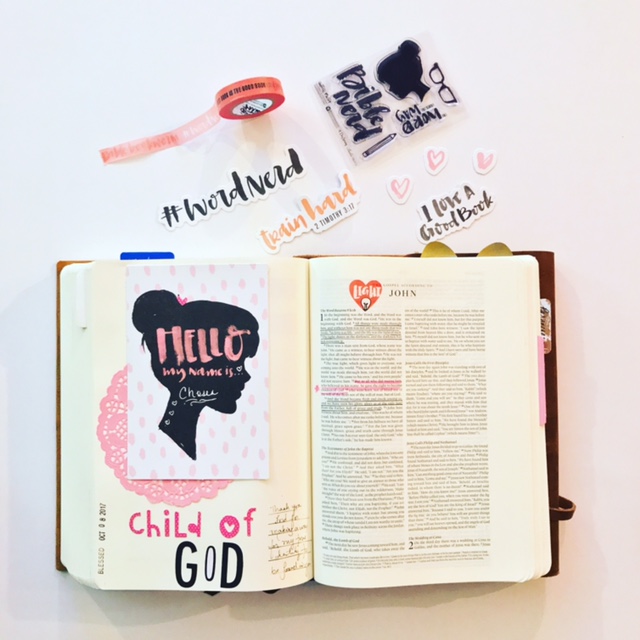 This is a declaration I journaled to remind myself that no matter what I do or what happens to me that I AM A CHILD OF GOD! We're going to get you started on making your own declarations!