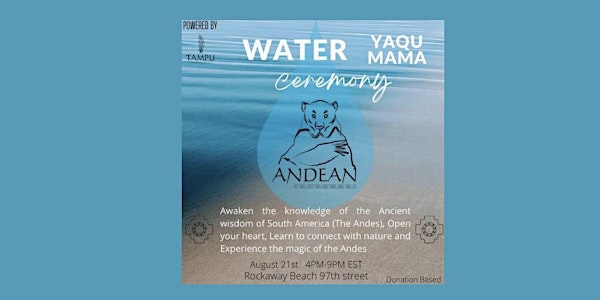 Ancestral Inka Water Ceremony
Awaken the knowledge of the Ancestral Andean Cosmovision of South America (The Andes), Open your heart and Learn to connect with nature .
When and where
Location
97 Shore Front Pkwy 97 Shore Front Parkway Queens, NY 11693
About this event
We welcome you to join us for a very special Ancestral Inka water Ceremony and Ancestral Andean wisdom (Bilingual -English and Spanish). At Rockaway Beach 97st shore front pkwy beginning at 4PM - 9PM on Sunday, August 21st. Where we will be sharing knowledge about the contribution that the Andean peoples of South America have made to the world since it was a culture that survived the conquering expansion of Western civilization. Learning wisdom and ancestral culture that reflects the connection between the cycle of life and the universe.
We introduce ourselves as TAMPU, a non-profit organization, with activities in the United States of America, and the Countries of the Andean Community of Nations (Peru, Bolivia, Colombia, Ecuador, Chile, Argentina, Brazil, Paraguay and Uruguay). Whose objective is to bring Andean Art and Culture to humanity. Our purpose is to transmit to the world the beauty and value of Andean culture, reflecting fraternal love and coexistence with nature, to achieve well-being and sustainable development as human beings. We recognize that our society urgently needs it, due to the reality we are currently going through. It is time that we all have clear access as human beings to what we are here for, helping them find the true meaning of our existence.
We are so grateful to the people and institutions that made possible the ceremonies During the time of Pachamama (June) and Pachacamaq (July). Now we entering the time between August to November for the elements (Air, Fire, Earth and Water) It is honored in the Cosmovision of the civilization of the Andes (South America) during these months it is very important to carry out the concept of gratitude and the best way is by honoring and gratifying the presence of natural elements in our lives. scientifically it is proven that gratitude and connection with nature have positive effects on mental health, leading people to notice the good things they have in their lives, which leads to a reduction in stress and depressive symptoms.
Tampu is a nonprofit, we would like to count on your support to through your donations to continue bringing cultural knowledge and development to indigenous communities in South America (The Andes).
Allyntamunay(Quechua) -Live Good
Contact: 929-320-8735
Follow us
Instagram: @Tampuproject
https://www.tampuproject.org