About this Event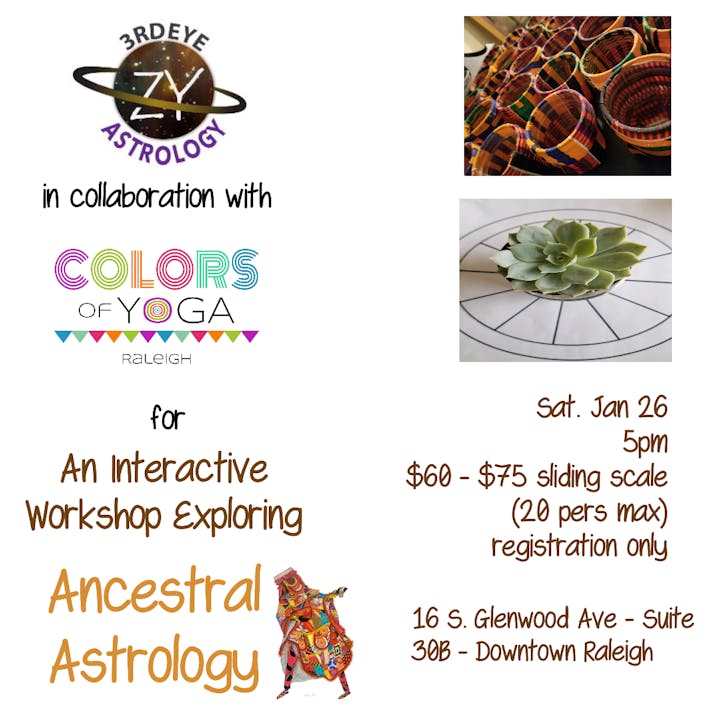 PLEASE DO NOT PURCHASE TICKETS HERE. ALL SALES VIA PAYPAL (3RDEYEZYASTRO@GMAIL.COM), CASH APP (3RDEYEZY) OR CASH IN PERSON. This workshop is a transformative healing exploration of ancestral patterns (wounds and family pathology) within the astrological chart. We'll take a look at honoring those gifts passed on to us, healing familial blockages thru recognition, releasing, and ancestral reverance via astrology to begin repairing our DNA!
Each participant will receive handouts and an ancestral gift to take home.
What to wear: Comfortable clothing. Participants may join us at the start of class for light breathing and stretching exercises including affirmations. No footwear is permitted inside the classroom (barefeet or comfortable socks please). 
Date: Saturday Jan 26, 2019
Time: 5 pm
Registration: $60-$75 sliding scale
Class length: 2 hours
Max 20 participants (space limited)
To receive personalized handouts and a copy of your birthchart on the day of class,  please provide your birth information (birth date, exact time & location) to Zy (3rdeyezyastro@gmail.com) by Monday Jan 21st