Ancestor Liberation Process

Saturday, October 24, 2015 from 10:00 AM to 5:00 PM (MDT)
Event Details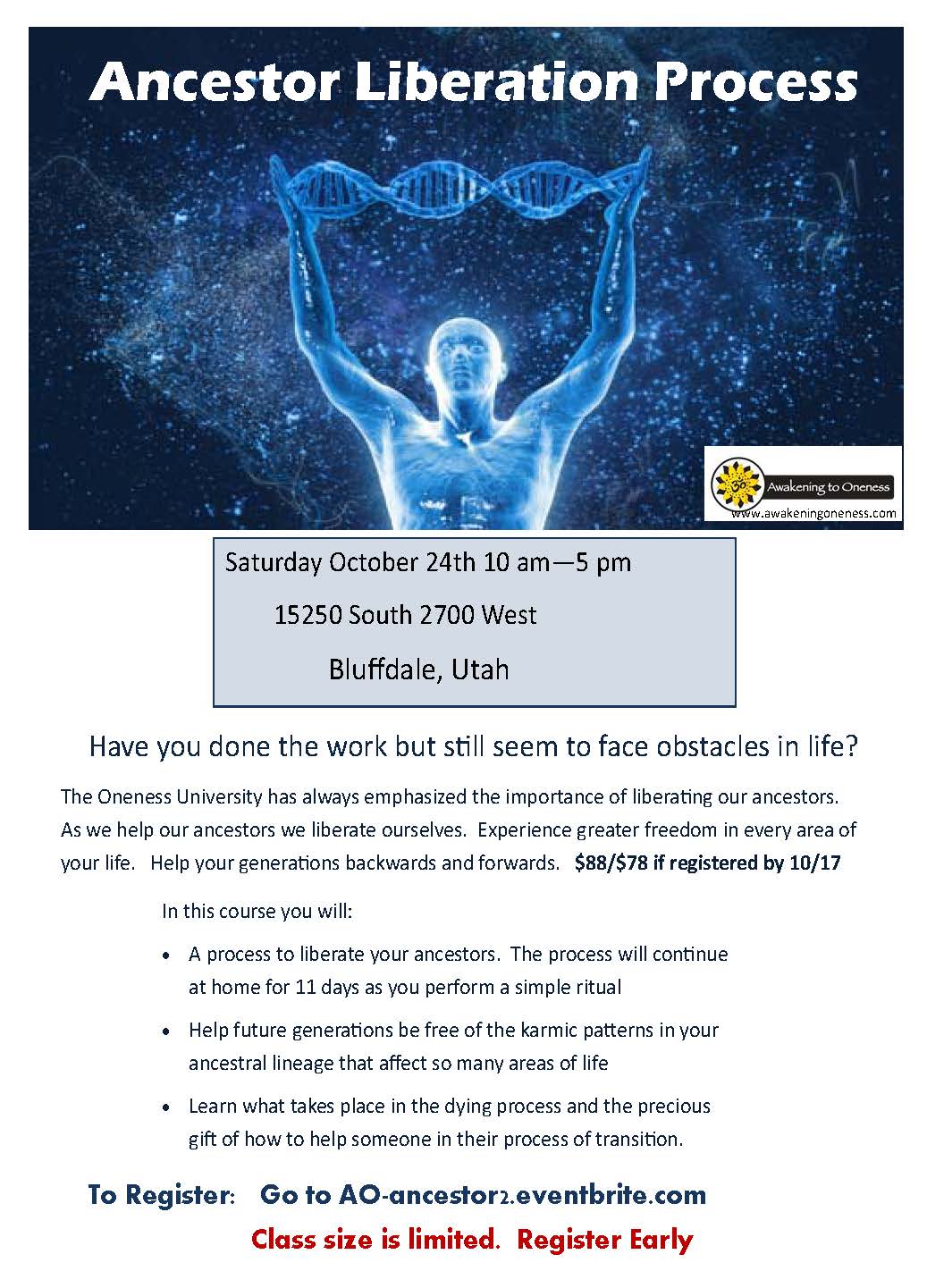 We invite you to JOIN US!

Have you done the work but still seem to face obstacles in life?

The Oneness University has always emphasized the importance of liberating our ancestors.
You are the product of your ancestors, and something of the complex tapestry of their history is woven into your life.  We carry within our genetic structure the makeup of our ancestors, which includes emotional and psychological tendencies as well as physical. 
There are subtle wounds in our lineage that may go back for generations that can influence our lives today.  When ancestral wounds negatively influence our present life, we have a tremendous opportunity to clear this pattern from our family lineage. 
Ancestral healing can transform energetic patterns that are not in your highest good, or are preventing you from carrying out your soul's mission and life's purpose.  As we heal and transform the wounds we carry from those who came before we are also changing the trajectory of those who come after.
Please join us for this amazing teaching/process from Oneness University.

$78 Early Registration - ends Oct 17th
$88 Oct 18th thru at the door.

In this course you will:
• Perform a process to liberate your ancestors. The process will continue at home for 11 days as you perform a simple ritual
• Learn what takes place in the dying process and the precious gift of how to help someone in their process of transition.
• Help future generations be free of the karmic patterns in your ancestral lineage that affect so many areas of life

Experience Greater freedom in every area of your life

As we help our ancestors we set ourselves free

To Register: http://ao-ancestor2.eventbrite.com/

Class size is limited. Last one Sold Out Quickly.  Register Early
When & Where

Linton Studio
15250 2700 W
Bluffdale, UT 84065


Saturday, October 24, 2015 from 10:00 AM to 5:00 PM (MDT)
Add to my calendar
Ancestor Liberation Process