Multiple Dates
Anatomy of Light - Workshop 4: Walking Between Light & Shadow by Jim Buchan...
Description
The fianl Anatomy of Light workshop will give you the opportunity to meet labyrinth artist Jim Buchanan and explore his work in SPECTRA 2016.
Gathering at Seventeen at 19.30hrs on both Friday the 11th and Saturday the 12th February for a short discussion on Jim's use of labyrinths of light in his work. Aberdeen poet Petra Vergunst will read recent work reflecting on the subjects of pilgrimage and labyrinths, before walking the group across to St.Nicholas Kirk to explore the installations. The artist will be available for further discussion and questions afterwards.
Gather at : 19.30-20.00 hrs : 17 Belmont Street, Aberdeen AB10 1JR
Walk with the artist : 20.00-20.30hrs : St Nicholas Kirk
Tickets are FREE thanks to Creative Scotland and the support of the Year of Innovation Architecture and Design #IAD2016 so sign up fast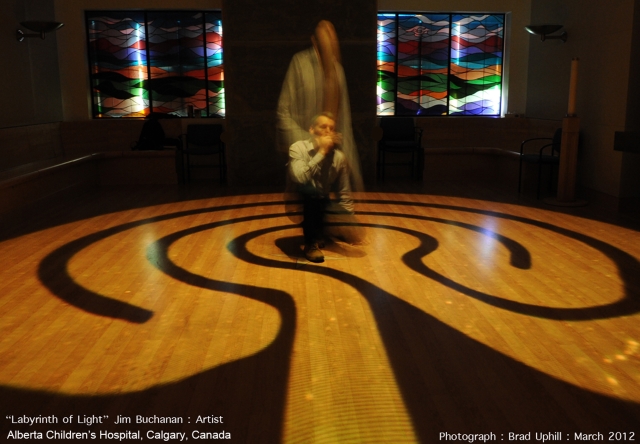 About the Artist.
Although born in Bristol in 1965, Jim Buchanan spent most of his formative years on the Donegal coast of Ireland. His childhood play space was defined by how far he could walk or run, and then return home, in a day. This freedom of movement across wild landscape, dotted with pre-Christian archaeological spaces infuses his current work, and that of his major past-time, running.
Jim went on to train as a landscape architect at Leeds Polytechnic (1983 to 1990), but emerged out of private practise as a renowned labyrinth-maker and artist, working on exciting and ambitious installation and labyrinth projects. A Canadian children's hospital is currently using two of Jim's 'labyrinths of light' for clinical therapies, and quantitative research is being undertaken to measure the degree of positive calming achieved.
Jim has being based in Dumfriesshire for over twenty years, setting his studio practise within a rural landscape backdrop, with a maritime light quality. He lives with his wife and two sons.
Jim Buchanan is author of "Labyrinths for the Spirit" published by Gaia in 2007.
Labyrinth of Light installations by artist Jim Buchanan will be displayed as part of SPECTRA Aberdeen's Festival of Light 2016 in St Nicholas Kirkyard, February 11-14 2016.