Event Information
Refund Policy
Contact the organizer to request a refund.
Eventbrite's fee is nonrefundable.
About this Event
ANANÉ BIOGRAPHY
The inescapable percussive bass of afro-tech and a subtle hint of sweaty fun consume the late night air. The crowd is in a state of :low, evidenced by their inattention to everything but dancing and music. Eyes meet and remain locked in.
Love. Art. Music.
Anané Vega has the crowd in the palm of her hands, the same ones that introduce the next sequence of sonic fuel. Her crowd's :iery dancing is reignited and a sea of raised hands begins to clap in ritualistic unison. Her music choices are unexpected, yet beautifully curated. The scene is oddly spiritual and miles away from where the night's commander began her journey of self- discovery.
Anané Vega was born in Cape Verde's capital city of Praia, located on the island of Santiago, to a Portuguese father and a Cape Verdean mother. Cape Verde, a former Portuguese colony, is located off the western African coast. During the time when Cape Verde was :ighting for its independence against Portugal, her family was unexpectedly uprooted after they received death threats because of their Portuguese ties, thereby forcing Anané and her family to unwillingly vacate the island. After some time in Portugal, they relocated to the United States in search of expanded opportunities.
Self-identity wasn't an easy discovery process for Anané growing up in a foreign country. Her mix of Portuguese and Cape Verdean heritage already had produced traumatic events in her past, and now she was struggling to understand how her racial diversity :it into her new country. Additionally, her parent's traditional values were contrary to her expectations of what she should and would become. A woman, according to traditional values, was to mind the house, raise children and not consider herself equal to men. During a childhood trip to New York City, she noted to her mother at Rockefeller Center that she would one day very much like to live in such a vibrant city. Her mother cautioned her against such impulses and reminded her of a woman's familial duties. Rebellion against these constraining expectations was becoming a necessity.
From an early age, Anané would :inancially support any extracurricular activities she wished to pursue, thus quickly learning the value of a strong work ethic. She would use her earnings from a factory job and waiting tables to go on day trips to NYC. She auditioned during one of these trips and received a call back from an MTV dance show. She was starting to believe that NYC was a viable option. Also around this time, she participated into pageants and was awarded the distinction of representing the United States as both Miss Cape Verde and Miss Portugal. This honor further illuminated life's possibilities as she was now rubbing shoulders with foreign diplomats and ambassadors. Her childhood dream of being like the artists and musicians, whose pictures she pinned to her wall, was now not too far from the truth.
She :inally mustered the courage to move to NYC. With a hundred dollars, a bag of clothes, a one-way ticket and friend's couch as a bed, she made the jump. She was quickly discovered by Click Model Agency in the streets of NYC and began to study dance and theater. During this time she also met her future husband and world-renowned DJ entertainer, "Little" Louie Vega. Her choice to rebel against what was expected of someone like her had paid off and she was :inally doing things her own way.
Anané Vega's foray into djing wasn't conventional considering she never had the intention of becoming a DJ. Although her DJ husband would constantly complement her on her tasteful and entertaining musical curating at home, she never took it more than a friendly compliment. She already had experienced success as a singer including her debut album, AnanésWorld. However, it wasn't long before she was given the opportunity to actually DJ a night. A trip to visit an NYC friend who happened to manage the SubMercer, an intimate and exclusive lounge underneath Soho's Mercer Hotel, turned into an offer to DJ an upcoming night. Anané's career as a DJ had begun.
Her opening night at SubMercer went smoothly and she was hooked. She used the opportunity to play the music that she loved, which includes the afro-tech sound her label Nulu Music helped popularize. She blended all types of music together to create a unique experience for her audience.
Her monthly engagement at SubMercer, Anané's Selection gained a following. She described the experience as follows, "I love the ability to put all music together to a point where you can manipulate a party and get it going. You can interject any music and it's not an awkward moment, you have the crowd in the palm of your hand. It's not a shock, people will be grooving and want to know more about your music."
Additionally, since a lot of her recordings as a singer get remixed for the club, she can use the DJ opportunity to bring a unique experience to her crowd by singing and dancing the music she plays. This differentiated approach was quickly noticed during the next WMC conference after her :irst winter djing in NYC. European agents approached her and they were eager to bring her act to Europe. At one point in time, Anané recalls djing in Italy to a crowd of over :ive thousand and looking at her assistant and wondering how she had made it this far.
Anané would go on to accomplish a great number of feats, which included singing the opening song "One Dream" at Super Bowl XLI during her husband and their group's- Elements of Life- appearance. She was personally invited by Cirque du Soleil to partake. She was honored with the invitation to perform at the President Obama's Ambassadors Ball as well. Her global appeal also grew s she was invited by Nelson Mandel's party, African National Congress to appear as the only female artists on the bill and perform and speak in front of 10,000 kids for a large community event. She used the opportunity to promote her message of female empowerment and cites the experience as one of her favorites.
Anané and Louie are headlining their The Rituall brand, an outdoor party held at prestigious beach clubs around the world and drenched in the sounds of House, Global Disco, Afro tech and Old School. Sunset Ritual has toured the Mediterranean every summer since 2010, including a two-year residency at the Blue Marlin beach club in Ibiza. Just this past year, from the 21st of June until the 20th of September 2013, the Sunset Ritual's good vibes were back in Ibiza, this time at the famed Ushuaïa Hotel. Anané and Louie also released the :irst Sunset Ritual cd/dvd combo. Then in the summer Sunset Ritual will resume across beaches of Ibiza, Formentera, Italy, and Greece.
Anané is also responsible for her music labels, Nulu Music and Nulu Electronic since 2009 which already boasts an impressive more of 100 releases and is signing artists from all parts of Africa, Usa and Europe. Her labels are extremely well regarded for
bringing the afro and electronic sound to a wide audience. In 2014, Anané felt time for an evolution and introduced Nulu Movement with the collaboration of Christian Mantini (who manages Anane and both her labels) a party that defines the term "freedom of musical expression" where Nulu/Nulu Electronic artists can express their skills from the heart playing different genres creating a very special and unique atmosphere.
Be sure to follow Anané as she traverses the globe in her continuous journey of artistic self-discovery on Instagram, Twitter and Facebook by searching for Ananesworld.
MISS JENNIFER BIOGRAPHY
"Music is an addiction, it has the ability to bring people to a higher emotional state. To be able to orchestrate that higher state in large audiences, is a gift I have been fortunate enough to encounter." - Miss Jennifer
One of New York's finest, Jennifer has been rocking dance floors in NY nightclubs since 2009. DJ/producer Miss Jennifer was born in New York City. Growing up in the in the big apple, she began venturing into New York City nightlife in her early teenage years. There she was introduced to NYC's Sound Factory, Tunnel & Limelight to name a few, where her great passion for music was born. Aside from being a college basketball player and model, Miss Jennifer grew up a record junkie and underground dance music aficionado, which turned into an extremely fruitful DJ career. Before she knew it, she was one of the pioneer female DJ's leading the music trend throughout the East Coast of the United States.
Featured in the Miami Winter Music Conference every year since 2009, Miss Jennifer played at Electric Zoo New York for the past three years, including the Awakenings stage in 2015 and Sunday School Stage in 2014. As well as the Electric Daisy Carnival in New York in 2016, she's played many festivals at Govenor's Island, in New York. Miss Jennifer was the first DJ in history to play at the New York Stock Exchange (from the bell podium) for the 2012 Kairos Society Global Summit private event. She is in frequent rotation in Boston(MA), New Jersey, Connecticut, Rhode Island, Miami and Orlando. She has also played outside the USA in Santo Domingo (Dominican Republic), Santigo (Dominican Republic), Playa del Carmen (Mexico), Cartagena (Colombia), Cucuta (Colombia), Medellin (Colombia, Ministry of Sound World Tour Festival (Barbados), and in Bangladesh for a NYE event.
In the Spring of 2011 she released her first compilation "Nervous Nitelife: Miss Jennifer" on Nervous Records. The album made top 200 Dance albums chart on iTunes in its first day of sales. The release also included her first original track called "Letting Go", which hit top 100 house chart on Beatport in its first week of sales. In summer of 2013 she released her second compilation "Vibeology" on Nervous Records. This included four of her original tracks, and a remix "Addiction" that became NYC's 2013 summer anthem. It featured friends and artists such as DJ Boris, KiNK, Adam Port, Chriss Vargas, Danniel Selfmade, Cristian Arango &more. Last year Miss Jennifer released another techno collaboration, with Jean Pierre called "The Reason".
With the help of an amazing team and management DP Productions NYC, Miss Jennifer is now in circulation for almost every big room club on the East Coast. She continues to develop and expand her Vibeology brand, that started as a "Vibeology Sessions" party at her monthly residency on Saturdays late night at Pacha NYC. Vibeology represents why she believes people grow addicted to music. Music creates a euphoric atmosphere, or a 'vibe'. A powerful bond that for a moment can make a whole room fall in love. Mixing her computer science background with her present career in music, she transformed the idea of a vibe into a science.
"Life is about constant learning and change." says Jennifer. Her musical sets expand past all boundaries. You can expect to hear anything from percussive to deep, techno, house or tech house, mixed with samples from anywhere that fit the vibe she's creating in that particular space. Artistically she plays with different sounds to generate moods. Directly inspired by the crowd, her determination and dedication create an unforgettable musical production with each performance. She aspires to guide the social atmosphere to a new level through her unique sound, versatility and a deeper sense of connection through Vibeology.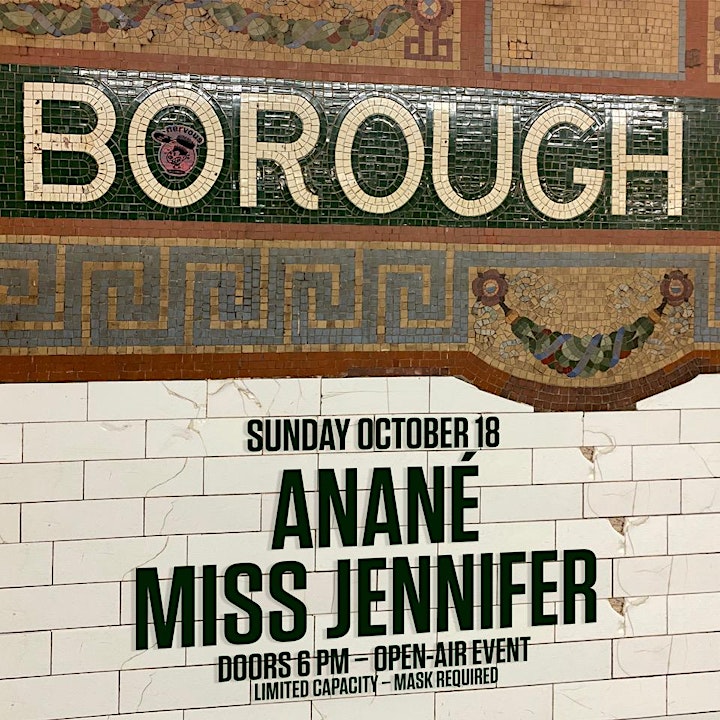 Date and Time
Refund Policy
Contact the organizer to request a refund.
Eventbrite's fee is nonrefundable.