ANAN International Conference Theme: "Generational Dominion"Apostle Melvin Thompson, III- Host
About this event
Our 10th Annual ANAN Network Conference 2019 "Generational Dominion will be hosted at All Nations Church (North Campus). Please save the dates to your calendar. It's going to be four days of impartation, fellowship, and glory as God will show up in a powerful way. We are anticipating full capacity. If you are planning on attending, we suggest that you register early.
*You must register to participate in the DAY Sessions.
* All evening sessions are free and open to the public.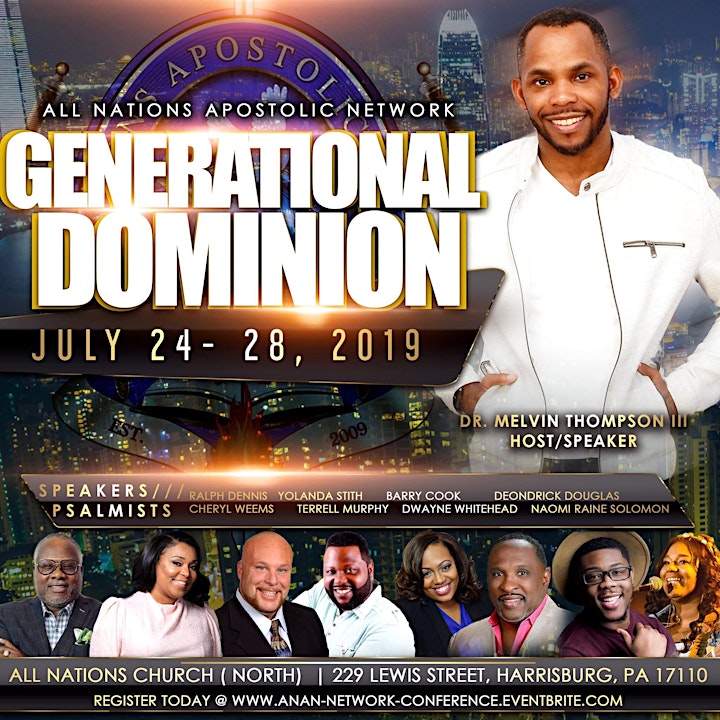 A block of rooms are being held for our out-of-town guest(s) under All Nations
1. LaQuinta Inns & Suites - 990 Eisenhower Blvd. Harrisburg, PA 17111
(866) 527-1498 refer to group code: 1032 GRPHJJ889
Cut-off date is July 3, 2019
2. Sleep Inn & Suites- 631A Eisenhower Blvd. Harrisburg, PA 17111
(717) 564-8888 x 110 Brenda Armstrong
Cut-off date is July 5, 2019