Sales Have Ended
Registrations are closed
Thank you for registering for the: Analysis of Impediments to Fair Housing Choice L. Brooks Patterson Building | Conference Center, Building 41 West | 2100 Pontiac Lake Road | Waterford, MI 48328 Wednesday, January 22, 2020 from 9:30 AM to 11:30 AM (EST) QUESTIONS? Call: (888) 350-0900. ext. 80493 | Email: chi@oakgov.com
Sales Have Ended
Registrations are closed
Thank you for registering for the: Analysis of Impediments to Fair Housing Choice L. Brooks Patterson Building | Conference Center, Building 41 West | 2100 Pontiac Lake Road | Waterford, MI 48328 Wednesday, January 22, 2020 from 9:30 AM to 11:30 AM (EST) QUESTIONS? Call: (888) 350-0900. ext. 80493 | Email: chi@oakgov.com
Description
Analysis of Impediments to Fair Housing Choice

Hear the Preliminary Results and Learn More About the Next Steps


Presented by:
Timothy Gottgetreu, Director of Research, Western Economic Services, LLC, Portland, Oregon

From October through November 2019, Western Economic Services, LLC (Portland, Oregon) conducted a county-wide analysis to identify the barriers to fair housing choice in Oakland County. The community provided input by taking a printed or online survey or attending a public forum or professional focus group.

Fair housing laws apply to rental housing, homes for sale, advertising, home loans and home insurance. Federal and state fair housing acts prohibit discrimination in housing based on race, color, national origin, religion, sex, family status, disability, age, height, weight and marital status.
Plan to attend this presentation if you would like to stay informed on the preliminary results of the analysis of impediments to fair housing choice and the next steps in the Housing & Urban Development processes.
Cost: Free | Registration is requested
QUESTIONS?
Call: (888) 350-0900. ext. 80493 | Email: chi@oakgov.com
Oakland County is committed to affirmatively furthering fair housing.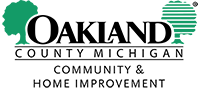 Organizer of Analysis of Impediments to Fair Housing Choice
Oakland County is the economic center for the state of Michigan. We provide leading-edge services and programs that help the county continue to make the transition from a manufacturing-based economy to a knowledge-based economy. These initiatives spearhead a positive business environment and maintain job growth and a high quality of life for our citizens.