Analog: New Work by Katharine Hawthorne

Daily Event: 8:00 PM to 10:00 PM (PST)
Event Details
Katharine Hawthorne eagerly announces the second full evening presentation of her choreography in Analog, featuring new work at the intersection of art and science, grounded in the physics of the moving body. 
February 22-23, 2013 8pm
tickets $15-25, pay as able
Joe Goode Annex
401 Alabama St (at 17th St)
San Francisco, CA 94110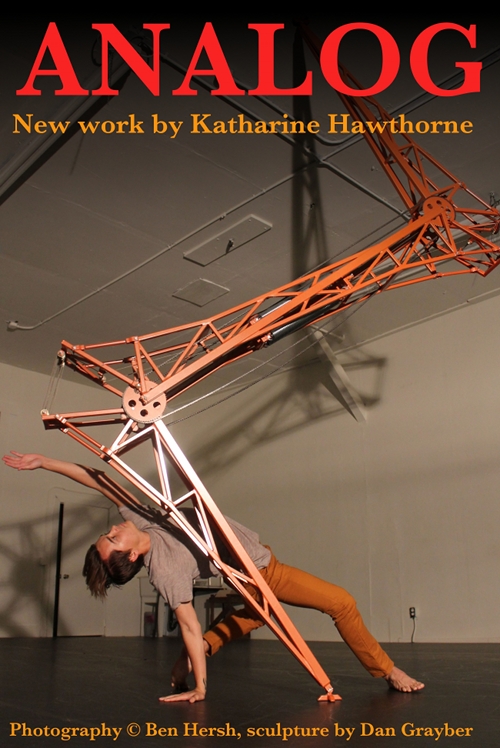 Analog
draws inspiration from prosthetic hands, clocks, levers and pulleys, and impractical inventions like perpetual 
motion machines. Combining high energy physicality with conceptual inspiration from the sciences, Hawthorne 
examines how motion is controlled, mechanized, and detected. Described as "beautiful, serpentine, lush" by Heather 
Desaulniers (CriticalDance), Hawthorne's choreography invites audiences to experience the mechanics of the world 
around us.
Artist Biography:
 Katharine Hawthorne is a San Francisco choreographer and dancer working at the intersection of art and science.  She has performed with Hope Mohr Dance, Liss Fain Dance, and Ledges and Bones.  Her choreography has been presented widely in the San Francisco Bay Area, Minneapolis, Chicago, New York, Belgium, Greece, and Argentina.  Katharine holds a B.S. in Physics and Dance, with honors, from Stanford University.  
http://www.khawthorne.net
Where
401 Alabama St
San Francisco, 94110


Daily Event: 8:00 PM to 10:00 PM (PST)
Add to my calendar
Analog: New Work by Katharine Hawthorne