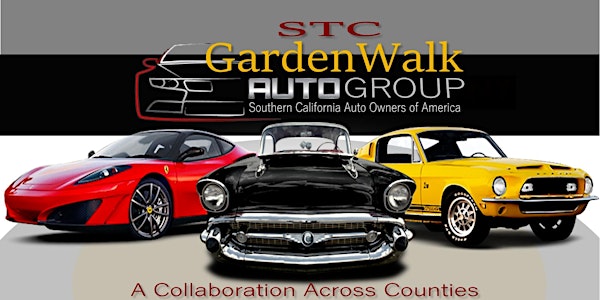 Multiple dates
Anaheim GardenWalk Cars & Coffee
GardenWalk Cars & Coffee - hosted by Auto Owners Of America. Saturdays 8am-11pm. Enter at Clementine Street north (Clementine & Disney Way)
By Southern California Auto Owners of America
Date and time
January 9, 2021 · 8am - December 30 · 11am PST
Location
STC Anaheim GardenWalk 400 Disney Way Anaheim, CA 92802
About this event
What: California's only indoor covered Cars & Coffee event! Every Saturday morning 8am-11pm (early arrivals are welcome) call GardenWalk your home cars & coffee or simply stop by and bring your crowd for a covered C&C late morning gathering. All makes, models, projects, and finished builds are welcome.
Step-By-Step: Join the movement not because AOA has created a platform at a world class facility to unite cars and coffee's throughout Southern California, but more so to continue to support the growth of cars and coffee's nationwide. Come meet the locals, meet new auto owners, and talk about planting more cars and coffee's from California to Connecticut.
Next Up: 2023 Planning has invited regulars to join in the shaping of Auto Owners Of America and associated event for the year. Launching new event and organization concepts to continue being an asset and launch pad for auto culture clubs and like industry providers.
Wrenched: A trademark auto event soon to be launched in Anaheim. COMING SOON! Last Saturday monthyl: Connect@AutoOwnersOfAmerica.com
Contact: 714.943.2084 / Email: Connect@AutoOwnersOfAmerica.com / Social: https://www.facebook.com/Southern-California-Auto-Owners-of-America-103329025020736/?view_public_for=103329025020736
Registration Disclosure Release of Liability & Conduct
**Registering for a ticket(s) includes that you have read, understood, and agree to the safety and liability release disclosure below. Please do not purchase a ticket or attend a function if you do not agree or understand.
Privacy: These rules and Release of Liability are posted at all locations, and AutoOwnersOfAmerica.com for review. Your privacy is of utmost importance. At no time will personal information gathered be sold and or provided to any party for use, review or access other than AOA personnel. Personal contact information is used strictly to provide you with AOA information.
Caution & Security: Auto owners and spectators enter and participate at your own risk. Security cameras and license plate recognition systems are on site. Such systems operate to assist with safety, and providing an efficient automobile exit from arrival to departure. No information retrieved is provided to, sold, or disseminated to any party unless required by law and to such law enforcement. If you choose to enter and or spectate on facility grounds, including but not limited to general parking, registered auto owners or clubs, and competitions, you are accepting responsibility for your automobile, and occurrences thereof.
Responsibility: If you choose to enter and or spectate on facility grounds, including but not limited to general parking, registered auto owners or clubs, and competitions, you are accepting responsibility for your automobile, and occurrences thereof.
Liability: Attending or spectating at this location is done so on a volunteer basis. There is no promise or certainties of placement, awards, or like guarantees other than what has been confirmed by your host. By entering the location, you are acknowledging and accepting the conditions as they are. Location owners, managers, Auto Owners of America (AOA), and or any affiliated parties assume no liability for accidents, physical slips or falls, theft, damage, or loss of use to any vehicle, equipment or articles left in a vehicle; including vehicles parked overnight.
Private & Public Use: This is a private facility open to the public. Using this facility for auto shows, meets, photo or video productions or like use with approval will result in trespassing, and being placed on the expelled list thus not permitted to show in future auto events. For facility use during non-show hours please contact 714.860.4242 no less than one (1) day in advance for a registered time.
Safety and Health First: See posted health, safety, and rules including the importance to sustain all health & safety protocol for your benefit. Your choice of parking within designated areas are done so at your own risk; and by doing so constitutes acceptance of these terms and conditions. This facility may be equipped with 24 hour security, surveillance cameras, and License Plate Recognition systems (see disclosure posted) but does not constitute for liability coverage and or assumption of claims. Any and all information gathered by such equipment is kept by and only by facility management. At no time will any information whether deemed personal or non be given to, sold, or released to any outside parties for any reason unless otherwise required by law.
Conduct: AOA and show hosts provide an experience for auto enthusiasts, clubs, and meets alike to utilize. Profanity, violence, intimidation, racism, sexual behavior and or suggestions, smoking of any kind within the parking facility (see designated areas), and both onsite skateboarding and bicycle riding are not permitted; including the forbidden of alcoholic beverages unless provided within a restaurant or entertainment venue within. All food and beverage must be kept in designated areas outside of the parking facility. Violations will result in being expelled from the facility and required to leave the premises. Health and safety measures in line with COVID conditions and the CDC are required in efforts to keep everyone safe. Help us keep this a safe, educational, and encouraging multi-auto-cultural environment for everyone.
Behave Like A Pro: Reckless driving on site such as but not limited to burn-outs, donuts, two-stepping, racing, drifting, engine revving, and like behaviors that can lead to property damage and or personal hazards are not permitted. If any such activities are included in an auto competition your host will inform you of the times and locations that select activities may be permitted if at all. Save your tires for the Del Mar and Pomona Speed Way Events.
Auto Club Owners/Principals: Auto Club members and participants are responsible for their actions. Auto Club owners to maintain cooperation from their club members, personnel, vendors, and like participants in such clubs at all times. Questions or concerns about any requests to leave the premises can be addressed to your Club owner, an AOA personnel and or facility staffing present on site.
Individual Auto Owners: Not cooperating with both facility and auto show rules and regulations will result in you being required to leave the premises. Such requirement may be suggested to you by a Club owner, AOA personnel and or facility ownership. Any lack of cooperation may also result in your return to the said facility and specific show being prohibited. Questions or concerns about any requests to leave the premises can be addressed to a AOA personnel and or facility staffing present on site.
Registering a ticket(s) implies that you have read, understand, and agree to the above disclosures. Please contact Connect@AutoOwnersOfAmerica.com if you have questions.
AOA Anaheim Gardenwalk Show Grounds: 5 levels of auto showing (3,000 stalls), auto culture specific location placement, persoanlized auto culture attendants for each culture section, trailer unloading bays and parking, Motor-coach parking, covered & uncovered platforms, sales & auction program, wash racks (near future), competitions (coming soon) educational and auto owner storyline stages, House of Blues upstairs, front row restaurants, entertainment and more.
Secure tickets: Eventbrite
Auto Club/Meet Registration: AutoOwnersOfAmerica.com
Individual Auto Owner Reg: AutoOwnersOfAmerica.com
Across County Lines: Have you been attending a local gathering for years past? Continue that tradition. We are opening a platform for your post early morning debut to enjoy an elaborate setting, personalized attention, a photographers paradise, awards, opportunity to teach, instruct, and showcase to the masses.
Who? Owners, instructors, racers, builders, fabricators, clubs, and most importantly the seniors that taught us the very art of cherishing the beauty of design and torque.
Our goal: To build strength in community, celebrate the beauty for design, offer a new platform for restoration innovation, teaching about speed, and letting the very knowledge you bring be the power on stage while you decide who will teach, instruct, and bring added value to our Saturday & Sunday 9:00am - 12:00PM shows.
Donut Derelicts, Orcutt Derelicts, Dr. George Car Show, The All American Get Together, Cars & Coffee Corona, Cars & Cronos, Cars and Croissants, Cars Coffee -N- Doughnuts, Cbad Cars, Coffee N Cars Valencia, Dreams and Drivers, Malibu Cars and Coffee, San Diego Cars & Coffee, South OC Cars & Coffee, Supercar Sunday, Temecula Valley Motoring Enthusiasts, Peninsula Seniors' Cars & Coffee, Morning Octane....and more - we invite you; this is your platform!
Bring It!: In a growing culture of turning the average into extraordinary we're seeing more youth transport the every day driver in a screaming street king with new life for speed. Let's not forget this generation that had chosen to work with what they have, remove the obsolute the drop in the elite to drive their own path of auto excellence. Chipped, stripped, dropped, and geared up we invite you to STC GardenWalk to become part of the wheels of steel at SCOCA.
Of "All" Kinds: Hot rods turn historical craftsmanship into a modern-day wild ingenuity that only a few can imagine. We're looking for everything from the simple strip and chop, to extravagant drop, stretch, redesign and fabrications. Classics and Hot Rods we invite you.
Compete: From Classic Customs, to Chipped & Stripped, Torque Trips, Heroic Hot Rods (dedicated to Veterans), Outrageous Exotics, to Lifted Monster (Trush series), and VW Storys (dedicated to our costs VW tour stories from long ago) this is "your house" to show, network, compete, or just see cultures come together to share the same passion - combustion engines and the wide variety of styles we embody them with.
Whether chopped and dropped, or jacked up and lifted to haul, AOA wants to see your beast at the SoCal AOA Gardenwalk Cars Coffee & Culture shows. It's these very monsters that have continued to catch attention nationwide.
Be prepared to tell your GIANT story, what you haul, and why you've made these battleships your everyday driver. *Register in advance if over 8'2".