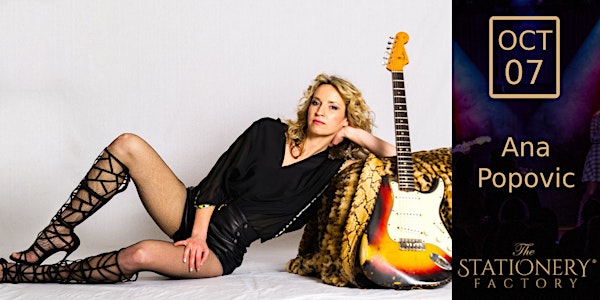 Ana Popovic at The Stationery Factory
Location
The Stationery Factory
63 Flansburg Avenue
Dalton, MA 01226
20 Year Blues Veteran Ana Popovic comes to The Stationery Factory!
About this event
To rip a mean blues guitar solo and have the vocals to match is one thing. To effortlessly do it all in heels is another thing entirely.
As a young girl growing up in Serbia, Ana Popovic was enchanted with the energy of American Blues Music. She decided to chase her dream of becoming a master of the music, and has since released 12 albums, been on the covers of several magazines, nominated for seven Blues Music Awards nominations, and called "one helluva guitar-player" by none other than Bruce Springsteen.
Ana has also appeared in two DVDs and six nationwide Experience Hendrix tours. If you're a fan of the blues, you don't want to miss Ana Popovic at The Stationery Factory!