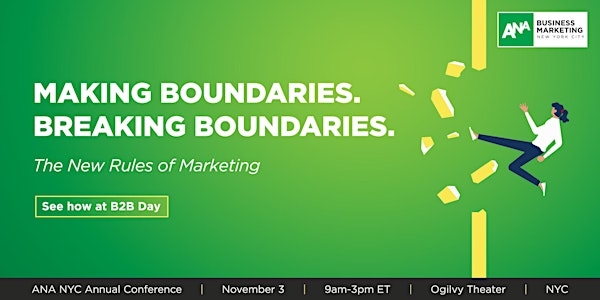 ANA NYC 2022 Annual Conference | B2B Day
Break new ground at B2B Day, the ANA NYC Annual Conference! Join Us!
When and where
Location
Ogilvy Theater 636 11th Avenue New York, NY 10036
About this event
The boundaries of marketing are shifting. Some are being re-set. Many need to be broken. It's time to redefine the rules of marketing at B2B Day, the ANA NYC Annual Conference, on November 3.
B2B creative boundaries - they're being broken left and right. So are the boundaries and boldness of bets being placed to drive growth. Inter-company collaboration and work life balance? Those boundaries are being re-thought and with good reason. Making and breaking boundaries is the through line of B2B marketing today and theme of B2B's top thought leadership event.
And with only a few weeks left until the event, there's no time to wait – register today for B2B Day.
Speakers and topics include:
Well vs. Good
An exploration of how brands and businesses drive growth across multiple stakeholders. Where is the line between commercial growth at all costs vs. boundaries to growth that achieve ESG goals? What are the frameworks in place to evaluate growth and impact? Speaker: Kate Cronin, Chief Brand Officer, Moderna; Etienne Katz, SVP, Event Partnerships & Strategic Growth, CNBC | NBCUniversal
Life on Your Terms
As the distance between home and work, personal and professional shrinks, how do you avoid complete overlap? How do you prioritize? And what are the implications for career paths? How can you be a supportive manager without being an intrusive one? Speaker: Victoria Davies, Founder, CEO, Newance
The New Rules of Collaboration
When do boundaries between departments and organizations disappear? Can the best teams transcend structure? Should they? How are leading marketers and their organizations reinventing collaboration? Speakers: Yvette Ellis, US Enterprise Marketing Excellence Leader, Deloitte; Ray Oram, VP, Account Based Marketing, IBM; Nicole Huynh, Head of Enterprise Growth Marketing, BNY Mellon
Big Bets
It's a brave organization that moves into an entirely new space, not just crossing boundaries, but redefining them. How do you think about wholesale change? How does a brand stretch to accommodate? Speakers: Stephanie Dobbs Brown, CMO, Intercontinental Exchange (ICE); Russ Findlay, Operating Partner, H.I.G. Capital
Ideas that Shatter
What were the big ideas that broke the boundaries for B2B creativity at the first ever Cannes B2B Lions? Why did these ideas rise so high? What does creative risk mean right now? How do you gauge the potential return? Hear from the LIONS and the B2B leaders who sat in the jury room. Speakers: Simon Cook, CEO, Cannes Lions; Paul Hirsch, President & Chief Creative Officer, Doremus; Tom Stein, Chairman & Chief Growth Officer, Stein IAS
At Your Service
Where is the line between a great customer experience and a creepy one? How do marketers use tracking, targeting and personalization to anticipate needs and delight their customers without being overly invasive? How do AI and machine learning help? Hurt? Speakers: John Copeland, VP, Digital Strategy Group, Adobe; Jon Miller, CMO, Demandbase; Allison Knapp Womack, COO, Effie Worldwide
Emcee: Heather Keets Wright, Co-Founder and CEO, Wright Creative
Agenda:
- 9 - 9:30AM: Check-In/Breakfast/Networking
- 9:30AM -1:30PM: Program
- 1:30 - 3:00PM: Lunch & Networking